Angela Merkel pays a key visit to Zagreb and Belgrade
Dessislava Dimitrova, 22 August 2011

German chancellor Angela Merkel has most probably never heard the Bulgarian proverb, according to which when talking to her daughter, a mother-in-law is actually trying to get her daughter-in-law pay attention. However, it is broadly expected Merkel to deliver a similar message while on an official visit to Zagreb and Belgrade on August 22 and 23.
According to the schedule of the visit, in Zagreb she will meet Prime Minister Jadranka Kosor and President Ivo Josipovic, while in Belgrade she will have meetings with President Boris Tadic, Prime Minister Mirko Cvetkovic, as well with the widow of late Prime Minister Zoran Djindjic, murdered in 2003, and scholarship students from her foundation.
"Angela Merkel's message in Zagreb could be: 'Croatia succeeded in wrapping up the accession talks with the EU as the country managed to meet all criteria, which means that the EU accession is possible for all the rest of the countries in the region that meet them'," reads an article in Zagreb-based daily Jutarnji List, published on the eve of the visit. According to sources from the cabinet in Zagreb, Merkel is going to point Croatia as a successful example for the development of the whole region.
Her message should be heard most of all by Serbia which has already met some of the main criteria – cooperation with the Hague Tribunal – by arresting Ratko Mladic and Goran Hadzic, but is still refusing to recognise Kosovo's independence.
Kosovo will certainly be part of the topics on Merkel's agenda in Belgrade. According to the official schedule, the main topics of the talks between Tadic and her will be "international and bilateral relations, as well as economic issues, the development of the region, and Kosovo in particular, as well as Serbia's accession to the EU."
It is expected that Merkel will reiterate what her foreign minister Guido Westerwelle said recently in Pristina: that Germany will not allow Kosovo to be split following the conflict between the northern and the southern part of province, which Serbia still considers a part of its territory. According to him, the problems in Kosovo should be resolved via mutual dialogue and cooperation rather than through confrontation and mutual accusations.
In the last few weeks the conflict between Belgrade and Pristina went even further, with armed clashes taking place. The Serbian government released an official statement, saying that the Kosovo authorities had been violating basic civil rights, such as the right of free movement across the region.
After several buses from central Serbia not being allowed to enter Kosovo, the cabinet in Belgrade asked the United Nations, under whose protectorate the country is, and the EU to intervene.
Last week, Serbia's deputy prime minister, in charge of EU integration, Bozidar Djelic said a new round of negotiations between Pristina and Belgrade will start on September 2, during which the issue of the trade embargo, as well the presence of Kosovo officials in large regional forums, will be discussed. In his words, however, the resolving of these two problems is not part of the EU accession criteria, with which Serbia was acquainted in December.
"It is not a secret that in July we were very close to a solution, but Pristina's unilateral actions made this dialogue pointless," Djelic told Belgrade-based TV station B92.
According to Serbia's other deputy prime minister and minister of the interior, Ivica Dacic, it is important not only what Merkel's message will be but also what Serbian officials will tell which, he says, should be that Serbia's aim is to be a EU member, but that it would not sell its national and state interests in return.
As a matter of fact, both Mladic's and Hadzic's arrests are assumed as being a treachery by some Serbs. The arrest of Croatian general Ante Gotovina six years ago is still not accepted by part of the Croats too, but the government paid this price.
Apart from all political issues, Merkel should use her visit to lobby for the sale of a larger stake in Belgrade-based daily Vecernje Novosti to Germany's WAZ, which already has a minority stake in it, but the deal has been delayed by the Serbian antitrust body.
Western Balkans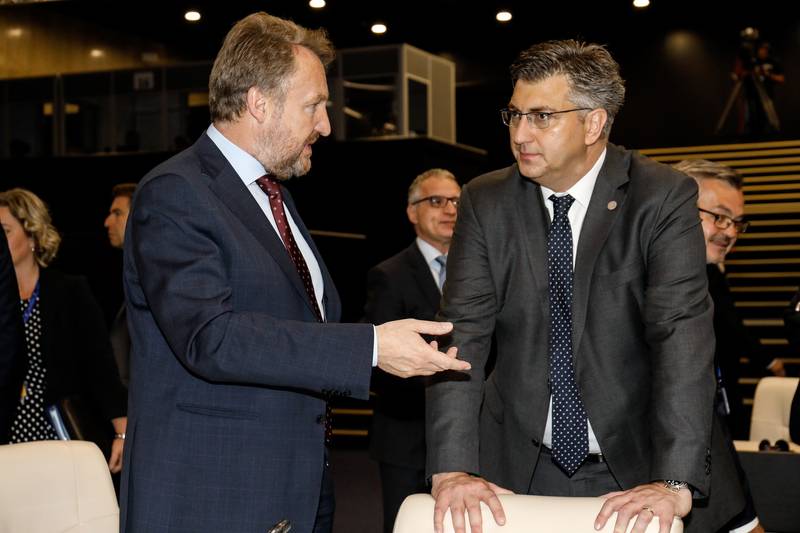 Bakir Izetbegovic, Andrej Plenkovic | © Council of the EU
In Sofia, EU Closed the Door to Enlargement but Left Money and Instructions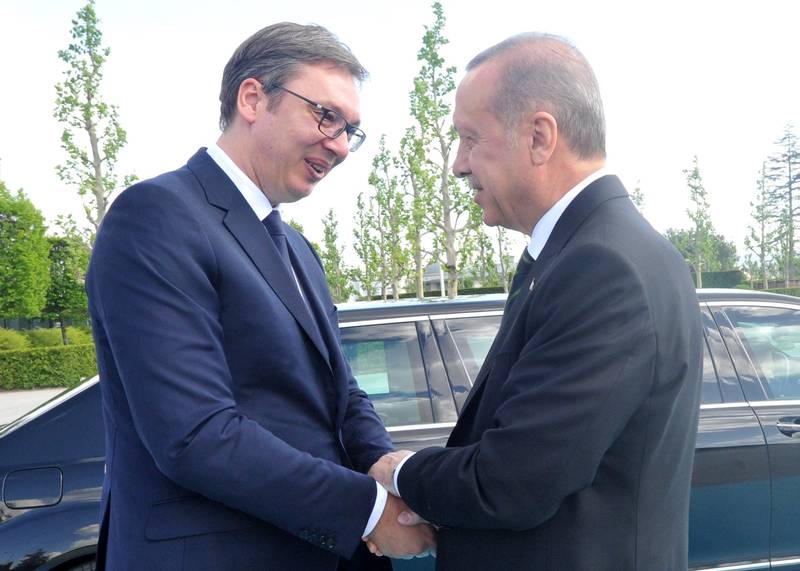 Aleksandar Vucic, Recep Tayyip Erdogan | © Serbian Presidency
Serbia between the Past and the Present in Its Draft National Security Strategy