The Kosovo-Serbia dialogue: the second round
Evelyna Topalova, March 29, 2011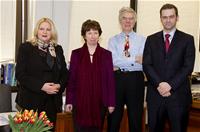 Pristina and Belgrade keep on bringing closer their positions in a search for solutions to specific problems related to people's daily life in Kosovo. The topics discussed at a meeting held on March 28th in Brussels were cadastres and the civil registry.
The two sides have agreed to set up a working group chaired by EU Rule of Law Mission in Kosovo, EULEX, to take forward the practical work of completing civil registry information, an EU press release issued after the talks reads.
The problem with the civil registry is that it has been taken in Belgrade after the end of the 1998-1999 Kosovo conflict. Now Pristina requires the originals while Serbs are more inclined to provide copies of the documents.
Giving up the originals would mean giving up sovereignty, the head of the Serbian delegation, Borislav Stefanovic, commented ahead of the meeting. After the talks he stated that an agreement in principle on the issue had been reached, under which Kosovo would receive copies of the civil registry and cadastres.
Edita Tahiri, who heads the Pristina delegation, said in her turn that some progress has been registered over two other sensitive issues - electricity supply and telecommunications but additional discussions are needed.
Stefanovic explained that the talks were aimed at reaching an agreement that would allow the Serbian power utility company to function in Kosovo and to supply the Serbs to the North with electricity. Such an agreement would eliminate the risk of leaving the Kosovo Serbs, who are regularly paying their bills, without electricity because of unpaid bills in the nearby Albanian villages, the head of the Serbian delegation was quoted by Belgrade-based media as saying.
Although the dialogue is aimed at dealing with purely technical issues, Belgrade does not hide its hopes that it could lead to discussing open political issues. At a forum in Brussels during the weekend Serbian President Boris Tadic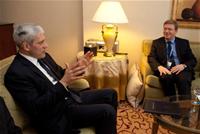 reiterated that Belgrade was willing to find a solution to the historic conflict between Serbs and Kosovo Albanians.
One of the most sensitive issues however remains northern Kosovo. As the head of the Serbian delegation said in an interview with the Politika daily - "northern Kosovo is the lock that would either unlock or lock the Kosovo issue".
The talks between Belgrade and Pristina launched on March 8-9th will continue in mid-April.