In Memoriam: Zoran Djindjic
Dessislava Dimitrova, March 17, 2011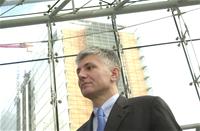 "If someone thinks rule of law and reforms can be stopped by eliminating me, then this is a huge delusion, because I am not the system." These are the words of the first democratically elected prime minister of Serbia, Zoran Djindjic, who, unfortunately could not live up to see his biggest dream come true. Djindjic, who dreamed of a reformed, European Serbia, where future generations would like to stay in, rather than run away from it, was killed by a sharpshooter in front of the government building in Belgrade at noon on March 13, 2003.
Later the same day he died of his wounds in hospital. His murder shocked not only Serbia, where the authorities declared a state of emergency and launched the so called Sword police operation, but the whole world. Only three years earlier, following the protests on October 5, 2000, Serbia managed to knock down the regime of former strongman Slobodan Milosevic, and Djindjic's government introduced vigorous reforms, which the killers apparently wanted to stop.
"Serbia has taken its fate in its own hands, and we can call this day our October 6, the day, when we are launching the national consensus for radical reforms," were Djindjic's first words after he was elected a Prime Minister in January 2001. And he succeeds in it. For the time he led the Serbian government, Serbia manages to go out of the political isolation following Milosevic's regime, inflation's rate falls from 41% to 15%, devaluation of the local currency is halted and in the end of 2001 the country achieves an economic growth of 5.5%
Eight years later, the family of the late Prime Minister is still seeking an answer to who stood behind Djindjic's murder, while people still recall his endless energy and will for a change. According to his widow, if Djindjic were still alive, Serbia would have already joined the European Union, even before Bulgaria and Romania. "His biggest dream was a European Serbia and if by the end of the year the country gets a candidate status, his dream will come true," Zorica Djindjic said in an interview with local daily Vecernje Novosti.
She says that even today, eight years, later, there is no single day to go by without somebody stopping her in the street to talk to her, telling her that for them he is still alive. She adds that as someone who had always put high criteria before himself and before the others, Djindjic would not have been satisfied with what is happening in the country in the moment. "He would have been convinced that everything could have been better, that there is another way out and that success depends on us. He would have taken into account everything that is going on around us, including the global economic crisis, but would have insisted that everyone should commit themselves and do their best so that people in Serbia lived better."
Could Serbia have been different if Djindjic's death had not hindered the reforms in Serbian society? Did his physical elimination help destroying that faith in change that brought people to the streets and kicked down a 10-years' dictatorship in 2000? Is the bright halo the only thing that Djindjic left behind and the memory of an icon that watches over democracy in Serbia, but the strength of which is not enough to transform the ideas for a change into energy for a change. Maybe the answer is hidden in Djindjic's words: "In order to achieve the great changes that we need, as a nation we must have energy. Therefore, political leadership must act as a motivational trainer in order to arouse that energy."