Hillary Clinton: We will contribute to the Global Fund for Climate Change
euinside, 17 December 2009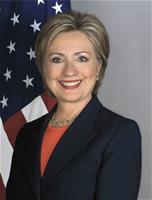 One of the good news that came today from Copenhagen against the background of growing pessimism is that the US is ready to contribute to the Global Fund for climate change, aimed at helping poor countries face the impact of climate change. This became clear after the statement of the American Secretary of State Ms. Hillary Clinton. The statement that the US is ready to contribute to the Fund of $100 bn significantly raised the spirits of the summit after many world leaders defined it as a failure.
According to Ms. Clinton, the future new climate deal should pay significant attention to transparency and monitoring of efforts to cut greenhouse gas emissions. "So there should be no doubt about our commitment. We have come to Copenhagen ready to take the steps necessary to achieve a comprehensive and operational new agreement that will provide a foundation for long-term, sustainable economic growth", the US secretary of state underlined.
She added that common efforts were needed for the purpose - the developed and the developing countries need to take robust and transparent actions to cut their carbon emissions. Hillary Clinton also insisted on developed and developing countries to take their fair share of responsibility.
So far Washington restrained from making any commitments to the Global Fund for which the EU said it need 100 bn euro per year until 2020. According to the US though, the sum should be $100 bn. This amount is achievable and sufficient if everyone would take part in the financing. Still it remains unclear how much money the US would contribute with to the Fund.
Tomorrow is the deadline for reaching an agreement in Copenhagen. For now it remains hard to forecast what the final outcome of the summit will be.