The deficit rose by 271 mn for a month and is now over 1 bn
Ralitsa Kovacheva, 6 May 2010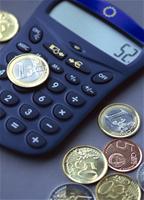 The budgetary deficit for the first three months of the year has reached 1 bn 669 million levs (855 mn euro). Only for March the fiscal deficit is almost 271 mn levs (138.9 mn euro), the data about the implementation of the Consolidated Fiscal Programme for the first quarter of 2010 show. The data put under serious doubts the forecast of the minister of finance Simeon Dyankov two days ago that April would be the first month when the budget will be balanced.
There is a clear slowing of revenues, compared to the forecast in Budget 2010, especially in the part of tax revenues, the Ministry of Finance commented. Totally 5 bn and 171 mn levs (2.65 bn euro) are the revenues from the beginning of the year, which represents 19.5% of what's planned in the budget. The implementation of the plans for direct taxes is almost 30% of the annual programme and has contributed with over a billion and 77.6 mn levs (907 mn euro).
Revenues from indirect taxes however are only 15% of the plans in the budget, worth 1 bn and 717.7 mn levs. VAT revenues account for 1 bn levs which is 14.6% of the expectations and with over 606 mn less than the revenues by the end of March 2009. Similar is the share of revenues from excises and duties.
The Ministry of Finance explained the shortage with continued drop of imports and increasing of exports; with reduced demand; drop in the physical volume of excise goods; higher excise tax compared to the same period of last year; lower profits, declared by companies for the financial 2009.
In the same time, spending for social and healthcare payments are increasing, as well as for payment of debts and co-financing of EU funds. Those, according to the Ministry, are the main reasons for the deficit. Spending on the consolidated budget, including Bulgaria's installment to the common European budget, by March 31, 2010 is worth 6 bn 840.2 mn levs or 25.3% of what's planned in the budget.
Against the backdrop of falling VAT revenues it is expected the government to announce whether it would increase the VAT rate in order to fill in the budgetary gap. After numerous contradictory positions, expressed by prime minister Boyko Borissov and various ministers, Mr Borissov announced recently that the government was preparing another package of anti crisis measures, which people would like very much.