A surplus for April but still a large fiscal deficit for 2010
Adelina Marini, 4 June 2010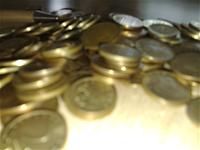 The fiscal deficit of Bulgaria this year has reached 1.299 bn levs (0.666 bn euro) no matter the fact that the Ministry of Finances reported surplus for April of 369.6 mn levs (189.53 mn euro). The deficit in the national budget is worth 958.4 mn levs (491.48 mn euro) and on the European funds it has reached 341.4 mn levs (175 mn euro). The amount of the incomes by the end of April is 7.493 bn levs (3.84 bn euro) which is 28.2% of what has been planned for 2010. The expenditures amounts to 8.792 bn levs (4.5 bn euro), including Bulgaria's installment to the common EU budget.
The Ministry of Finance explained the continued high levels of spending with higher social and health care payments. Compared to April 2009, spending has been increased by 454.7 mn levs (233.17 mn euro). The increase is mainly for subsidies for the real economy and farmers. The Ministry explained this with the government's efforts to stimulate economy and to improve the business environment.
The fiscal reserve by April 30 2010 is 6.7 bn levs (3.43 bn euro). According to the State Budget Law the minimum reserve is set to be 6.3 bn levs. Last week the government voted on a draft for an update of Budget 2010, envisaging a reduction of the minimum reserve to 4.5 bn levs (2.3 bn euro). However the budget is still not approved by Parliament.