Bad, Worse, Copenhagen
euinside, 18 December 2009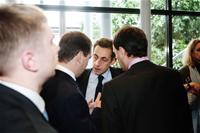 The feeling of a failure of the climate change talks in Copenhagen is increasing more and more with every hour, since in the afternoon another draft text appeared in the Danish capital, excluding 2010 as a deadline for a legally binding agreement, the world agencies report. Even before the two-weeks UN conference had started it became clear that if there was no legally binding agreement in Copenhagen, this should happen by the end of 2010.
The informal session, organised at noon by the Danish prime minister Lars Rasmussen ended with almost no progress with the statements of the leaders of the major economies. Most countries did not retreat even an inch from their previous commitments, with the exception of Brazil; and the Latin American countries blamed the American president Barack Obama of being imperialistic and required capitalism be removed entirely because it was to blame for all problems.
A little after the informal session was closed, world leaders gathered into small groups in a latest attempt to break the deadlock on the key issues - mitigation, control and financing. In the meantime, the UN secretary general Ban Ki-Moon called on all world leaders to remain in the Danish capital for the night until they could reach a compromise. By schedule the summit had to end tonight but given the impossibility for an agreement, it is possible the conference to continue for the night.