The "heat" by the European Commission is not directed to the court
Ralitsa Kovacheva, July 23, 2010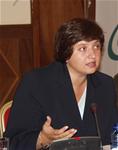 Ivanka Ivanova, Director of the Legal Programme of the Open Society Institute - Sofia commented for euinside on the Report of the Commission on July 20, 2010:
There are three important things related to the report. The first is undoubtedly the positive element, which recognizes a clear demonstration of political will to combat organised crime and corruption, and improved interaction with the Brussels institutions. This was not the case with the previous government and should be reported as a positive development.
Second, the Commission clearly stated that it will accept as results, in the fight against organized crime and corruption, convictions that are pronounced during a fair trial and in compliance with the European Convention on Human Rights. This is explicitly stated in the part where amendments in the legal framework of the CEPACA (Commission for the Forfeiture of Criminal Assets) are being discussed.
The third thing is that this is a diplomatic document and should be read as a diplomatic document. In other words you should look more deeply into what has not been written in it, rather than what has. And in the context that a group of MPs last week submitted a legislative proposal for the establishment of a specialised court, I want to emphasize that no such recommendation has been made by the European Commission. Moreover, because a sentence from the previous report was used as an argument of the authors of this idea, this time the Commission interprets what it meant advising specialisation in the judiciary.
In recommendations 4, 5 and 6, which describe what actions Bulgaria should undertake regarding fight against organised crime, the Commission has explained what was meant by specialisation. It is not to create a special court, but to strengthen the capacity of CEPACA and continuing the reform of the police in order to achieve a competent criminal police, which is able to collect good evidence.
I think this is a very important note from the Commission, because currently the Government is considering the establishment of a specialised court as a main measure to combat corruption and organised crime. It is very important to emphasize that the entire report of the Commission attaches great importance to measures that are related not only to prosecution but also to seizure of criminal assets - CEPACA is very widely mentioned in the report.
The European Commission attaches great importance to measures related to conflict of interest and emphasizes that work in this direction is not enough. The Commission talks about the capacity of the administration in collaboration with the prosecution regarding investigation of procurement abuses. In general, procurement and conflict of interest are the two key words in the report and this clearly shows that the "heat" by the European Commission was directed to the court. This is what Ivanka Ivanova from the Legal Programme of the Open Society Insitute in Sofia wrote for euinside.