Elections Time
Dessislava Dimitrova, 4 December 2011

This Sunday election time has come again for two neighbouring states, which only 20 years ago were part of former federative republic of Yugoslavia and now they are part of the EU, though at a different stage. In Slovenia, already a member both of the EU and the eurozone, voters this Sunday are to chose 90 members of the local parliament, after Borut Pahor's government lost a confidence vote in September and resigned a year before his mandate was to end.
The election campaign in the country ended at midnight on Friday, as some 1.0% of the voters, who will not be able to vote on Sunday, where they were registered to do so, did this between Tuesday and Thursday. The expected winner in these elections is Janez Jansa – a former prime minister and leader of the incumbent opposition right-wing. His leadership in the polls, however, has recently melted because of the ballots that were expected to go to the smaller right and left parties, which usually become a coalition partner of the ruling party following each election.
And in Croatia, which is going to sign the EU accession treaty in a few days, the polls show a victory for the social democratic party, SDP, while the ruling democrats, led by Prime Minister Jadranka Kosor are expected to suffer a severe loss. Moreover, the recent database, compiled by local blogger Marko Rakar, referred to as the Croatian Wikileaks, showed that corruption had taken a massive size in the last few years, mainly due to abuse with procurements. Rakar has compiled information from the State Gazette, the Trade Court, the government's statistics office and other registers, which show irregularities in 58,000 procurement contracts, worth around 80 billion kuna (some 10 billion euro).
For example, some of the companies, hired under those contracts all of sudden

change their main activity from office materials supplier to a constructor. Other companies, on the other hand, post extraordinary high profits, such as Fimi Media, which was part of a big corruption scheme, for which charges have been pressed against former Prime Minister Ivo Sanader. Under that scheme, the company with a contract gets paid in advance, then it pays a tax on its profit, while the proceedings are used to finance political parties. For example, some of the companies have posted a profit equal to 60% of their revenues, provided that usually the profit of an average company in the country equals between 3% and 6% of its revenues, excluding some firms in the telecoms and banking sector.
Another example, according to the Croatian Wikileaks, of suspicious deals are contracts that have been singed just a few days after a procurement was called or those signed with a single bidder in it. Transparency International corruption perceptions index, launched earlier this month, also shows a rise of corruption in Croatia. The country ranked 66 among 182 countries with an average score of 4, on a scale of 0 - 10, where 0 means that a country is perceived as highly corrupt and 10 means that a country is perceived as very clean. The last couple of years its core was 4.1.
All of the above is happening in the back light of the arrests of top officials and even a former prime minister during Kosor's mandate. But, while her task was to convince Brussels that she could tackle corruption, the new government has to remove corruption because of the country itself.
Western Balkans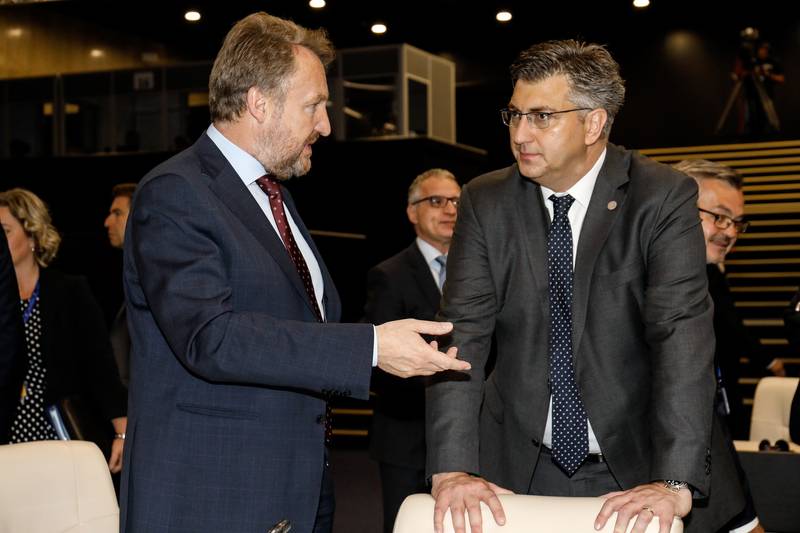 Bakir Izetbegovic, Andrej Plenkovic | © Council of the EU
In Sofia, EU Closed the Door to Enlargement but Left Money and Instructions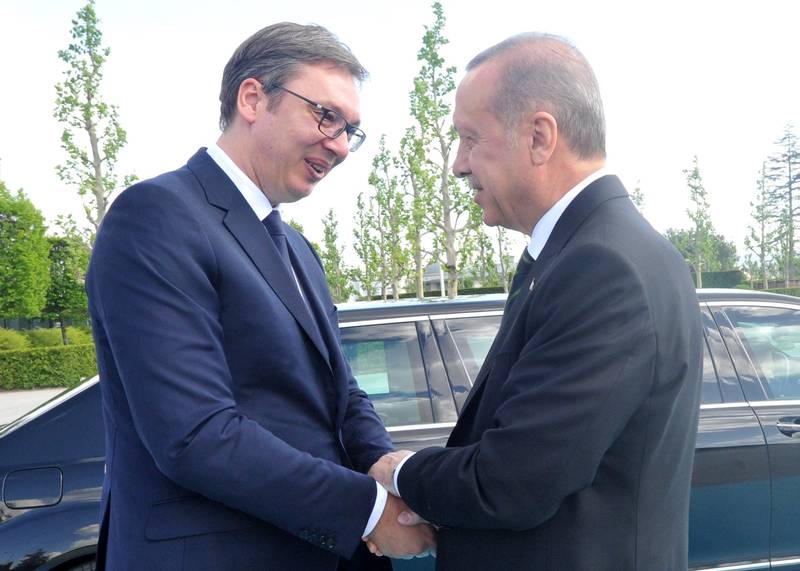 Aleksandar Vucic, Recep Tayyip Erdogan | © Serbian Presidency
Serbia between the Past and the Present in Its Draft National Security Strategy