The Central Electoral Committee should register the Blue coalition
Adelina Marini, 31 May 2009
The Supreme Administrative Court (SAC) has rejected the ruling of the Central Electoral Committee (CEC) with which it refused to register the Blue coalition with the UDF (United democratic forces) in its structure. The court announced its decision yesterday. The SAC has made a thorough analysis of the relevant legislation and calls upon CEC to express itself "not only grammatically but also semantic" when formulating its rulings. The court refers to the weird motives for the rejection from registration and that is because of lack of 2/3rds majority. "The fact that there wasn't the required majority is not a reason not to register a political subject but is an expression of the rejection, containing the lack of will of the required majority that has voted against the requested registration, in spite the fact that all necessary legitimate conditions were present", write the judges Konstantin Penchev (president of the SAC), Tsvetana Surlekova and Maria Kostova.
The court also specifies that there are no legislative obstacles the Blue coalition to be registered for the parliamentary elections on the 5th of July. The president of the SAC Konstantin Penchev even said: "Is it possible in a constitutional state like Bulgaria there to be a party ruled for 6 months by a leader who has himself denied the will to rule it? Another question is - is it possible in a constitutional state like Bulgaria there to be a party represented by no one because it doesn't have registration and this party to be excluded from the political life of the country in a period of elections?"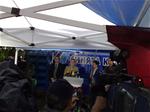 The Blue coalition defined the ruling of the court as a victory of democracy and rule of law in Bulgaria. They called on the CEC to implement the decision of the SAC immediately and to register the coalition with the UDF in its structure. This means that if the CEC registers the Blue coalition with the UDF in its structure than this would automatically call off the registration that Plamen Radonov made for UDF's single participation in the elections. The Blue coalition also explained, after being asked, that they expect the pressure against their participation in the elections to continue.
But still unanswered remains the question - if an adviser to the acting prime minister really stands behind the registration of an Internet site which takes sides in the election campaign, which for the Parliamentary elections hasn't started yet, and in the same time this adviser presides the company that is responsible for the counting of votes, how certain can we be as citizens that the counting of our votes would be absolutely accurate?