Agents of BSP, DPS and the SS have eliminated the UDF
Adelina Marini, 5 May 2009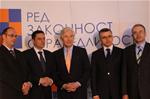 "Order, law and justice" is the only political party in Bulgaria for the moment that has dared to take an opinion regarding the internal problems of the UDF (The Union of the democratic forces). In a declaration today the party, led by Yane Yanev, former member of the United democratic forces (that included the UDF), claims that they were the first to see the cops and the former secret services agents in the UDF. Without naming anyone in particular, the OLJ write: "The appointed leaders of the Old right in Bulgaria have succeeded in its mission to legitimise the vicious transition and those who benefited from it - appointed blue, red and yellow oligarchs, the circles around DPS (Movement for right and freedoms of Ahmed Dogan) and the empowered political and economic mafia in Bulgaria who are still ruling the country. The UDF of today has for the last 8 years given all powers to the "red king" and the old communist clans. It spoke with anti-communist rhetoric but has served loyally to the BSP (Bulgarian socialist party). The anti-communist rhetoric was only the facade behind which it has loyally served the BSP", is also written in the declaration. But it doesn't give clue whether the OLJ write against Plamen Yurukov and Plamen Radonov or against Martin Dimitrov.
In the end of the 2-page declaration the party says that it is ready to accept all those member of the UDF that wish to and that it is the new right alternative. As of 7th of May the party introduces a new, facilitated procedure for accepting members of the UDF.
It is worth noting though that exactly with the votes of the party the Parliament approved a change in the elections legislation which introduces an 8 % barrier for coalitions. Thus, if the Blue coalitions, which consists of the UDF, DSB and the United farmers of Anastasia Mozer, receive less than 8 % of the votes, they will not have any members of parliament.