Simeon Dyankov at the summer Davos in China: Doing business in frontier markets
Adelina Marini, 20 September 2010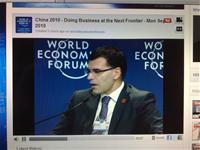 How is business being done in frontier markets? What is a frontier market and is Bulgaria such a market? Is the progression "frontier market-emerging market-developing country" logical? These are only part of the questions I was asking myself while listening to the one-hour panel "Doing business on the next frontier", held within the summer Davos in China. The first thing that impressed me was that for the first time a representative of the Bulgarian government is a participant at the World Economic Forum. Whether because Simeon Dyankov, before becoming a minister of finance in Bulgaria, had worked in the World Bank and is considered an author of the Doing Business index, but we learned about his participation in the forum in the Chinese city of Tianjin from Twitter where we follow the World Economic Forum Davos and not from the Ministry of Finance.
The second thing that made me contemplate was the topic of the panel in which Mr Dyankov participated, but not the part of which he is the author (Doing Business) rather the frontier markets and Bulgaria's inclusion in this group. No one has ever even tried to define what kind of a market Bulgaria is. Or, if one has, this has never been a part of a public discussion. For a long time the categories "developing countries", "emerging markets" are clear, but there are still disputes about "frontier markets".
As it became clear from the panel, as frontier markets could be considered those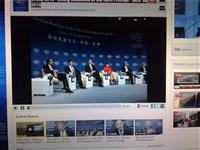 countries that had institutional development, but the market was still in an early stage of development. Such type of states generate a serious economic growth but are volatile. They also have institutional development but have yet to reach the stage of the emerging markets. Mr Dyankov's definition, however, was quite interesting.
"One of the main distinctions between an emerging market and a frontier market is the level of institutional development. In other words I would argue that if two countries have roughly the same institutions but one has a much larger market then it could be considered an emerging market simply because it can attract more investors that can use this market. So I think part of the success of countries like Brazil, like India, like China, like Russia is not so much that they have acquired much better institutions but simply because they are larger and investors want to be there".
Further on the Deputy PM explained that the advantage of such countries like Bulgaria, which cannot increase the size of their market, is that having as a neighbour a big market, they could serve as an entry point to it. According to Dyankov, Bulgaria's advantage, which is among the smallest EU Member States, is that it has good relations with the former socialist countries as well as to states like India and China. Besides, it is an entry point to the EU market. The main thing though, that attracts investors is low taxation. The second condition the foreign investors expect is good infrastructure (roads, electrical and telecommunication infrastructure, sanitation).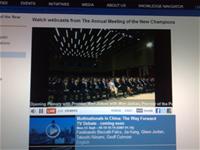 One of the interesting questions which the moderator of the discussion Tarun Khanna posed, a professor at the Harvard Business School, was how support is being built in the societies of frontier markets. It was a surprise that in Tianjin Deputy PM Dyankov was very garrulous and active. He was quick to answer the question by saying that, in fact, frontier markets' societies, including Bulgaria, expect to hear what an investor wants and are inclined his wishes to be satisfied because he would create new jobs.
"I found as, let's say, economist turned a politician recently, I found that people care a lot about, and society cares a lot about job creation. So if you will say here's a very large investor who can create 2,000 jobs, for a small country like Bulgaria, please tell us what you are looking. They would say we need better roads, so we can transport our goods without breaking. And society actually gets excited about that".
And another very important thing, which Mr Dyankov mentioned: "So, for example, coming from many years at the World Bank before, I always thought that investors care a lot about the quality of the justice systems. In fact they do, but most foreign investors write contracts in such a way that they cannot betray them in either London, Hong Kong or else where. So that's an important decision, but it's not these 3 or 4 that come up. The first three that I mentioned come low taxes, infrastructure, the way into the EU market".
During the frontier markets discussion the participants* shared various problems they had met in such countries - corruption, lack of cooperation of the government, an obligation an investor to have a local partner. Dyankov said, however, that governments indeed were very interested in employment but also in capacity building, which could later help not only an investor's company but the entire industry and even the government. But there are problems too. "Even the largest international investors forget to sometimes talk to different layers of the government. The governments do want to listen, do want to understand exactly what the issues are. One needs to be careful to tell the right story or the true story".
He gave the example of a European investor, whom he met recently, who wanted to enter the Bulgarian market and said "you offer us this but the neighbouring countries offer us that". Dyankov explained that very often investors thought that financial ministers did not talk to each other and that they would not be caught in an attempt to force more lucrative conditions out. This is why he called on all potential investors to say the truth because otherwise they loose credibility. To a question from the audience that corruption often is endemic and starts from the government downward, Simeon Dyankov reiterated that it was best investors to share their problems with the government and to publicly explain their investment intentions. "If there is democracy, elections, it is quite difficult to ask for bribes. So, you have to publicly announce your intentions and be sincere in what you propose. This works", the minister concluded.
The Deputy PM took part also in the questions about the requirements of a local partner in frontier markets by explaining that in many countries in Europe this requirement was even prohibited, but was sometimes necessary if there was no big consultant that could explain to an investor what he could and could not do. This is why it is better to use a local partner who knows local legislation well and can help avoiding problems.
Against the backdrop of the entire discussion we can outline as fundamental the first question from the audience about frontier markets' contribution to global growth. Mr Dyankov took part here too by giving the following example: "I found again in my 15 months in Bulgarian politics that some of the investors that come to Bulgaria are actually from like-markets. They bring technologies that work even when there is a power shortage. Fortunately in Bulgaria this has not been happening for a long time but is a problem in some countries. Recently we had such an investor who trades with hospital equipment and he came up with a very good innovation, precisely from an emerging Asian market. This technology creates an overall protection in cases of prolonged power shortages. This is a simple example but is a type of innovation which works in a not that well developed infrastructure".
We can derive the following conclusions from the one-hour panel - that frontier markets are in fact satellites of the big ones. They cannot be defined as developing nations because they have some indications of already developed nations but still have problems with the size of their market and also with some specific practices. Often investors encounter conditions they were not used to and they retreat - like corruption, lack of transparency, preferences that are based not on competitiveness but on other principles.
And with regard to Deputy PM Dyankov's participation in this particular panel we can conclude that he was there in the capacity of two persons - an economic expert that worked with the World Bank and the Minister of Finance of a frontier market. The fact that we will not get a press release from the Ministry of Finance about Mr Dyankov's participation in this very important forum also speaks that the role of an economic expert, who worked with the World Bank, had prevailed.
The fourth summer Davos in Tianjin was officially opened by the Chinese Prime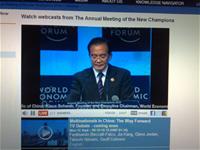 Minister Wen Jiabao who was born in that city. The opening took place in a hall that gathered together 5,500 people. In his speech Mr Wen, not for the first time, mentioned in the context of fighting climate change that the industrialised countries had 200 years to create their industry while China had been doing this for only several decades. Nonetheless, however, he reaffirmed his country's commitment to contribute to the reduction of carbon dioxide but again underlined that China's contribution should be proportionate.
Mr Wen also presented the impressive data of China's economic development in a moment when many of the developed nations around the world are still fighting the impact of the financial and economic crisis. Thanks to the financial stimuli the Chinese government paid in 2008, the Chinese economy grew by 9% in 2009 and by over 11% in the first 6 months of 2010. He said that the process of modernisation of the economy was not seriously hit by the crisis. A major factor in these good economic data was internal demand. Against the backdrop of this good data, the Chinese government reports very low numbers of budget deficit and public debt, respectively - 3% and 20% of GDP.
The Chinese premier, however, failed to mention one of the main problems which these data create for the other global players, namely the supporting of a fixated rate of the yuan (the Chinese national currency) against the dollar. This issue will be raised again at the G20 summit in Seoul in November.
China's main priorities remain creation of new jobs because unemployment increased drastically with the crisis; environment and resources protection. It was the resources and energy consumption that provoked a question to Wen Jiabao by the founder and chairman of the World Economic Forum Klaus Schwab. He quoted recently published data by the International Energy Agency, showing China had surpassed the US and now is the largest energy consumer in the world.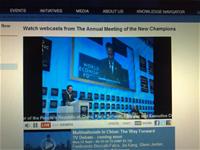 The Chinese premier's response was expected - consumption, considered on a per capita basis still was lower than the US. Besides, with the current stage of development the Chinese economy still required significant consumption of energy but the government in Beijing was intended to pay a serious attention to energy efficiency and climate change.
The World Economic Forum gathers together governments' and business representatives to find solutions to the major problems for investment and economic growth.
*The participants in the Doing Business at the Next Frontier panel: Elizabeth Buse (group executive, International for Visa Inc., with responsibility for overseeing Visa's global sales and client service functions), Simeon Dyankov, Don Lam (Chief Executive Officer and Co-Founder of VinaCapital, one of the leading fund managers in Vietnam), J. Erik Fyrwald (Chairman, President and Chief Executive Officer of Nalco), Zhu Hongjie (Vice President Export-Import Bank of China), Tarun Khanna is a professor at Harvard Business School. His latest book is Winning in Emerging Markets: A Roadmap for Strategy and Execution.
Davos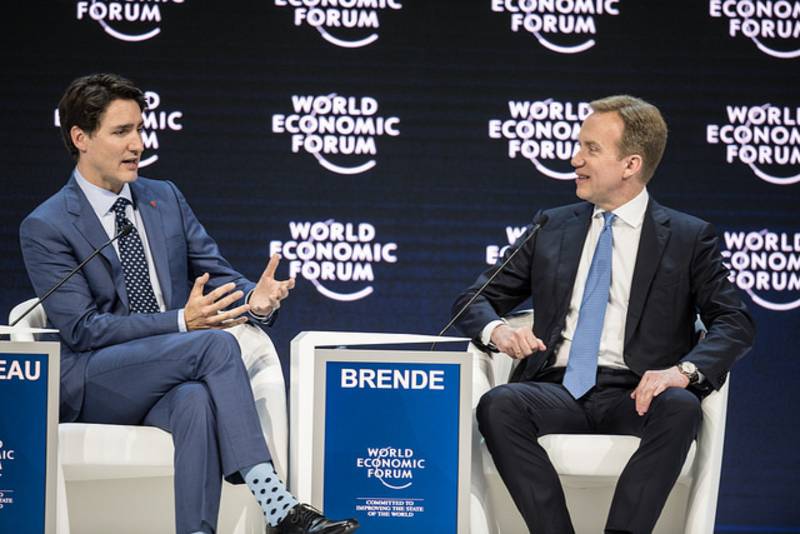 Justine Trudeau | © WEF
Macron and Merkel with Radical Ideas in Davos for Changing the EU and the World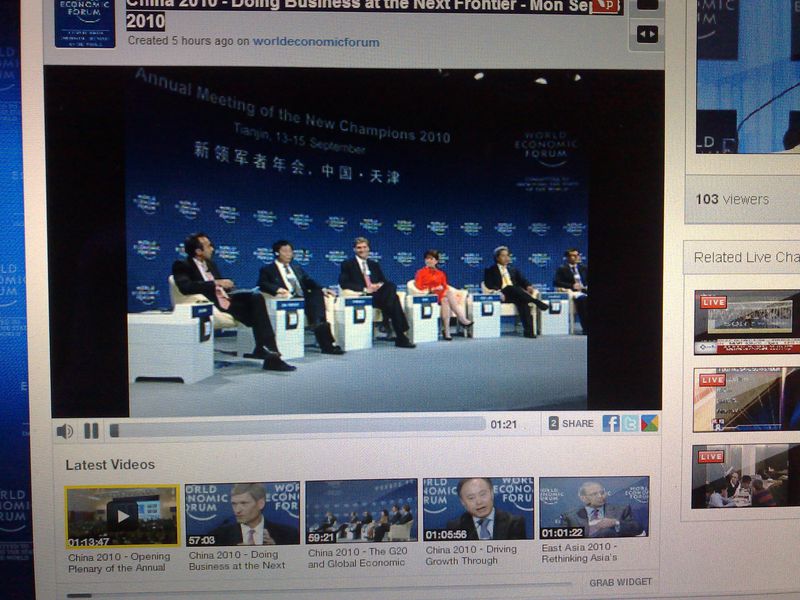 | © euinside
Bulgaria has an economy of the "rural type"