NATO and Russia announced a fresh start in their relations
Ralitsa Kovacheva, 22 November 2010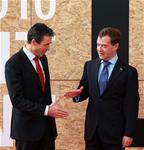 Superlatives such as a "fresh start", a "tipping point", a "historic" or "great success" were the most frequently used phrases after the joint meeting of the NATO-Russia Council (NRC), which took place in the framework of the NATO summit in Lisbon. Even the usually reserved Russian President Dmitry Medvedev admitted that after Lisbon, he was more optimistic than before. He told media some emotional behind-the-scenes details:
"We have made progress and we are talking about partnership. My colleagues used various terms in their speeches today, but overall, everyone spoke of the need to develop partnership relations, develop an alliance, and we even heard the term 'union'. These are emotional words and are not yet reflected in actual documents, but this reflects the direction discussions are taking, despite the difficulties and contradictions that exist."
In a similar tone, US President Barack Obama said: "I was very pleased that my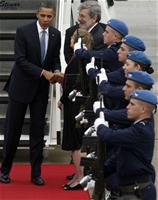 friend and partner, President Dmitry Medvedev, joined us today at the NATO-Russia Council Summit. Together we've worked hard to reset the relations between the United States and Russia, which has led to concrete benefits for both our nations. Now we're also resetting the NATO-Russia relationship. We see Russia as a partner, not an adversary. And we agreed to deepen our cooperation in several critical areas: on Afghanistan, counter-narcotics, and a range of 21st-century security challenges. And perhaps most significantly, we agreed to cooperate on missile defense, which turns a source of past tension into a source of potential cooperation against a shared threat."
The most emotional was NATO Secretary General Anders Fogh Rasmussen, who didn't save exalted metaphors: "Today, we launch a fundamentally new phase in relations between NATO nations and Russia. Today, we help not only bury the ghosts of the past that have haunted us for too long. We exorcise them. Today, we make a fresh start."
Relations between NATO and Russia deteriorated since the Russian intervention in Georgia in the summer of 2008. Both sides remain on their existing positions, but have agreed that this issue should not become a stumbling block in their relations, said President Dmitry Medvedev. "We will continue to discuss this matter, and we hope that these discussions will be productive, for this is the only way to work towards guaranteeing peace in the Caucasus and in Europe in general." According to NATO Secretary General, "an improved relationship between NATO and Russia will also contribute in a valuable way to finding solutions to the conflict between Russia and Georgia."
Afghanistan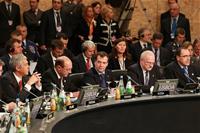 Some important news came from the NATO-Russia Council relating to Afghanistan. Moscow will allow more NATO supplies through its territory, moreover - not only to Afghanistan, but out of it as well. The list of transit cargo will be extended, but it will not include "lethal goods", Anders Fogh Rasmussen explained. Moreover, the joint training of counter-narcotics personnel from Afghanistan and from the region will include Pakistan for the first time.
"We have our own dramatic experience in this country and we are not indifferent to Afghanistan's future", Medvedev told reporters. As a priority for Russia, he highlighted the cooperation in combating drugs trade, because almost all of the heroin and opiates produced in Afghanistan come first of all into Russia and then go further into Europe, Medvedev explained. However, the president noted, "We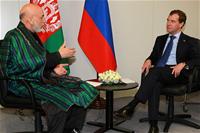 will help Afghanistan to defend its national interests, including through bilateral assistance. We are ready to supply various types of equipment, and weapons too if needed, and we are doing this." During the forum, Medvedev had a bilateral meeting with Afghan President Hamid Karzai and invited him to visit Russia next year.
The Russian President was asked by media to comment on whether the Afghanistan exit strategy, adopted by NATO, was a realistic plan. It provides for the Alliance's forces to begin the transfer of responsibility for security to local forces in early 2011 and complete the process in 2014.
"… It is hard for me to really assess just how realistic this kind of plan could be. I think that the situation in Afghanistan is still far from calm, to be honest, despite the huge effort the Afghan government and president are making. But Afghan society remains deeply polarised still, and the terrorist threat coming from this country also remains high. I therefore have my doubts about just how quickly these plans can be implemented."
US President Barack Obama himself did not categorically exclude the possibility the American forces, which will begin their withdrawal from Afghanistan in July 2011, to remain in the country with a military purpose after 2014: "My first and most important job as President of the United States is to keep the American people safe. So I'll always do what's necessary to keep the American people safe. That's true today; that will be true for as long as I'm President of the United States. And maybe that will be the case in 2014."
NATO and Russia with a joint missile defence system?
The greatest expectation from the NRC-meeting was related to the Russian reaction to the proposal Moscow to participate in a NATO missile defence system. In a joint statement the two parties state: "We agreed to discuss pursuing missile defence cooperation. We agreed on a joint ballistic missile threat assessment and to continue dialogue in this area." The NATO-Russia Council should make a joint analysis of the future framework for cooperation in missile defence, which will be assessed at the June 2011 meeting of NRC Defence Ministers.
"For the first time in history, NATO nations and Russia will be cooperating to defend themselves. Russia will know without a doubt that the system cannot be directed against her", NATO Secretary General Anders Fogh Rasmussen said. Our participation could only be on an absolutely equal basis, Dmitry Medvedev said, in his turn. "Either we are fully involved, exchanging information and taking responsibility for particular areas, or we do not take part at all. But if we do not take part at all, it is understandable that we would have to take defensive measures accordingly. "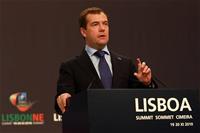 Russia has proposed building a sector-based missile defence system, Medvedev said and explained, that he had not insisted on receiving a rapid response. "We realise that various countries could have their own views and put forward their own arguments regarding the idea of dividing responsibility within the framework of a European missile defence system."
Medvedev also linked the European missile defence system with nuclear potential: "If we all work on a missile defence system together it should be a system that does not undermine the existing balance. It is clear, after all, that if missile defence were to push the nuclear balance one way or the other this would lead to a new arms race. In this sense, the missile defence idea has the potential to be constructive, and also dangerous."
The START Treaty
One of the most often raised journalists' question in Lisbon was about the delayed ratification of the START treaty by the US Senate. The presidents of the United States and Russia discussed the issue at a bilateral meeting during the forum. Maybe that's why both made very similar comments: "Nobody is going to score points in the 2012 election around this issue, but it's something that we should be doing because it helps keep America safe. And my expectation is, is that my Republican friends in the Senate will ultimately conclude that it makes sense for us to do this", Barack Obama said. He stressed that President Medvedev had made every effort to move Russia in the right direction, so "it's also important that we don't leave a partner hanging after having negotiated an agreement like this that's good for both countries".
Asked about Russia's reaction if the Senate did not ratify the Treaty, Medvedev said that it would be offensive, because the hard work of many people would have been in vain. He expressed confidence that reason would prevail, and hoped that lawmakers in the United States would take a responsible approach. Medvedev reiterated his position that Russia would act in symmetry with the United States and the Russian Parliament would react according to the decisions taken by the US Congress.
"I believe this is one of the most substantial NATO summits you've ever seen. I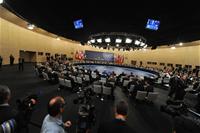 also think it is one of the most important summits in the history of this alliance", NATO Secretary General Anders Fogh Rasmussen summarised. The Forum endorsed the new Strategic concept of the Alliance for the next 10 years, the Afghanistan exit strategy and the basis for negotiations with Russia for a joint missile defence system. The next NATO Summit will be held in 2012 in the United States.
NATO summit in Lisbon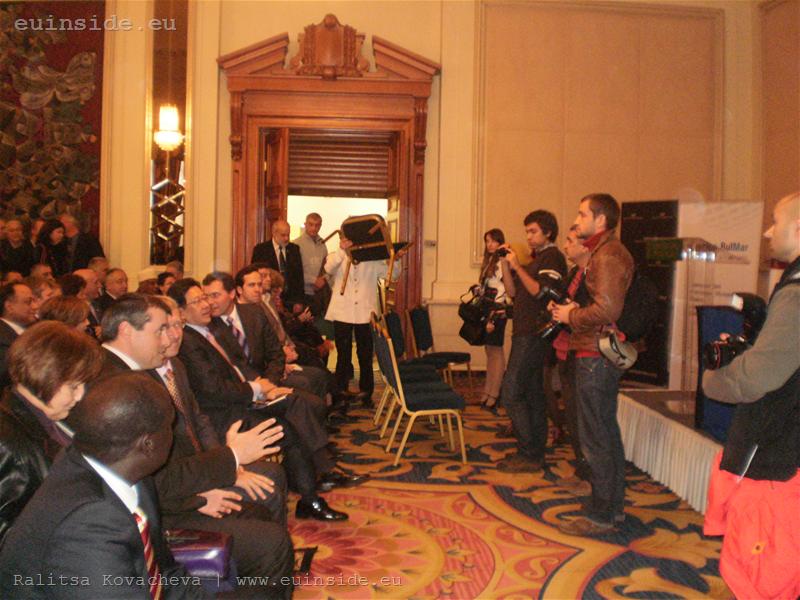 | © euinside
N. Mladenov: There is a Chinese wall between EU and NATO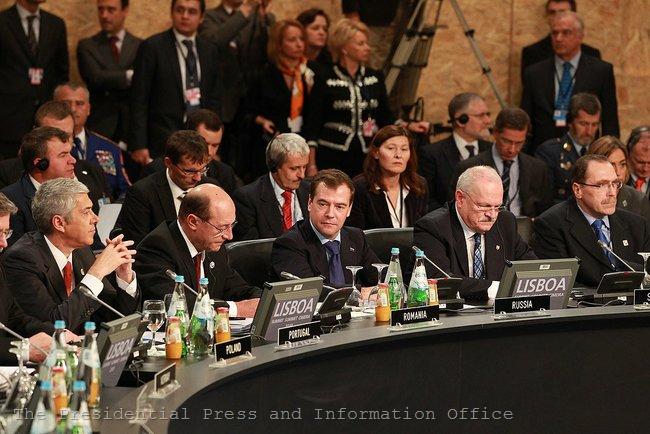 | © The Presidential Press and Information Office
NATO and Russia announced a fresh start in their relations