Searching for (im)possible nuclear security
Ralitsa Kovacheva, April 16, 2010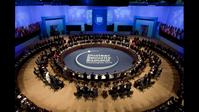 In this very moment there are over 2,000 tons of plutonium and highly enriched uranium around the world in dozens of countries, according to American experts. At the same time, there are terrorist or criminal groups, seeking to acquire nuclear weapons – as well as materials and expertise to make them. There have been 18 documented cases of theft or losses of highly enriched uranium or plutonium, and perhaps other cases, still unaccounted for.
Having in mind the above, 49 world leaders gathered in Washington in search for nuclear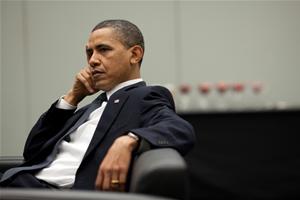 security. The unprecedented forum was organized by President Barack Obama as part of his "nuclear offensive" in the last few weeks. In the new American nuclear policy Obama has pledged to cut his country's nuclear arsenal and refrain from nuclear tests. On April 8th in Prague he signed a new Strategic Arms Reduction Treaty (START) for 30% reduction of strategic warheads with his Russian counterpart Dmitry Medvedev.
In his final speech at the forum the US President announced the consensus reached among the participants - that "nuclear terrorism is one of the most challenging threats to international security". And "the most effective way to prevent terrorists and criminals from acquiring nuclear materials is through strong nuclear security - protecting nuclear materials and preventing nuclear smuggling."
Obama said he was pleased that all leaders have endorsed the goal that he outlined last year in Prague "to secure all vulnerable nuclear materials around the world in four years' time."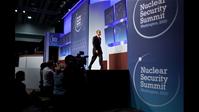 "This is an ambitious goal, and we are under no illusions that it will be easy. But the urgency of the threat, and the catastrophic consequences of even a single act of nuclear terrorism, demand an effort that is at once bold and pragmatic. And this is a goal that can be achieved."
In the final Communiqué of the Washington Nuclear Security Summit the US have pledged to commit their responsibilities to maintain effective security of nuclear materials and facilities, including through strengthening national laws and policies. And "to prevent non-state actors from obtaining the information or technology required to use such material for malicious purposes".
At the same time it was underlined that the implementation of strong nuclear security practices "will not infringe upon the rights of States to develop and utilize nuclear energy for peaceful purposes."
Within the two-day forum a lot of bilateral meetings took place and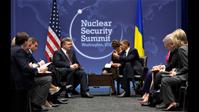 each country made a specific commitment. Russia, for instance, announced that it will close its last weapons-grade plutonium production reactor. And agreed with the US to eliminate 68 tons of plutonium, that would have been enough for about 17,000 units of nuclear weapons. Instead, it will be used for nuclear energy production.
Canada agreed to give up a significant quantity of its highly enriched uranium, Ukraine, Mexico and Chile – their entire stockpiles. Many countries have signed international documents related to nuclear security, which they refused to sign so far. The meeting adopted a detailed Work plan whose implementation would be assessed at the next summit in South Korea in 2012.
Representatives from Iran and North Korea were not invited at the forum because of the controversial nuclear programmes of these countries. According to the BBC Iran will hold its own nuclear summit in Tehran this weekend with the foreign ministers of 15 countries. Because of concerns of possible pressure over its nuclear programme, Israel was represented in Washington not by its Prime Minister Benjamin Netanyahu, but by the minister of intelligence and nuclear energy Dan Meridor.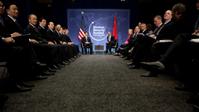 "Washington Post" noted, however, that some important issues were not discussed during the forum. For instance, the issue of hundreds of civilian research reactors around the world that use highly enriched uranium and the plans to convert them to use low-enriched uranium, which is expensive. Or the question whether countries should extract plutonium from spent fuel from nuclear energy plants - that can also be used to make nuclear bombs.
The newspaper quotes Russian President Dmitry Medvedev, who defined the summit as "a complete success", but added there was a lot more work to be done: "I hope we won't just go home feeling happy."
0