EU Will Fight Populism by Harnessing Globalisation
Adelina Marini, 19 May 2017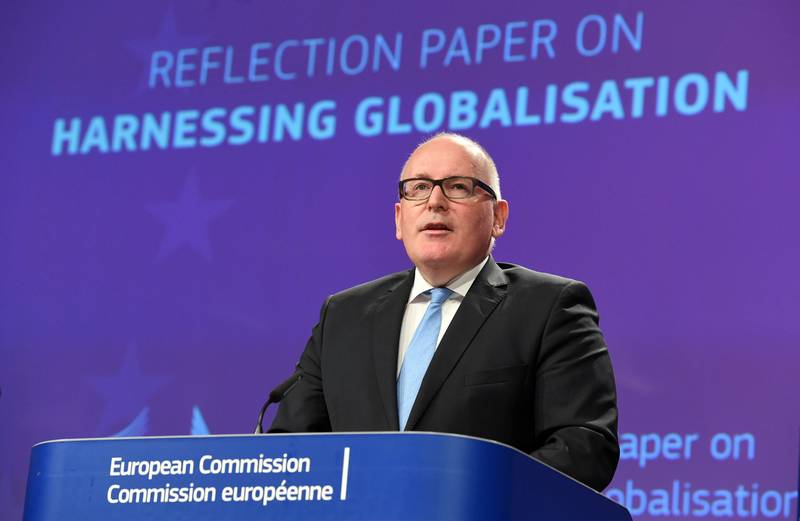 More than 10 years have passed from the success of Thomas L. Friedman's book "The World Is Flat", which praises globalisation. Since then, the attitude toward this process has turned 180 degrees and has served as powerful wind in the sails for the enormous growth of populist and nationalist forces in Europe and the United States. 2016 was the year when mainstream politics got frightened by the scale of the populist disaster, especially after the fiasco surrounding the signing of the free trade agreement with Canada (CETA), and there was a growing debate about the need to solve the problems that globalisation creates. After that turbulent October, when the Wallonia regional parliament refused to ratify the agreement and threw the whole EU in shock, European Council President Donald Tusk (Poland, EPP) stated:
"The battle for CETA also showed how important impressions and emotions are in the modern world. It showed that facts and figures won't stand up for themselves alone. That post-factual reality and post-truth politics pose a great challenge on both sides of the Atlantic. Free trade and globalisation have protected hundreds of millions of people from poverty and hunger. The problem is that few people believe this. Free trade and globalisation protect humanity from total conflict, the problem is that few people understand this. The controversy around CETA has demonstrated that our first priority is to give people honest and convincing information about the real effects of free trade. That the alternative to free trade is isolationism and protectionism, a return to national egoisms, and as a result - the threat of violent conflict. We should be able to convince our citizens that free trade is in their interest, and not just big companies and corporations".
More than half a year after this revelation, the European Commission has proposed a reflection paper on "Harnessing Globalisation". The document was presented last week by European Commission first Vice President Frans Timmermans (Netherlands, Socialists and Democrats), and by the Vice President responsible for Employment, Growth, Competitiveness and Investment Jyrki Katainen (Finland, EPP), aiming to provoke a debate on the topic, which would provide guidance for subsequent concrete measures.
Globalisation is not what it used to be
Until recently, the main driver of globalisation was commodity trading and capital flows. Now, however, thanks to rapid technological change, it is increasingly driven by knowledge. According to European Commission data, in the early 1970s, trade had a 20% share of world GDP, while it now accounts for half of GDP. Commodity trading is generally stable, but other forms of exchange are growing exponentially, such as data flows. Estimates show that the value of the data economy will increase to 739 billion euro by 2020, which means a 4% share in the EU's total gross domestic product. In other words, this share will be doubled.
A few more figures that are presented in the document as a counterpoint to allegations that globalisation is synonymous with job loss or low environmental and health standards or data protection standards. 14,000 jobs are supported by every one billion euro of exports. Over 80% of European exporters are small and medium-sized enterprises. 80% of imports into the EU consist of raw materials, capital goods and components needed for the functioning of the European economy.
The negative effects of globalisation are due to the fact that some countries do not share European standards of living, environmental, tax or other standards. This allows companies to take advantage of the differences. Companies that cannot compete with more productive or cheaper foreign partners shut down, leading to job losses and affecting families and even entire regions, the EC explains in the Reflection Paper. In addition, large corporations take advantage of loopholes in international rules and skilfully avoid paying taxes in jurisdictions where they produce and sell. This, by the way, has been an issue in the EU for several years now and work on changing European legislation in this direction has been seriously advanced.
The EC also proposes an explanation for the negative attitude towards migration, which in some parts of the EU has led to tensions and growth in xenophobia and nationalist views. If, until recently, legal migration has served as a fuel for EU economies and provided the necessary labour and skills to fill labour market deficits, integration efforts and local infrastructure have not moved at the same pace as migration. If no active measures are taken, globalisation can significantly enhance the impact of technological progress and lead to an increase in inequality and social polarisation, warns the Commission.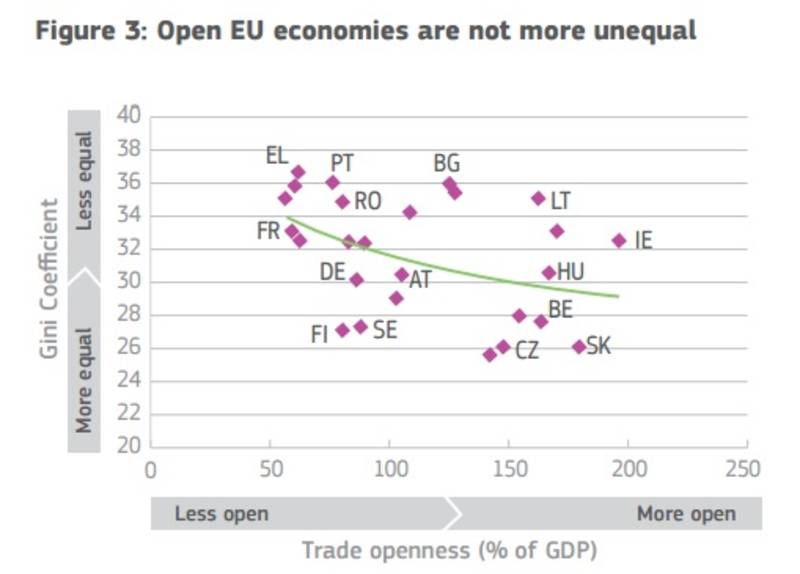 Globalisation will be very different in 2025, as the EC believes we are currently in the early phase of the transformation that the fourth industrial revolution will bring. The EC foresees that all sectors will be changed, especially transport, because of connected cars, drones, or car sharing; energy; agriculture; telecommunications; distribution, because of the growing role of e-commerce; financial services, due to the entry of virtual banks and insurance or crowdfunding; manufacturing, which is going to be fully automated; health care, where online diagnostics advances and the mobility of medical professionals increases. The gap between technologically advanced regions and the more backward ones is going to increase if governments do not invest in education, encourage innovation, and ensure fair competition.
Isolationism is no solution
The EC believes that isolationism is not a solution and offers concrete data to defend its claim. Any increase in trade restrictions by 10% is expected to result in a 4% loss of national income. According to a survey of 27 European and 13 other large countries, the loss of income from trade encapsulation will be 63% for the poorest households and 28% for the richest ones, as the poor spend a larger share of their incomes on consumption. Isolationism will lead to loss of access to new products, services, technologies, and ideas. Protectionism will lead to an increase in prices and will achieve the opposite of the desired effect, the document says.
How to harness globalisation?
The document does not offer many specific solutions, but only sketches areas of possible future activity. Vice President Jyrki Katainen has repeatedly said that this is just a document for reflection, not an action plan, but despite that he was seriously criticised at its presentation to the European Parliament this week. There are a number of areas in which the EU thinks that a solution to the problem of the negative effects of globalisation can be addressed, divided into two groups - external and internal. Externally, the EU has the ambition to be a leader in finalising international trade rules. This will be a heavy and time-consuming task as it involves much more than trade rules - the game already includes values, rights and other standards.
"The EU should continue to develop a balanced, rules-based and progressive trade and investment agenda, that not only opens markets in a reciprocal way, but also enhances global governance on issues like human rights, working conditions, food safety, public health, environmental protection and animal welfare", says the document. The EC understands, however, that in order to be able to impose its vision of a global order, the EU needs demographic leverage. It is just that data shows that 61% of the 8 billion people in the world will be in Asia, mainly in China and India. The relative share of Europe will fall, with the 27 member states accounting for only 5.5% of global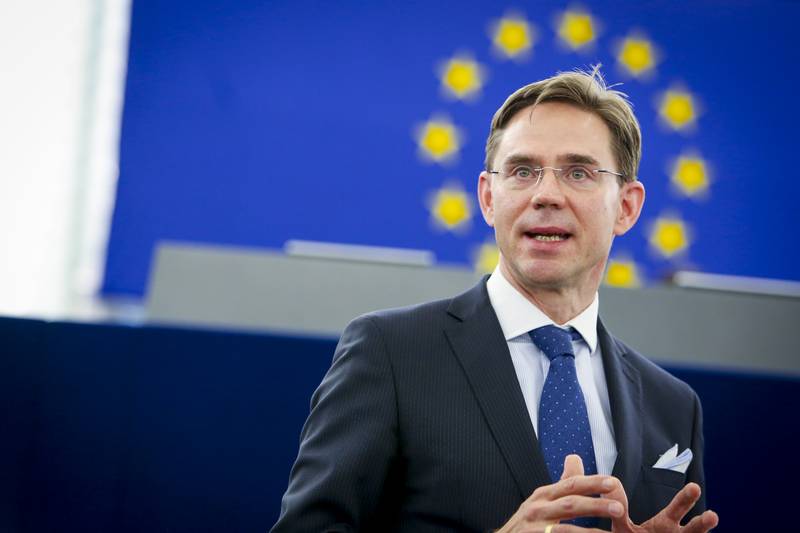 population. This means a multi-polar world order with different political, technological, economic and military powers.
The EU will have to find a way to preserve its global influence in a situation where, by the year 2050, no single European country will be among the world's eight largest economies. Despite that, the EC's ambition is to continue to insist that European standards in the fields of environment, human rights, working conditions, climate change, are imposed in free trade agreements. CETA will serve as a model. Frans Timmermans stated on this occasion that trade agreements are no longer the subject of "esoteric" debates only between specialists and experts. As the Wallonia case has shown, societies are increasingly interested in these topics. "Any future trade agreement will be based on a large public debate to dispel nonsense, but also to solve real problems", he said, pointing out that one of the serious issues will be how to settle disputes.
The EC rejects accusations of naiveté and states in the document that it is aware of the challenges. One of the biggest ones is creating instruments to restore level playing field and to respond resolutely to countries or companies that employ unfair practises.
The EU will rely on reciprocity. The Union is already demonstrating a serious maturity on this issue and the document speaks of retaliation against foreign investors in strategic European sectors, especially state-owned companies, if European investors do not enjoy the same opportunities in other countries. "Openness to foreign investment remains a key principle for the EU and a major source of growth. However, concerns have recently been voiced about foreign investors, notably state-owned enterprises, taking over European companies with key technologies for strategic reasons". The EC recommends that this be carefully analysed and appropriate action is taken. Examples are not mentioned, but there is no lack of those, and it is not difficult to see which foreign investors are envisioned - mainly from China and Russia
Internally, the EU must work to complete the single market. The main message of the EC in the Reflection Paper is that all instruments for combating the negative effects of globalisation are in the hands of national governments, not at the European level. The strongest weapon, according to the EC, is education. Already 90% of all jobs require some level of computer literacy or, as European jargon goes, digital skills. However, the picture in the EU is quite diverse. In Finland, Luxembourg and the United Kingdom 70% and more of the population have these skills. In Italy, Cyprus, Greece, Bulgaria and Romania, however, the situation is not good - less than 40% of their citizens are equipped with such skills.
National governments should think about how to modernise their countries' economies and prepare an adequate workforce at a rapid pace. The EC recommends not resorting to life-saving operations for dying industries. It is better to invest more in new technologies and related industrial services. There are four elements on which the EC recommends working in the future: innovation, investment, sector policy, regulation, and tax policy.
The EC believes that many European regions are well prepared to take advantage of the opportunities offered by globalisation, but some face the risk of serious job losses as a result of international competition and technological change. The most vulnerable are in Southern, Central and Eastern Europe
Globalisation is values too
"Trade agreements of the new age are about norms, standards, values, knowledge", said Frans Timmermans during the presentation of the reflection paper. He added that Europeans want their economy to be based on their values, and that means creating rules against child labour and pressure on the environment. The document was welcomed in the European Parliament by almost all political groups, even by some members of Eurosceptic groups. There were MEPs who criticised it for not being ambitious enough, others - that it was not specific enough. Many, particularly of the Socialist and Democrats group, focused on values.
"Globalisation is also about democracy, values, fundamental rights", said German MEP Hans-Olaf Henkel (ECR). "There's something missing from the study. This is very important - we need geostrategic democracy in a globalised world. We need a map of democratic systems and we need to look at how democratic systems are emerging and whether they are formally recognised as such", said Maite Pagazaurtundúa Ruiz (ALDE, Spain). She also suggested that attention be paid to the influence of large corporations in smaller countries.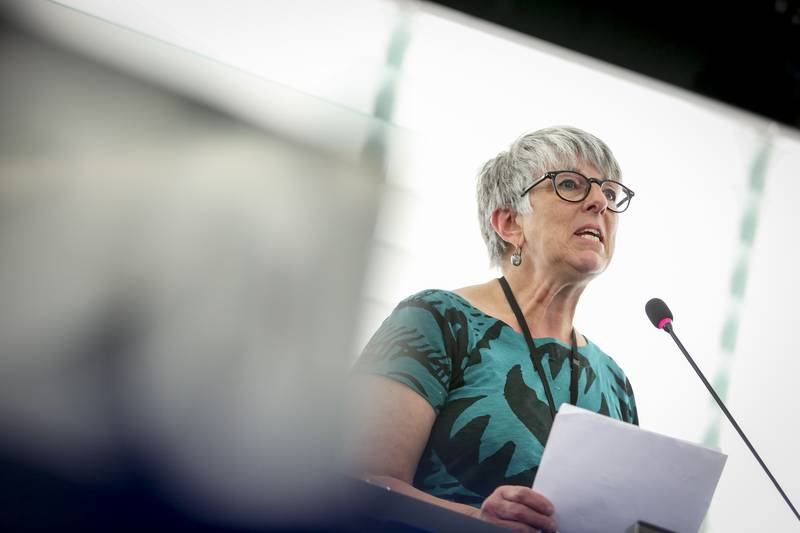 A strong statement in that same spirit was made by the British MEP Julie Ward (Socialists and Democrats): "However, we need to recognise that the EU is the only large international actor which makes it a stated priority to advance on progressive social values. This is an agenda that we must defend and strengthen by emphasising for example the decent work agenda and the alternative trade mandate. I'm very afraid that a Brexit led by a Tory Britain would not be a progressive force in this world", she said. "A big question is whether future EU-US global leadership on rules-based, open, fair trade in a multilateral framework is still possible. Globalisation is much more than trade", said Danuta Hübner (EPP, Poland).
Few were the concrete proposals and the substantive statements during the debate on Tuesday (May 16th). The good thing is, however, that it lasted only an hour and a half instead of the usual three hours. Dabbing in politics, clichés and empty speeches prevailed, which are increasingly played over and over in almost every debate, regardless of the subject. There were many speeches by left-wing MEPs who insisted on the revival of trade unions and national protection. Some Eurosceptics in turn criticised the EU and called for a return to national states as a better mechanism to tackle globalisation.
To all this Vice President Katainen responded as follows: "The EU itself is an example of rules-based globalisation. We have decided deliberately to create borderless globalisation. We have created Erasmus, the single market which is, by the way, a free trade agreement. This is what globalisation is in Europe. This we should do elsewhere too", he said. Frans Timmermans announced that in his annual address on the state of the Union in September, EC President Jean-Claude Juncker (Luxembourg, EPP) will present more concrete proposals for harnessing globalisation. He expects member states to contribute.
Translated by Stanimir Stoev
Institutional Affairs of the EU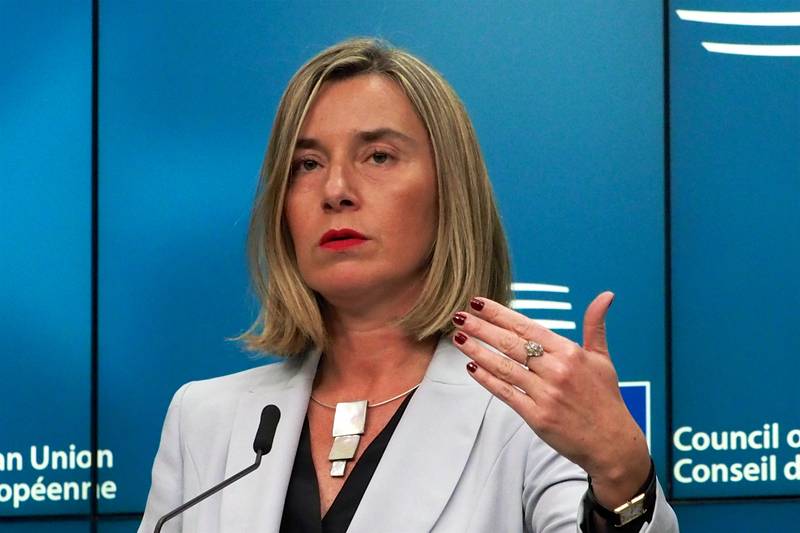 Federica Mogherini | © Council of the EU
EU Is Laying the Foundations of a European Defence Union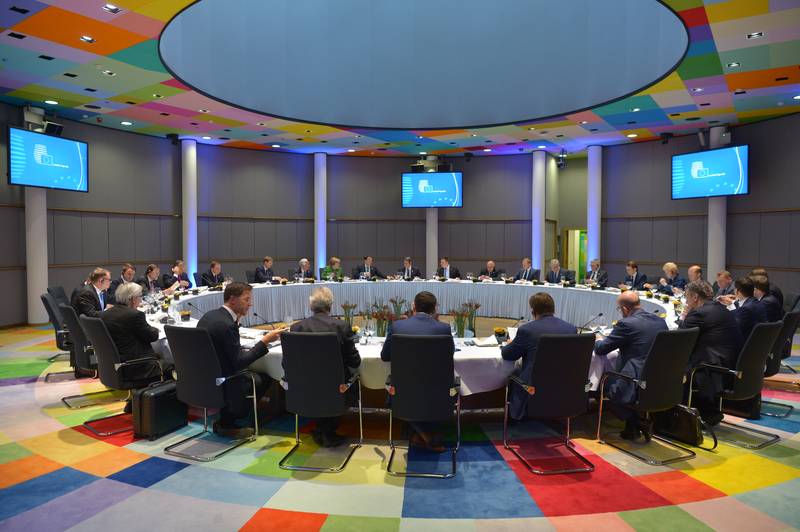 | © Council of the EU
European Parliament To Be More National or More European? This Is the Question