Austerity and Growth - the Two Sides of the Same Coin. What Is the Third?
Adelina Marini, 25 May 2012

At first reading the EU leaders dinner on May 23rd did not produce anything special, although it ended late. The expectations of a titanic clash between France and Germany over eurobonds did not come true or at least this is evident from the outcome. There was nothing essentially new in terms of growth boosting measures, which entered like a tsunami the Brussels vocabulary. But still - some things were new. New is that the issue of eurobonds actually was on the agenda of the EU leaders because until recently it was discussed at other EU levels and mainly in the European Parliament. Also new is that there are sings of reconciliation between the north and the south (the proponents of fiscal discipline and those who defend investments of public money in growth measures).
On his way into the Council building in Brussels Sweden's PM Fredrik Reinfeldt said with the ease of a man, governing a country with excellent finances, decent economic growth and low unemployment: "Growth comes when public finances are sound". Hours later Herman Van Rompuy, the European Council president, said in his

introductory for the media: "And there should be no misunderstanding: it is obvious that opposing 'deficit reduction' and 'growth' is a false debate. They are two sides of the same coin. Without sound public finances there can be no sustainable growth; but without sustainable growth, the measures to bring our debt levels under control will be done in vain".
The third side of the coin
In the three-dimensional space objects have a third side two. Herman Van Rompuy's coin is not an exception. This third element, however, will have very long-term and severe consequences unless measures are taken immediately. This side of the coin is unemployment. And not just the lack of jobs but youth unemployment. It is hardly necessary to explain what kind of a risk pose the crowds of young, strong, desperate and hopeless young people in countries facing real hardships and bad perspectives. The problem was best described by European Parliament chief Martin Schulz, who recently returned from a visit in Greece: "More than five million young people in Europe are unemployed.This is jeopardising social cohesion.This is jeopardising the European integration process.This is jeopardising democracy in Europe. We are failing to exploit the potential of the best-educated generation our continent has ever had!"
Of how dangerous could be having many young jobless people an unequivocal proof were the riots in London last summer. Another great risk, stemming from continuous staying without a job for many young people, is that the more they remain without work the more difficult it would be for them to find a job in the future. This exerts pressure on welfare systems, increases crime and represents a threat for the security and the pension systems, which are already overburdened by ageing populations.

Youth unemployment had a special place in the menu of the leaders on Wednesday evening. During the first for this year European Council in January, Jose Manuel Barroso, European Commission president, made a special presentation on the issue, which revealed some shocking data. The number of young unemployed as a share of overall unemployment in the EU is 22%, as in some member states it reaches even 50% and higher of all unemployed. Hardest is the situation in 8 member states with which the Commission has launched a special programme. It was the provisional results of this programme that Barroso presented to the leaders on Wednesday. The programme envisages mobilising unallocated funds from the European budget under the current programming period (2007-2013) to be reallocated to programmes that support opportunities for job creation for young people and facilitate access to funding for small and medium enterprises (SME), because it is the SMEs that are a major source of employment in the EU. As President Barroso likes to say, in the EU there are 23 million unemployed and 23 million SMEs.
According to Commission estimates, by the end of 2011 82 billion euro remained unallocated under the current budget. For the pilot projects with the eight member states (Greece, Ireland, Italy, Latvia, Lithuania, Portugal, Slovakia, Spain) the Commission has mobilised around 7.3 billion euro for programmes that cover at least 460 000 young people and there are expectations 56 000 SMEs to benefit from them. More specifically:
- In Greece the Commission is working through a special working group on an action plan for 180 priority projects with an overall budget of 11 billion euro, which are expected to create 100 000 jobs, mainly in the construction sector. This spring the group has launched a new tool for SME liquidity, worth 500 million euro. The overall unemployment in Greece is 21.7%, which is over one million people without work. Of them the young jobless people are 51.2%;
- Spain is famous with the highest unemployment rates in the EU - 24.1% or 5

million and 540 thousand people. The youth share is almost the same as in Greece - 51.1%. So far, 135 million euro has been reallocated for the country to the public employment service in order to help young people find a job. Additional possibility is considered for the reallocation of up to 1 billion euro. More than 80 million are reallocated entirely for young people and 157 million euro for the creation of a temporary working capital fund for SME finance to be run primarily for innovative firms;
- In Portugal a number of decisions are pending, among which the government is considering the reallocation of 140 million euro in support of 35 500 young people under the programme "Employment Passport", related mainly to internships in key economic sectors, as well as in support of SMEs for 1.13 billion euro, including funding by the European Investment Bank and private banks. 820 000 are the unemployed in Portugal, as the youth share is 36.1%;
- Italy is working on programmes, dedicated predominantly to its southern parts, known for their significantly weaker economic development. Last year the government there started to reallocate 3.6 billion euro out of totally 8 billion available funding. On an employment programme work is underway in Sicily, from which 50 000 people are expected to benefit, and on new educational activities for 65 300 students also in the southern part of the country. In Italy unemployment is relatively low - 9.8% but it has a high share of young jobless people - 35.9%;
- From the new member states Lithuania is taking part in the programme of the Commission. It is expected help to get between 12 000 and 21 000 young people in the next two years. It is mainly invested in value added production and in the development of business services, totalling 12.45 million euro. The small Baltic state has 14.3% unemployment rate of which 34.3 per cent are young people;

- Slovakia is working on a programme since very recently - mid-May this year. 70 million euro (money from the EU and the national budget) will be spent on projects for young people in the regions with the highest unemployment rates. Another 220 million euro are planned to be spent in support of SMEs with a focus on jobs creation. This money is also combined funding from EU finds and national funding. The expectations are these measures to create or to support 15 000 jobs for young people. In the country there are 382 000 unemployed, which is 13.9% of the fit for work population. The youth share is 33.9%;
- Ireland has literally sustained a boom of youth unemployment after the property bust, where many young people were employed, as the Irish education minister explained earlier this year at a special meeting with his European colleagues. 25 million euro were reallocated in support of a programme for youth employment, which offers education, training and work experience for young people who have left school early

without any qualification or vocational training. This money will ensure 3 700 training places for early school leavers are maintained until end 2013. Young unemployed in Ireland are 30.3% of totally 307 000 jobless in the country;
- The eighth country is another Baltic state - Latvia - which went through a severe crisis but is already recovering quite successfully. However, the crisis resulted in 27.3% young unemployed. 44 million euro were reallocated to upgrade the equipment and facilities of the Vocational Education Schools.
The Commission's conclusion is that the work on the eight pilot projects should continue. The data in Barroso's provisional report show one more thing and it is that beside these 8 countries, where the situation is worst, there are many other countries

which are more or less quite close to the eight. Such, for instance, is Bulgaria, which also has a high share of young unemployed - 32.8% against the backdrop of the overall rate of unemployment in the country - 12.6%. Other countries with high levels of youth unemployment are also Estonia, France, Cyprus, Hungary, Poland, Romania. In another table in the report it is shown in which countries how much unallocated money is left from the current budgetary framework. Bulgaria is with 30%, Spain - 31%, France - 32%, Romania also has 30%. The lowest share of unallocated funds has Belgium, followed by Luxembourg.
Already in January the leaders have agreed that national jobs plans should be prepared that would be included in the strict surveillance of the European Semester and country specific recommendations would be made. This intention was reaffirmed on May 23rd.
EU Leaders Dinner on May 23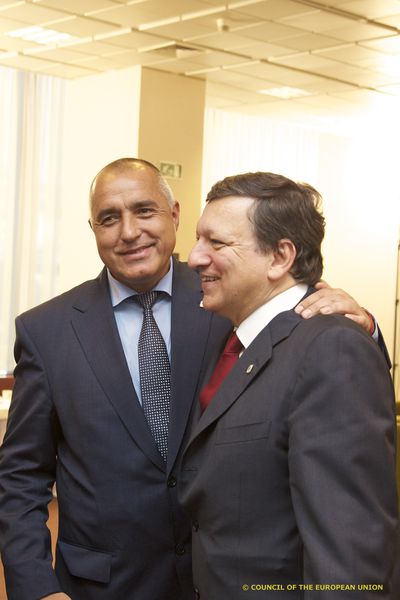 | © EU
Austerity and Growth - the Two Sides of the Same Coin. What Is the Third?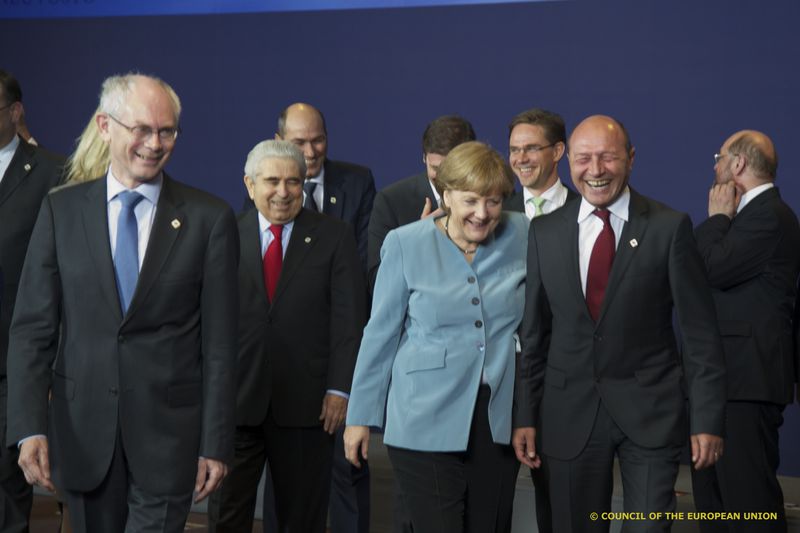 | © The Council of the European Union
EU Leaders Remain Divided on Key Issues