European Commission recommends training and specialisation, not a specialised court
Ralitsa Kovacheva, 26 July 2010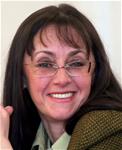 Nelly Koutskova is a judge at the Sofia Court of Appeals and a spokeswoman of the Union of Judges in Bulgaria. Ms Koutskova has a nearly 30-year career as a judge, she was Deputy Minister of Justice (1992-1993), member of the Supreme Justice Council (1999-2003), co-founder of the Legal Initiative for Training and Development and she is well known for her open statements and irreconcilable position regarding the implementation of judicial reform. We turned to her for a comment on the CVM report of the European Commission (20 July 2010) which caused severe tension between the executive and the judiciary (see comments here). This is the perusal of the report by Judge Koutskova (the underlined parts are hers).
I do not understand the complete lack of self-criticism, clearly visible in senior government officials. All of them are very happy and praised, all of them are very proud. Only the court is an obstacle, of course. Selected portions of the report are being cited, which raise ratings, while others are not mentioned. For example, item 6 in the Technical Update: "Bulgaria has stepped up its efforts to fight organised crime in an effort to restore confidence in public institutions. Arrests of well-known criminal figures in targeted operations were carried out. In some cases, court procedures have been initiated. At the same time, collecting qualitative evidence during the pre-trial phase remains a serious problem, as are lengthy procedures and frequent delays at the trial phase."
Those who understand justice, know that criminal cases move slowly in the trial stage for two main reasons. The first one is when collected evidence is with poor quality and it is necessary everything to be checked again within a public competitive process. Those are witnesses, experts, court orders to other countries – it can take years. Secondly, the "medical" reasons - a problem of ours, which is notorious all over Europe. We, the Union of Judges, have negotiated for about a year with the Ministry of Health to change regulation, related to sick-leaves.
Our objective was doctors to be obliged to note that the document they provide would be presented to the investigation authorities, the prosecution and courts. It is a kind of prevention for "complaisant" doctors. Because it is not only the Marginite brothers, who are ailing. Because of illnesses hundreds of cases are being postponed – civil, commercial, administrative. Each party in a case, having an interest in its protraction, is using both legal and not-so-legal methods to delay. One such technique is sick-leaves, because of which we approached the Ministry of Health.
And it is good that there are the journalists. Things were completely buried, but once a colleague of yours pressed the Minister of Health Care with the question: "What is going on with the proposal of the Union of Judges?", and things have been moved forward. This was also an internal pressure, which led to some progress. That's why I am glad about recommendation the № 3 in the report, "Pursue the creation of a medical inspection agency to improve the quality and expediency of medical certificates requested by court."
I also didn't hear anyone comment on recommendation № 5: "Pursue the reform of police in order to create a competent criminal police force able to apply best practices of other Member States". I think all comments and recommendations must be read and discussed in their logical, legal and political coherence, not just to draw only what is of benefit to those who are interested in ratings. Because throwing stones on the court may temporarily be liked locally. But Brussels does not assess us by the rating of our elected politicians, but according to the work that has been done. Recommendations must be read particularly in depth. If the serious warning about procurement remains unnoticed, for example, next year Brussels will not spare us, even if the "obstructive" court would be prohibited by law and all judges who have the impudence not to think as Deputy Premier Tsvetanov, to be tied to the pillar of disgrace.
What does the report say in terms of a specialised court?
I did not see anywhere in the report an explicit approval of the idea. It is striking that the Strategy of the Ministry of Justice is highly evaluated. This strategy says no word of such a court. It suggests a "debate on specialised courts". The report contains the following recommendations to Bulgaria: "Promote specific training and the specialisation of police services, prosecutors and judges to enhance their expertise and effectiveness in pursuing complex cases in particular regarding economic and financial crime and organised crime".
This is not the first recommendation for "specialisation in the investigation", but there is not a word of advice for a "special court". But the technical update contains a clear warning. It is said in the typical neutral and polite Brussels style, so it is maybe incomprehensible to some of our "machos": "The creation of specialised structures should respect procedural rights and be consistent with the Bulgarian judicial organisation." There is a need of training and specialisation, as in any profession, of course. But it is too risky to interpret this as a recommendation for "a specialised court" to be created, moreover it was not an idea of the Ministry of Justice, but of the Interior Ministry. And if we follow the line of logic: the recommendations of the Commission refer to the Ministry of Justice's strategy, where a specialised court does not exist, thus there is no enthusiasm towards this specific idea.
A specialised court is not just what the leadership of the Interior Ministry imagine. The administrative courts are also specialised. In some European countries there are special labour courts. For years we have talked in Bulgaria about a specialised court for minors. Because it is extremely important young offenders to get special treatment because they are still a subject to rehabilitation. But in our country the dominant view is that a good criminal policy should consist of severe penalties. Nobody talks about how to save the children of Bulgaria not to become inveterate criminals. And if we try to think far-sightedly and statesmanlike, rather than according to the situation and ratings, we can reach a conclusion that it is far more important to save a soul than to cut a head.
About appealing "from the beach":
Without being Mark Gray, I also get irritated when a defendant sweeps with his Mercedes pass a judge who is running to catch the tram. I have seen it with my own eyes. But custody is a coercive measure. If a defendant does not "deviate", if he appears regularly at every hearing and does not attempt to drag the process out, the court has no reason to keep him even if he was sentenced to 15 years. This is the law. If the law would assume that after a delivery of conviction the defendant shall be arrested immediately, convictions will not be appealed from the beach.
About lighter sentences as a result of an agreement:
Bulgarian legislators introduced the "agreement", borrowing from countries with well established democratic justice. Its characteristic is that a confession of a defendant saves time and money for an ongoing process. In return a person that pleaded guilty receives leniency from the state. And sometimes the agreement is preferred by the prosecution as well, when it is not certain evidence will withstand in court. But it definitely should not lead to undue light punishment, it's demoralising. Perhaps it is better for SJC Inspectorate to make a thorough analysis of all trials that had ended with an agreement and on that basis to draw appropriate conclusions – whether there is imperfect legislation or the judicial system is unacceptably indulgent. Whether it is a mass phenomenon or only in certain cases.
Because only a few cases reach the public and the European experts, which may be deservedly criticized, but it cannot justify the complete elimination of the agreement. I will never forget the first case by an agreement to enter the Sofia District Court. Then the prosecution deliberately waited for the law to enter into force to offer an agreement. A woman was accused of murder - recklessly but murder. Sounds scary, right? But the reality was much more scary. The woman had killed her own child, reversing with her car, without seeing it.
If there was not for the agreement, this woman would have had to experience the entire process, to testify how she crushed her child. Finally be punished by the court as a true villain, though fate had already imposed the most cruel punishment for a mother. Such cases, of course, are an exception, but often agreement is even more advantageous for the victims of a crime than for the perpetrators. For example, in cases of traffic accidents, which are the mass case. The faster you complete the criminal proceedings, the faster victims will receive compensation. Things are not simple and unambiguous and should not be decided hastily. Because a quick and seemingly impressive legislative change may lead to negative consequences in the future. Criticism should definitely be discussed, but intelligently and responsibly.
The internal will for reform of the system:
We, at the Union of Judges, have started long before the European Commission to criticize nepotism in the system, the non-principle appointments to the Supreme Judicial Council, and the lack of objective criteria for evaluation of judges. We are very glad with the findings and recommendations in the report, related to improving the competence of judges and the ability of SJC to regulate workload in different departments of the judiciary. And to be specific - all judges need additional training. And not only those in criminal cases but also in civil, commercial and administrative ones. The cases we hear are a function of public relations. And the more complex property disputes become, commercial transactions, intellectual property rights; the more we must enforce European law and borrow law of other countries, the more acute is the need for additional training.
I am very much in favour of report's recommendation № 2: "Improve judicial practice within the prosecution and the courts through a detailed analysis of shortcomings, in cooperation with foreign experts. Develop manuals of best practice, training programmes and coaching schemes for specific cases and introduce systematic management supervision in courts and prosecutors offices. Promote specific training and the specialisation of police services, prosecutors and judges to enhance their expertise and effectiveness in pursuing complex cases in particular regarding economic and financial crime and organised crime."
I only want to add that we hope foreign experts would be really well qualified and willing to help, not just to report activity to justify their costs. And as we are being monitored how we spend European money, so we should be asked whether the European experts were of any benefit. But in fact there is a paradox: in courts, where they the most complex cases are being heard, work is so much that colleagues rarely have time to go get trained. And other colleagues from not that busy courts have trainings 2-3 times a year at the Institute for Justice.
The Commission's recommendations are addressing both the court and the bodies of investigation and prosecution. The Union of Judges intends to make a serious and thorough discussion of these recommendations and to assess what we can do ourselves to improve our work. As we have understood, the Supreme Court of Cassation is also preparing a national conference related to the report. As for the other two powers (the Executive and the Legislature), we can be helpful to them too. But it is necessary for them to be ready to hear us, to try and understand what people of practice say. Rather than only use the court to justify their own shortcomings and build on their ratings, destroying one of the three powers.
Cooperation and Verification Mechanism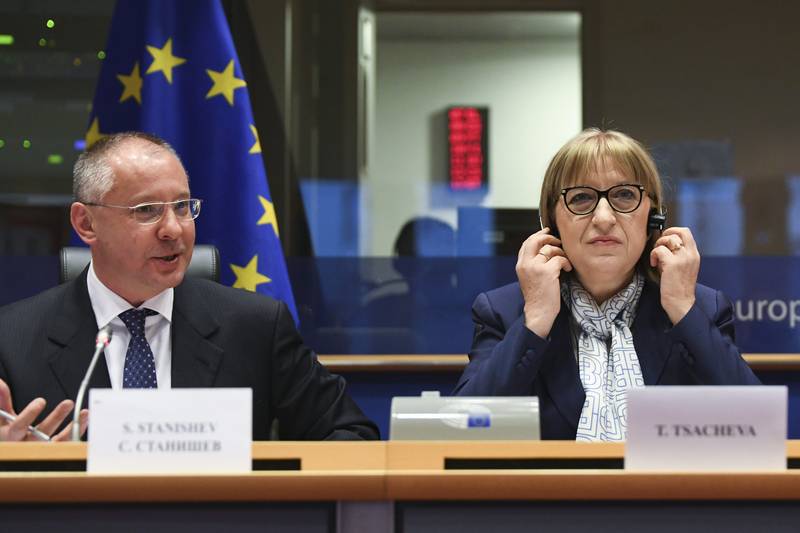 Sergey Stanishev, Tsetska Tsacheva | © EP
The Bulgarian EU Presidency - Time To Look in the Mirror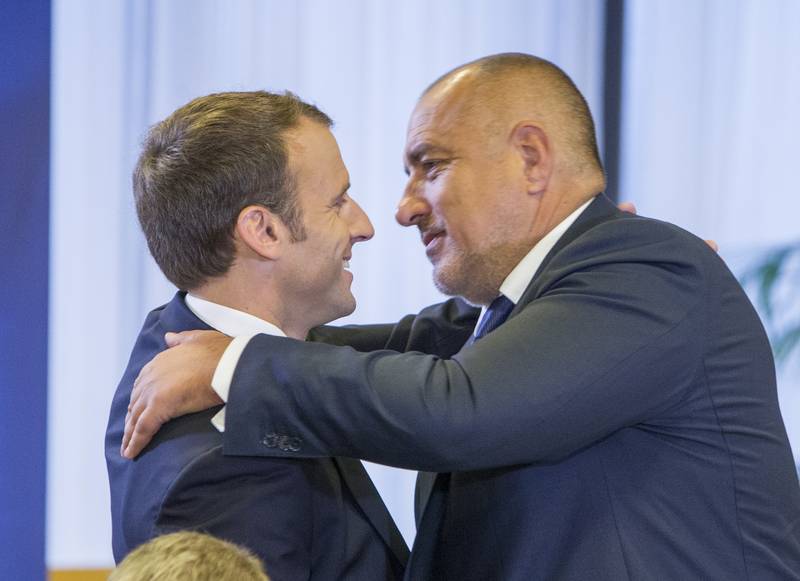 Emmanuel Macron, Boyko Borissov | © Council of the EU
For the First Time at the Helm of EU Will Be a Country without Rule of Law