Ukraine in the Epicentre of European (Dis)Integration
Adelina Marini, 12 July 2018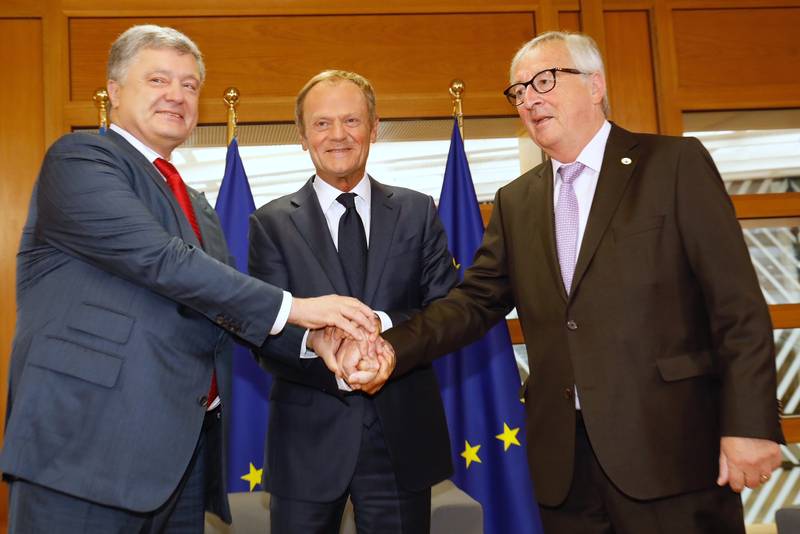 The 9th of July 2018 was a remarkable day. Several things happened in a single day that are significant for European integration (or rather disintegration). Right after re-organising Turkey into a presidential republic, President Recep Tayyip Erdogan closed down the ministry of European integration. Now, with the frozen accession negotiations will deal the foreign ministry, but Ankara's message is more than clear. It, in fact, formalises Turkey's departure from the European integration path. Foreign minister Mevlut Cavusoglu said that despite the re-organisation, the government does intend to achieve progress in the European integration but reality given, those are empty words.
The second remarkable event was the false start of the Berlin Process summit in London. Literally hours before the beginning of the meeting of the Western Balkan foreign ministers with representatives of civil society, Britain's chief Brexit negotiator David Davis resigned over disagreement with Prime Minister Theresa May's policies on exiting the EU. The meeting of the ministers was supposed to be officially opened by British Foreign Secretary Boris Johnson but some time after his scheduled appearance German State Minister for Europe wrote on Twitter: "We are still waiting for our host ...".
Boris Johnson never showed up and some time later loudly resigned, also disappointed with the soft Brexit Mrs May is pursuing. The political crisis that hit Britain like a summer storm hijacked the Balkan summit, thus confirming the suspicions of critics that it was not a good idea a leaving member state to host a summit with countries that want to become part of the club. The false start was a fertile ground for ridicule on behalf of some Western Balkan politicians known mainly for their rather eurosceptic views, who seemed to be rejoicing at the prospect of EU breaking apart before their eyes. Serbian Deputy Prime Minister and Minister of Foreign Affair Ivica Dacic even threatened that the EU will either accept the Western Balkan countries or will fall apart.
Ukraine - very willing to join but has no European perspective
Against this background, the regular EU-Ukraine summit passed somewhat unnoticed in Brussels. It was a real ray of integration in all this disintegration cacophony on July 9th. Judging by the joint statement, as well as by the speeches of the participants after the summit one can easily be left with the impression that Ukraine, too, is following the EU path, in the right direction at that, despite that it does not have a European perspective. This is the first summit that takes place after the entry into force on 1 September 2017 of the Association Agreement with Ukraine and the Deep and Comprehensive Free Trade Area.
In their joint statement, European Council chief Donald Tusk (Poland, EPP), European Commission President Jean-Claude Juncker (Luxembourg, EPP), and Ukraine President Petro Poroshenko reaffirm their commitment to strengthen political association and economic integration of Ukraine with the EU, based on the values of democracy, rule of law and human rights. The two parties confirmed their commitment to the international law, too. EU praises Ukraine for the significant progress in the reforms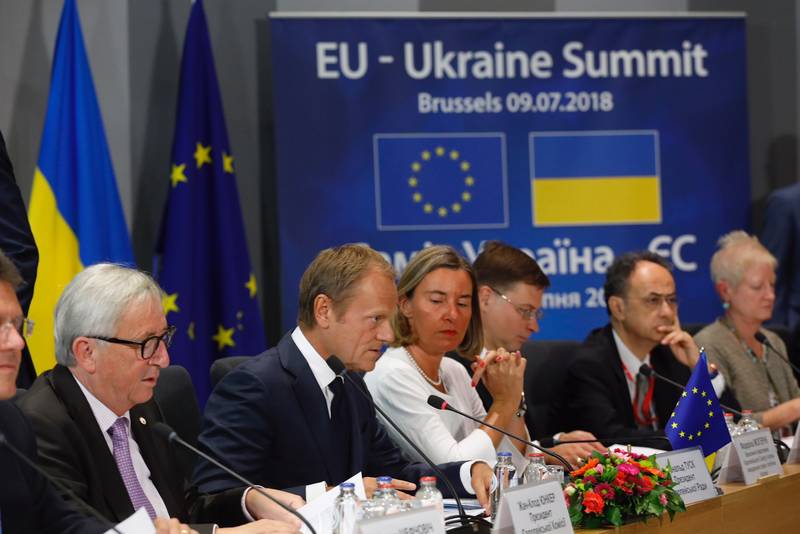 process, especially in terms of decentralisation of public administration, public procurement, and environment reforms.
There is significant progress when it comes to privatisation, management and transparency of state-owned enterprises, national security and energy policy. There is still a lot of work to achieve significant progress in the fight against corruption. The EU notes with satisfaction the establishment of a new legal and institutional framework to fight corruption, in particular the National Anti-Corruption Bureau, but emphasises that the most important part is how this body will work. More and persistent efforts are needed to reform the judiciary and to create rule of law. These are all things that are closely monitored in candidate countries as well.
Ukraine and the EU also agree in the joint statement to work together in the area of cyber security and integrity of elections, to fight hybrid threats, including disinformation. Both sides committed to closer coordination in the area of defence. Progress has been achieved in implementing the administrative arrangement between the European Defence Agency and the Ukrainian defence ministry.
For the first time, a joint statement after a EU-Ukraine summit lists the names of illegally arrested Ukrainian citizens in Russia. Among them are Oleg Sentsov, Volodymyr Balukh, Oleksandr Kolchenko, Stanislav Klykh, Oleksandr Shumkov and Roman Sushchenko. Both sides again condemned the violation of Ukrainian sovereignty and territorial integrity by Russia. They condemn the illegal annexation of Russia and Sevastopol by Russia as well as the continued violence in Donetsk and Luhansk. Donald Tusk quoted data by the UN, according to which since 2014, when the Russian aggression began in Ukraine, more than 10 250 people have been killed and more than 24 600 have been wounded. "This is happening in Europe", he recalled.
Election support for Poroshenko and trolling of Britain
The EU-Ukraine summit will be remembered by the already traditional trolling of Britain and Donald Tusk by Jean-Claude Juncker. After Tuks ended his introductory remarks in Ukrainian and Polish, the veteran of European politics Juncker started his in Luxembourgish. Moments later he explained in English that he wanted to tell "my president", meaning Tusk, that Luxembourg is part of a linguistic Europe. Then he asked to meet the interpreter who managed to translate Luxembourgish "into less important languages", which seems a referral to English which Juncker is at war with ever since the Brits voted to leave the EU. He finished his statement with the words: "So, all in all I am very happy with the Luxembourgish part of my speech and the following, weaker part in a different language". (He finished his statement in English).
Following the tradition, Mr Juncker provided a strong shoulder to the Ukrainian president who is facing very tough and challenged presidential and parliamentary elections next year. He praised Ukraine for achieving progress never achieved in the 20 years before Poroshenko came to power. Juncker did not miss to boast that he was the father of EU summits with Ukraine recalling, again harassing Donald Tusk, that he is attending these summits for the fourth time as Commission president but the first summit EU-Ukraine took place on 5 September 1997 when he chaired the European Council. "That existed before you appeared here", Juncker said and Tusk fired back: "It was ages ago, I think". "At least I started this against the intentions of the then Commission, chaired by a Luxembourger but that's a different thing", Juncker retorted.
The European Council has had a permanent president since 2009 when the Lisbon Treaty entered into force. Before that, the summits were chaired by the rotating presidencies. Donald Tusk is the second permanent president after Herman Van Rompuy. Next year his second term will expire. Jean-Claude Juncker never hides his desire to be in Tusk's seat which is a reason for their frequent frictions at EU summits.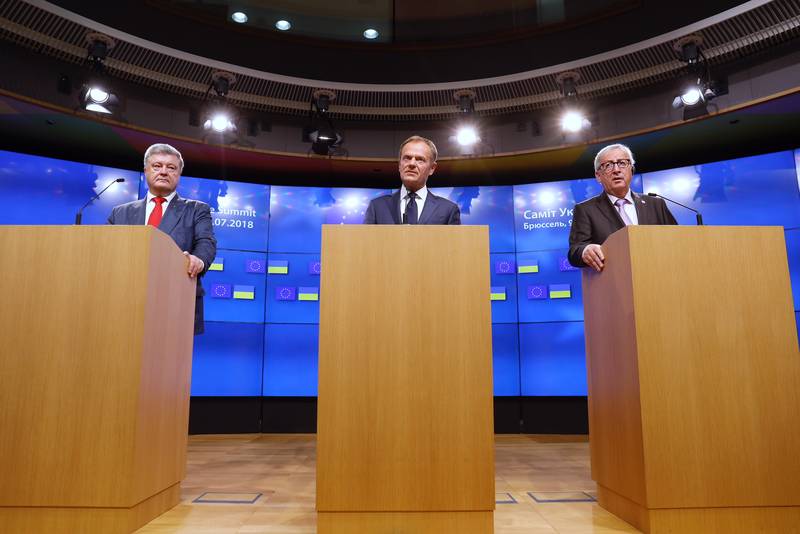 Jean-Claude Juncker mentioned all successes of Ukraine, explicitly underlining they were the result of Petro Poroshenko's work. Among them visa-free travel. In the first half year after the visa regime changed, more than half a million Ukrainians entered the EU. However, all of them return which means, Juncker said, that the Ukrainians can be trusted. There are also good results from the entry into force of the trade agreement. Bilateral trade increased by 25% last year and the number of Ukrainian companies which export to the EU increased by 40%. Petro Poroshenko recalled that it was that trade agreement that sparked the revolution of dignity in Ukraine and personally thanked both presidents for their efforts.
He promised that he would work harder to bring Ukraine closer to the EU in the area of energy, digital market, the Schengen acquis and customs cooperation. "It is true that during the last 4 years Ukraine managed to implement more reform than during the whole period of its independence. Some of them, I believe, would be suicide even for most of the EU governments", said the Ukrainian president but assured the EU that he had no intentions to slow down.
According to the regular monitor of the implementation of Ukraine's reforms programme, by the Carnegie Endowment, however, the pace of reforms has slowed down because of the upcoming elections. Balazs Jarabik and Thomas De Waal write in the 8th edition of the monitor, published in March this year, that reforms took a back seat in the pre-election politics. They say progress in Ukraine in the past four years is mixed. After the great crash caused by the conflict with Russia the macro-economic situation stabilised, several important institutions have been reformed or established, like police, the Supreme court and the new anti-corruption agencies but there are many more structural reforms to go. One of Ukraine's biggest problems, the analysts write, are oligarchic monopolies, the over-regulated economy and the weak rule of law.
They believe that Ukraine's reforms programme is held hostage by Poroshenko and his intention to get re-elected next year for a second term. The monitor notes also that the Ukrainian president worked hard to consolidate his control. Balazs Jarabik and Thomas De Waal say, however, that since 2014 Ukraine has, indeed, implemented more reforms than at any time before.
EU still relies on Trump
One of the questions that concerned Ukrainian journalists was how exactly the EU will convince Russia to release the political prisoners. Donald Tusk's answer was quite indicative: "I've tried to convince our partners during our G7 meeting in Canada to also react and I also hope that .... I am not sure but I hope that this question will be also part of President Trump's agenda during his meeting with President Putin in Helsinki". The European Council chief also said that he was to meet the new US ambassador to the EU and that he intended to ask him to pass the message on to his president.
"I think that all of us should remind Russia's leadership that Russia's image doesn't only depend on organising the football championship. I am a fanatic football fan and I can appreciate the whole work and preparations and organisation of this world championship but no one should forget what is the real matter and the substance and the essence of politics and international relationship". This statement of his was definitely aimed at Jean-Claude Juncker who recently caused outrage by defending closer relations with Russia. Mr Tusk's statement puts in an awkward position Croatia President Kolinda Grabar-Kitarovic as well, who completely uncritically watched the football game between Croatia and Denmark in the company of Russia Prime Minister Dmitry Medvedev.
In Moscow, for the game with England, went Prime Minister Andrej Plenkovic as well, his Minister of Finance Zdravko Maric and the parliamentary chief Gordan Jandrokovic. This is especially indicative bearing in mind that before he became prime minister Andrej Plenkovic was a deputy chairman of the foreign affairs committee of the European Parliament and headed the parliament's delegation for relations precisely with Ukraine. One of his first foreign visits after he was elected was in Kiev which caused sharp reactions in Moscow.
"I am absolutely sure that one of our most important elements in our relations with Russia should be and must be the, I still hope, positive decision of the Russian authorities to release all political prisoners", Donald Tusk concluded. Petro Poroshenko recalled that the guilt of one of the arrested Ukrainian citizens was his refusal to give up his Ukrainian passport and that he waved the Ukrainian flag on his balcony. The man was sentenced to 3 years in prison.
Tusk again attacked the Polish government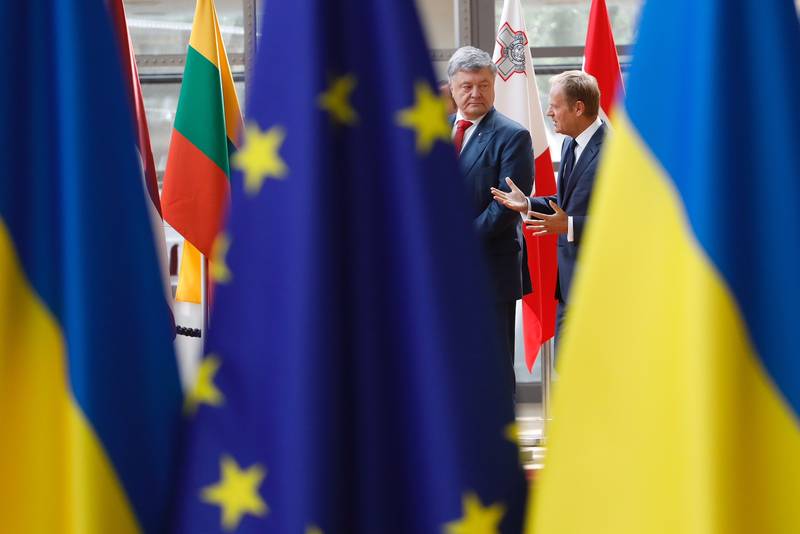 The summit in Brussels on 9 July was a good opportunity for Donald Tusk to again attack the government in Warsaw because of tensions with Ukraine, provoked by disagreements over historic events. "The recent tensions demonstrate that not everyone has done their history homework. Only full solidarity between Ukraine and Poland can save us from a repeat of tragic history in future. I call on the authorities in both countries for a new approach to the question of our relations and positive thinking. Only our adversaries or political fools would want to see conflict between us", said Donald Tusk in his usual straightforward language. By education, the former prime minister of Poland is a historian.
Nord Stream 2 is a mistake
The summit also discussed the controversial project to build a second gas pipeline from Russia to northern Europe, which Germany insists on. The Ukrainian president recalled that this is not a commercial project and has no economic benefits. "This is definitely a geopolitical project which tried to make Ukraine weaker, to do their best to leave Ukraine without revenues from the existing gas-transportation system. And they want to take from EU more than 20 bn dollars for building up the infrastructural project which Europe doesn't need, to increase the dependence of the EU from Russia which is a geopolitical danger", Mr Poroshenko explained.
Donald Tusk regretted that the European Commission is trying to secure a mandate to apply the European energy rules on Nord Stream II but "unfortunately, we have still some member states with completely different opinion". He recalled his own personal opinion that the project is a mistake and will not serve the best European interest. "It's against our strategic interest, our security and also our rules".
Despite the many important geopolitical issues, as usually, British journalists brought the focus back on Theresa May's Brexit drama. They apologised to the Ukrainian president for being forced to bother him with domestic issues but it was evident that both Donald Tusk and Jean-Claude Juncker enjoyed the opportunity to troll the Brits. The European Council chief said, responding to a question about David Davis's resignation, that politicians come and go but their mess remains. "The mess caused by Brexit is the biggest problem in the history of EU-UK relations and it is still very far from being resolved with or without David Davis. And, unfortunately, the idea of Brexit hasn't left together with David Davies".
Jean-Claude Juncker mocked the British premier who held an important cabinet meeting in Chequers at the weeken, after which she announced that she had full support. "This clearly proves that at Chequers there was a big unity of views in the cabinet", Juncker said two times after the news broke during the press conference of the second resignation in her cabinet, that of Boris Johnson.
More articles from

euinside