Two Terms in Office Are Enough
Dessislava Dimitrova, 23 May 2012

History shows that actually, after Yugoslavia broke apart, Serbia had three presidents, two of whom with two terms in office – Slobodan Milosevic and Boris Tadic, while Milan Milutinovic served just one term. Under the country's new Constitution, Tadic was able to run for a third mandate but in the end voters decided at the presidential elections on May 20: two terms in office are enough. And gave a third chance to Tomislav Nikolic, who in three out of four times he ran for president met Tadic in the final.
Back then the battle between them was often defined as a battle between a pro-European reformist and a nationalist, who wants to return Serbia back to its murky past. After the first results of the second round of the presidential elections in Serbia were announced, Nikolic said that Serbia would not deviate from its European path. During the only debate between the two candidates, however, he also said that if he was to win the elections, he would look for allies "both in the West, and in the East."
As a matter of fact, the congratulations for Nikolic's victory from the West, represented by Brussels, came a few hours before the polling stations closed. The

statement to the media, which was later removed from the websites of the EU institutions and was signed by Herman van Rompuy and Jose Manuel Barroso, hailed Nikolic and Serbia for the peaceful and competitive elections.
Where is Serbia heading to?
This was the question that both analysts and ordinary people in Serbia were asking in the first hours after the election results were announced. "What are they actually celebrating? The voters' refusal to vote, thanks to which now we have this president?", was one of the comments under a photo in which Nikolic fans were celebrating his victory in front of the Democratic party's Belgrade headquarters, where Tadic announced his victory four years ago. Some of the comments on the Internet were that, by choosing Nikolic, the country had chosen the path toward a precipice and that Serbia's EU future could be just a myth.
According to some analysts, Nikolic simply has no other way but to turn to Moscow, because he is not backed even by the countries from ex-Yugoslavia. Others said even before the second round of the elections that he was for change, especially in the country's economic policy, and that the poor economic situation in Serbia at the moment was one of the reasons for him to win the elections. (a full transcript in English of Mr Nikolic's statement can be seen below this article).
Another major question, which Nikolic's victory raises, is what kind of a government will Serbia have in the coming four years. The new parliament should by law be constituted by June 9, while by September 5 at the latest the new cabinet should be formed. Under scenarios that came after the triple elections on May 6, the new government was expected to be formed by the Democratic party (DS), which came second in the general elections, and the Socialists party (SPS), led by Ivica Dacic. Although Nikolic's Progressive party has won most of the seats in Parliament, without the socialists and relying only on some smaller allies they cannot form a majority to have a coalition government with them.
DS and SPS have already signed an agreement, under which they will take part in the new cabinet and according to Dacic this agreement was still effective. After the first round of elections he proudly said that it might not be known who the next president would be, but that it was quite clear who the new prime minister would be.
One of the options, mentioned even before the elections was an agreement to be reached in case Nikolic becomes president Tadic to become a premier. In his statement in the end of election day, however, the former president made it clear that he would not take the post, although some analysts see this as the best option for the country.
Transcript of Nikolic's statement following the elections:
Ladies and gentlemen, the justice of Gods exists. Tonight, thanks to Serbia's citizens, I have won the presidential elections. I want to thank (people shouting: "Victory!") … I want to thank Serbia's citizens who voted for me and to Serbia's citizens who voted for my opponent. Today's elections were glorious, Serbian elections. The elections showed, and I will be working for what I have promised to you, that Serbia will not deviate from its European path, that Serbia wants to defend its people in Kosovo, that those elections were not about who is going to lead Serbia in the EU and who is not, but they were to solve internal problems, created by the Democratic party and Boris Tadic.
(people shouting: "Toma, Serbian!") Serbia has to develop its economy, what I have pointed out in my campaign was in fact what I will be fighting for – for recovery, for well-being. We should get rid of poverty, of the negative population growth, we have to start working, we have to get rid of crime, bribery and corruption, we have to look for friends everywhere in the world, we have to get rid of the political oligarchy, of the political elite.
Like I have promised you, I want to be president of all Serbian citizens, I want them to find in the president a defendant not only of those who voted for me, but also of those who voted for Boris Tadic. This is the top of my political career, one of my happiest days, excluding the ones in the family when I was celebrating with [my wife] Dragica. This day is a tipping point for Serbia.
I hope that there will never be such a campaign in Serbia as was against me and against the Progressive party. I wish a lot of luck, I wish all that I have promised you to come true. To politicians I would like to say that I do not belong to any political party anymore, and I know best what kind of people politicians are, so they should take care. I want to assure you with my actions that Serbia can look totally different – a modern, normal state and I will help it become such. I will work with everybody in Serbia, I am not mad at anyone and no one should be mad at me. I have congratulated those who won many times, now I expect to receive congratulations and I expect to start doing the heavy task I received this evening. Thanks a lot, a lot of luck and a lot of health!
Serbia Is Choosing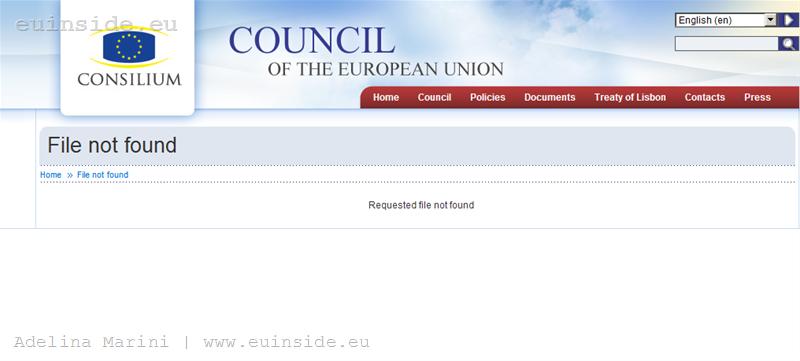 | © euinside
Two Terms in Office Are Enough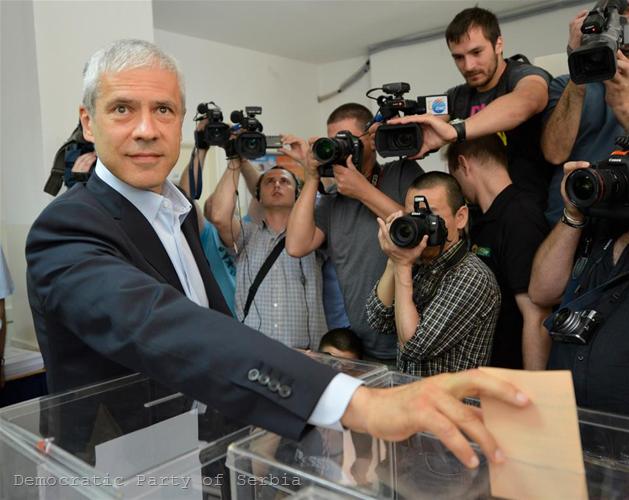 | © Democratic Party of Serbia
It's Up to You!