The state will finance the shortage of money in the social security system through taxes
Adelina Marini, 20 September 2009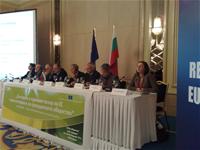 The Consultative Council for tripartite cooperation will discuss next week various ways to finance the social security system, given the decrease in the budget of the National Social securities Institute because of the economic crisis. For this and for next year, though, there will be no increase in the pension age, declared the Bulgarian minister for labour and social policy Totyu Mladenov. "You know that at the moment 50% of the revenues in the Social Securities Institute come from the state. This is an enormous problem which was discussed couple of days ago in the Economic and Social Council and we will continue the discussion", the minister added.
He also said that the discussion next week will be very broad. Representatives of the trade unions, the employers, the NGOs, pensioners' organisations and associations of private pension funds will take part.
Asked by euinside, exactly given the crisis how the state will finance the system, minister Mladenov responded: "In a state of a crisis, the budget will finance the shortage of money in the social security". Mr. Mladenov added that the money will come from taxes. After being asked by euinside whether this might mean an increase of taxes, the minister said he cannot answer this question in this very moment but reminded: "You know what we are doing at the moment - we are doing everything possible to block all holes, leaking inefficiently money from the budget so that we could secure enough money to allow us from the beginning of next year and from 1st of July 2010 to have a new incomes and pensions policy. This is our target for the moment".
The Consultative Council will also discuss what impact the promised decrease of the social security installment by 2 points from next year will have over the social security system.
Totyu Mladenov took part in the public hearing, organised by the Single Market Observatory of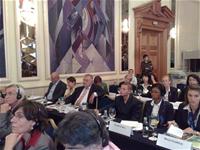 the European Economic and Social Committee, called "Bulgaria and the single European market". In his speech he announced that Bulgaria had already filed documents to receive money for the European Globalisation Funds to compensate the laying off of workers at the closed "Kremikovtsi" steel plant and for the workers in the Lom port. The state has asked for 5 mn lv (2.56 mn euro). It is expected the state soon to file documents for money from the Fund to compensate the laying off workers in the state railway company. But still it is not clear how many workers will lose their job and how much money this will cost.
More articles from

euinside