The second Barroso Commission is under question in Parliament
euinside, 16 January 2010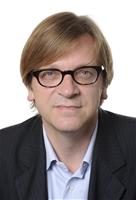 The group of the liberals in the European parliamentary also criticised the reaction of the Bulgarian prime minister regarding the hearing of Commissioner-designate Rumyana Zheleva. In a statement the leader of the group Guy Verhofstadt said that it was totally unacceptable for a prime minister to use such a sharp language at MEPs who were simply doing their job of scrutinising the candidates for the new EU executive.
"This hearing process is supposed to be a thorough and public examination of the competences and financial probity of the candidates. It is both the right and the duty of MEPs to raise any concerns now in order to clarify matters and clear up misunderstandings than brush them under the carpet and risk them creating difficulties at a later stage once the Commission is approved", Verhofstadt added.
The European Parliament rapporteur on the overall hearing process Andrew Duff added that the criteria for approving the Commission were clear: competence, probity and communication skills.
The situation with the nomination of Rumyana Zheleva caused great turbulence and tension in the whole Eu because it put into a very disadvantageous position all political groups in Parliament as well as the Commission itself and EU leaders. Given that the president of the Commission Jose Manuel Barroso has not chosen his team by himself and accepted them under the pressure of member states, it is unexplainable why he was left to take the responsibility by deciding whether to reject Ms. Zheleva or not.
The European Commission is supposed to be voted en block on the 26th of January. It was expected until recently that the largest parliamentary group the European People's Party (EPP) to prevail in the crisis but now with the reactions of the Greens, the Socialists and Democrats and the Liberals the balance might be broken in favour of non-approval of the Commission. The socialists have 184 MEPs, the liberals - 84 and the greens - 55. This makes 323 parliamentarians against 266 of the EPP.
More articles from

euinside