The price for "Belene" is still 3.8 bn euro
Adelina Marini, 29 April 2009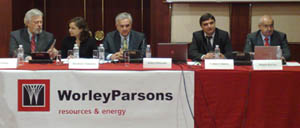 The price for the building of the nuclear power station "Belene" in Bulgaria remains the same - 3.8 bn euro, but if the payment is delayed the price might increase in the future, explained Dzhuritsa Tankosich, senior vice president of WorleyParsons, the company, chosen for architect-engineer for the project for a second nuclear power station in Bulgaria. He also assumed that it is possible the resources for the building works to increase in price. The parametres of the loan Bulgaria requested yesterday from Russia are also unknown which makes it difficult to forecast with how much the price might go higher. According to Tankosich, the probable price for 1 kilowatt electrical energy, produced by the power plant, still is in the range of 4 eurocents.
Representatives of the architect-engineer also said that there might be some delay in the schedule of construction, but underlined that this time might be made up. From WorleyParsons still insist that "Belene" is one of the most competitive projects in the world. Besides, it is the first station which will have a system for synchronisation of changes in the construction process. Dzhuritsa Tankosich explained that with each project there are changes in the process of construction and in the case with "Belene" for the first time these changes will be incorporated in the construction plans.
Experts have explained for euinside that Bulgaria has had serious problems with finding financing for the project. Initially the bank, that was chosen to find the money, BNP Paribas, promised to find half of the sum in two years. That is the reason why Bulgaria had to ask Russia for a loan. According to the euinside source the loan is very favourable because the interest rate would be around 7 %. Additionally, the sources said, in the price for the construction of "Belene" the additional infrastructure like roads and homes were not included and will have to be paid by the government.
More articles from

euinside