Bulgaria should become a member of the Eurozone as quickly as possible
Adelina Marini, 18 May 2009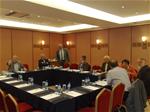 Bulgaria should become a member of the Eurozone as soon as possible because the main macro economic balances and therefore all further events in the real economy, would be better guaranteed. This is the position of the economic team of the Blue coalition who met with representatives of the Unions earlier today. The meeting was the first of a series promised by the Blue coalition on the 5th of May and the aim is estimation of the real state of the economy of Bulgaria. According to the economic expert of the DSB (Democrats for Strong Bulgaria, member of the Blue coalition) Dimitar Bachvarov, the currency board and its mechanisms are not flexible at all. But the Unions said that the introduction of the first phase of the European currency Union - ERM2, should be very carefully planned bewcause the salaries in Bulgaria are too low and the introduction of the single currency would freeze them at these low levels, because "membership to the Eurozone means strict rules with regard to the increase of salaries", said the expert of the Confederation of the independent unions in Bulgaria. At the moment the European Commission has started infringement procedures against 5 member states for breach of the rules of the Stability and growth pact which regulates the functioning of the Currency Union.
The Unions agree that from macro economic point of view the introduction of the euro is justified but they insisted that the expected after the elections right-centrist government should consult them on when would be the most suitable time for this step. They also reminded the decision of Stefan Sofiyanski who lead a transit government before the introduction of the currency board - he significantly increased salaries.
What else did the economists from the Blue coalition discussed with Unions you can read later today.