"South stream" came to Vienna
Ralitsa Kovacheva, April 25, 2010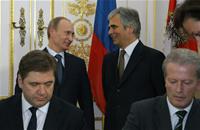 It is clear, that gas supply for Europe will be Russian, the question is which countries the gas will pass through. This philosophy is the foundation of Russian energy invasion at the heart of Europe in the last days. Only two weeks after the construction of "Nord Stream" has started, Russia practically completed the preparatory work on its second gas pipeline towards Europe -"South stream". With the intergovernmental agreement between Russia and Austria being signed on Saturday (April 24th), the needed legal basis is now available and the construction work may start.
"We intend to see this project to fruition in any case, given the need to diversify our gas supplies to European consumers", said Russian Prime Minister Vladimir Putin at a joint news conference with Austrian Chancellor Werner Faymann. Putin reminded, that building the off-shore section of the Nord Stream pipeline has already started and Russia is ready to begin working in the Black Sea as fast as in the Baltic Sea. After the pipeline is finished, Austria, which now imports 60% of its gas from Russia, will receive 2 billion cubic meters gas more.
"I assure you that the gas supply will be stable, reliable, guaranteed and that it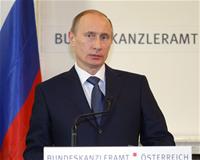 will contribute to Austria's energy supply security. The pipeline will also positively impact the energy security of Europe as a whole", Putin promised. And he attacked the thesis, that it is necessary to ensure independence from Russian gas supplies, with a counter-question: "Why would you want that? There is a good saying: if it ain't broke, don't fix it."
Russia has enormous reserves of natural gas: "There are 55 trillion cubic meters of gas reserves in Russia's north-east alone", Putin said and added: "We can meet the growing demand of the Russian economy and that of our main customers... practically all of our customers in Europe for the next hundred years. The question is not whether Russia will be able to meet this demand. The question is how to diversify ways of delivering natural gas to European customers."
With regard to the alternative pipeline - "Nabucco", answering a journalist question, Austrian chancellor said that there was no conflict between the two projects. Moreover, it is not clear yet how "Nabucco" will be supplied with gas. According to Vladimir Putin, at this stage, "Nabucco" is doomed: "Building a pipeline without any contracts is senseless and highly risky. No one in this business would do that. Please, name at least one contract that has been signed under the "Nabucco" project."
The "South stream" pipeline is planned to pass through Bulgaria from Russia and reach Italy and Austria. The planned capacity of the project is 63 billion cubic meters annually, and the cost of the project, according to Gazprom, will be 8.6 billion euro. Russia has already signed agreements for the project with Bulgaria, Serbia, Greece, Hungary, Slovenia and Croatia.
According to the European Energy Commissioner Guenter Oettinger, the Commission may consider the inclusion of "South Stream" in the trans-European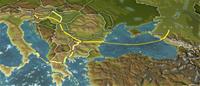 energy system. However, this might happen only when the project is ready.
Some time ago "Gazprom" had serious problems with its Italian partner Eni and publicly accused the company of blocking "South Stream". Eni's director Paolo Scaroni even proposed the two pipes to be united in one project. Scaroni visited Moscow on April 12 to and met Gazprom's chief Alexey Miller. Both agreed then that more active work was necessary within the project company South Stream AG. The two sides announced they would start negotiations with the French company EDF to join the project. There is some ambiguity too regarding the Bulgarian participation in the project as far as the government's position is hesitant. Neighboring Romania however, is demonstrating an interest to join and even to replace Bulgaria.
The truth is, that no matter if we don't like Putin's words, he is right. Moreover, therelations between Russia and the European Union, especially in the energy field, continue to be determined more on bilateral that on a Community level. Ironically, the latest gas crisis instead of uniting Europe in search of energy security and independence from Russia, further tightened the Russian gas grip. And Putin, as it is known, is a judo master.