Nato is expecting Russia to "warm" its attitude toward the anti-missle shield
Ralitsa Kovacheva, 21 May 2010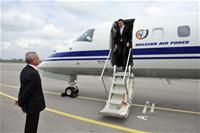 NATO is in a process of its most ambitious transformation since its creation. The Alliance is looking for new approaches and tools to deal with the new global security challenges. In the same time it is continuing to create new policies and mechanisms in order to spread democracy, security and integration all over Europe. This is how Nato's Secretary General Anders Fogh Rasmussen commented on the Alliance's basic challenges in the process of development of its new Strategic Concept. Rasmussen came to Bulgaria only three days after an expert Council, led by the former US Secretary of State Madeline Albright, presented its recommendations which the Secretary General will use as a basis for his proposal for a new concept of the Pact at the Lisbon summit in in November.
Nato's Secretary General noted that in the era of globalisation security was no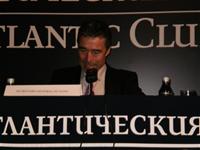 longer geographically determined and the new threats - terrorism, cyber attacks, nuclear proliferation, could come from the most remote ends of the world. "We either tackle these problems where they emerge, or they will end up at our doorstep", Rasmussen stressed. He gave the example of Afghanistan, describing the country as Nato's most ambitious task in its history.
" If we were to allow this country to become again a safe haven for terrorists, instability would spread throughout Central Asia. And it would only be a matter of time until that instability would spread to the Black Sea region, too. Bulgaria fully understands this. It also understands that we must do more in Afghanistan now in order to do less later".
Afghanistan will remain Nato's priority operation for years to come, Rasmussen added. But he outlined the need of enhancing political dialogue as one of the main focuses in Nato's transformation agenda: "And whenever any Ally feels threatened, we should make more active use of consultations under Article 4 of the NATO Treaty -- to consider if, and how, we should respond".
One of the non-traditional threats to which Nato is yet to pay its attention to is energy security: "I know that is a particular concern here in Bulgaria. Your country has experienced the impact of an energy cut-off several times. You know that it can severely disrupt a country's economic and social fabric", Mr Rasmussen said. This is why energy security is not only a political and economic challenge, it is also as part of common security a legitimate object of Nato.
The problem with energy security requires a complex approach because it has a lot of participants, Rasmussen explained. We have to develop relations with energy producing countries and also means for protection of vital energy infrastructure, as well as to minimize the effect of incidents, Nato Secretary General thinks. He announced that a new division will start work by August in Nato's headquarters in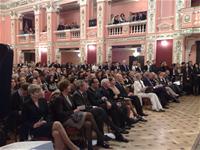 Brussels. It will focus on threats related to terrorism, disarmament, cyber protection and energy security. Rasmussen stressed the need Nato to enhance its cooperation with the civil actors - mainly the the UN, the EU and non-governmental organisations, partners from all over the world: "I predict that in just a few years' time, it will become completely natural for us to discuss global security issues with China, India, and other major powers", he added.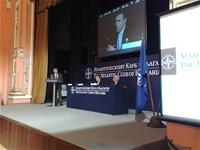 A key element in the search of new approaches for protection from the new threats is the defence from missiles. Rasmussen reiterated that Bulgaria, as well as Turkey, Greece and Romania are within range of the Iranians Shahab 3 missiles. "I believe that the time has come for us to move ahead and make missile defence a genuine Alliance mission. This is my target for the next NATO Summit in Lisbon in November", Rasmussen said and added: "If we connect national systems into a NATO wide missile shield to protect all our Allies, that would be a very powerful demonstration of NATO solidarity in the 21st Century".
This can be especially successful if Russia would be included too. Rasmussen admitted that currently Russia's attitude toward this idea varied from hostile to ambivalent and that a lot of technical hurdles needed to be overcome in order to connect both systems. But those hurdles were not impossible to overcome. "Once Russia starts to feel the effects of proliferation on her, I am sure she will begin to see missile defence as an opportunity rather than a threat".
"If the anti-missile defence is Nato's doctrine Bulgaria will take part" the Bulgarian Prime Minister Boyko Borissov said after his meeting with Anders Fogh Rasmussen. According to the government information service Borissov "welcomed the talks for the attraction of Russia".
During the meeting Nato's Secretary General said that the Alliance relied on Bulgaria and its good relations with its neighbouring countries for the Balkan's Euro-Atlantic integration. "Bulgaria can play a key political role and recommend how Nato can commit to its partners in the Balkans", Rasmussen said.
More articles from

euinside