Russia proposes a new energy charter
Adelina Marini, 23 April 2009
Bulgaria's ambitions to build a second nuclear power station to cope with the not absolutely proved lack of electricity in the country and the region, were put the test the other day not by someone else but Russia itself with which the Bulgarian government leads non-transparent negotiations for a loan for the building of the new power station "Belene".
Such a conclusion can be made after Russia unveiled new proposal for international legislation about energy trade to include nuclear materials as well. According to the presidential aide Arkady Dvorkovich, nuclear materials have always been of great interest to Russia. "Unfortunately, any issue in this area brought up today in Europe is resolved on the basis of individual agreements and is not subject to the Energy Charter principles. Accordingly, if we had chosen to participate in the Energy Charter (which we did not do), we would be limited by some obligations. However, our partners do not have any such obligations in regard to nuclear materials. If our suggestions are accepted, then they will apply to trade in nuclear materials as well". At the moment Bulgaria is 100 % dependant on nuclear fuel from Russia as well as for the deposition of nuclear waste. The hint for inclusion of market principles in the field of nuclear energy could mean legitimising Russia's monopoly over nuclear materials.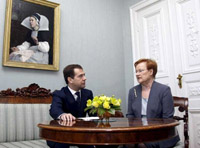 The new proposal of Russian president Dmitry Medvedev was presented for the first time during his visit to Finland earlier this week. Then it became clear that the document was presented also in some very important world formats, which underlines Russia's determination additionally - in G8, G20. CIS, international organisations and neighbouring countries. All this is happening in a moment when the EU is looking for a lasting solution for energy independence and the US are trying to build new balances with the participation of Russia. In the meantime, with journalists, presidential aide Arkady Dvorkovich stressed in response to a question that Russia has not rejected the Energy Charter but has some serious arguments. Russia signed the Charter in 1991 but has still not ratified it. The main goal of this international agreement is to integrate the energy sectors of the former Soviet Union and Eastern Europe into the wider European market.
A curious fact is that the documents speaks about transparency in relations in the energy sector, which has never been typical for Moscow so far. Actually, I will remind here that transparency appeared to be one of the main principles for Bulgaria either in spite the fact that the government has for years refused to announce details of the new gas agreement with Russia. Yesterday the deputy prime minister and foreign minister Ivaylo Kalfin said that at the energy forum, organised by the president Georghi Parvanov, will be presented the text of the final declaration in which one of the main principles will be transparency - transparency of prices, conditions, ownership of transiting companies.
More articles from

euinside