The Prime Minister who is not afraid to answer to questions
Adelina Marini, 26 July 2010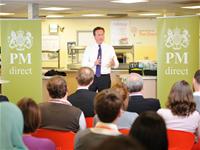 I picked this title up especially for the Bulgarian readers. Just because in Bulgaria the communication with the government and especially with the Prime Minister is extremely difficult. This might seem odd, given his constant presence in the media, but the colleagues who took part in press conferences know well that he is ready to answer all questions but the way he decides too. And usually the answer has nothing to do with the question. Often too, without previously announced rules, he just gets up and leaves.
This is why I have decided to present to your attention an initiative of the new British Prime Minister David Cameron. For a second time he was the main actor in David Cameron Direct - these are direct meetings with citizens. The second meeting was with employees of the low tariff air company EasyJet in Luton. In 43 minutes the Prime Minister responded to questions that varied from airlines pollution fees, via the budgetary deficit to the withdrawal of the British soldiers from Afghanistan and what he was up to personally.
In the beginning he made a short introduction (less than 3 minutes), then in a tight and quick manner went on with the questions. It was a bit symbolic that the minute he announced the time for questions he took his coat off as if preparing for a hard battle. Or, maybe, this was an attempt to predispose the audience. Probably a little bit of both.
The first question was of course related to EasyJet because yet in his introduction Mr Cameron mentioned he used to travel with the company often, although he did not miss the opportunity to say that once he missed his flight which was not his fault. So, the question was whether he felt restricted to travel with British Airways (the national airlines). Cameron explained that he was a fan to the state-owned company but stressed that one should have a choice. This is why for his visit in Canada to take part in the G20 summit, he preferred to use a Branson chartered flight.
He apologized to EasyJet for this but promised that he might choose them next time if this would provide for lower expenditure for the taxpayers. "I'm gonna be boring about this, because you know we have the biggest budget deficit basically in most of Europe and in the G20 this year and we have to save costs. ... It would be nice to have an Air Force One but we're not in those circumstances", David Cameron joked.
The next question was about the plans for introduction of pollution fees on airplanes, for which the asking employee recalled that it was one of the pre-election promises of the Conservatives. The Prime Minister said that currently the Treasury was considering how exactly to realise this but the logic was fees to be imposed on flights and not the passengers. Because, he added, a plane, no matter if it was full or empty, was polluting in the same way. Cameron also said that his government supported taxing pollution but did not mention any specific date or measures that were being discussed currently.
Compensations for airline companies are not foreseen because of the ash cloud, caused by the eruption of the Icelandic volcano Eyjafjallajökull. According to Cameron no European government would pay compensations but he promised, though, that with a next case he would consider more deeply whether the cloud was actually threatening airplane flights.
There were also questions about Britain's policy toward the Middle East conflict,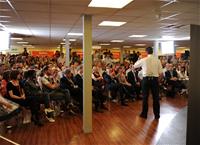 about moral in government, about Lord Peter Mandelson's memoirs (former EU Commissioner for Trade and now a candidate for a leader of the Labour), about high education, the problems of BP and others. To all of them the premier responded with an impetus that was evident by his impatience to listen to the entire question because he seemed to immediately understand the idea. He answered competently and explained what measures were being planned, why were they planned, why tough decisions were needed and continued mentioning the budget deficit many more times in the course of the meeting.
Having in mind EasyJet's success, David Cameron announced that his coalition government was considering to attract successful business leaders in the cabinet. "I'm not gonna be able to pay them huge sums of money. We have a rule now that people shouldn't be paid more than the Prime Minister. Sometimes we won't be able to meet that if we will have to pay a bigger salary for a some incredibly talented person, but there are opportunities, as you see, so when people succeed in business, do very well, to say to them - now come to the public sector, do something back, do something for the benefit of the society".
David Cameron Direct is an initiative which will be held regularly. Against the background of the situation of Britain (with one of the biggest budget deficits - over 100% of GDP), this idea is extremely good because it gives an opportunity for the government to explain why spending must be cut. According to Cameron, the biggest area of spending is social welfare and it should be cut not matter how painful this might be. But, he explained, the effective formula to reduce such a huge deficit is 20% reduction of government spending and 80% welfare cuts. Because it is better pensions to be frozen, some spending to be reduced in health care, but to keep jobs in the police, of the teachers, so that there is security in the streets and security in education.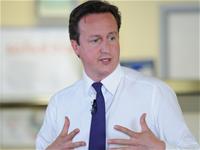 Probably Cameron's task will be extremely difficult, given the reactions of Labour's supporters. The shadow Minister for Transport of the party that lost after 13 years in power, Sadiq Khan, sharply criticised coalition government's plans to raise the free bus pass age. According to Khan, David Cameron should apologise to society because of his misleading promises during the election to protecting concessionary fares.
This statement of Khan invoked a fierce discussion in Labour's Facebook fan page, where supporters of the Labour expressed even hatred with David Cameron and his government. The most interesting thing was, however, that a large part of the people who criticised, did not have any idea where the money for such fares should come from. Some of them even announced - there we go, now I will have to work more and this is why I'm going to the pub because this is the only thing that's left for me.
And as the Prime Minister responded to the last question at the Luton meeting - "This year I will have to survive" he again said that no matter how long people would leave him in power, he would not stop explaining why it was necessary tough decisions to be taken - the budget deficit must be reduced.
The elections in Britain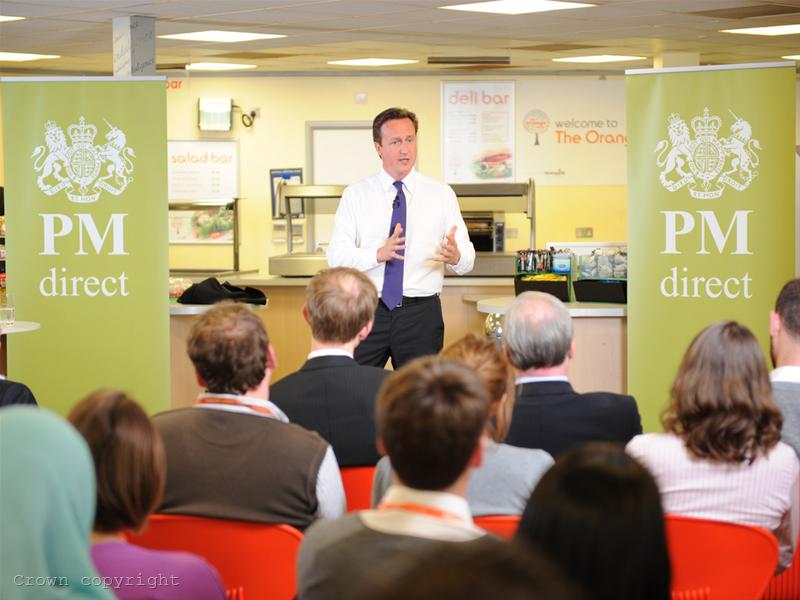 | © Crown copyright
The Prime Minister who is not afraid to answer to questions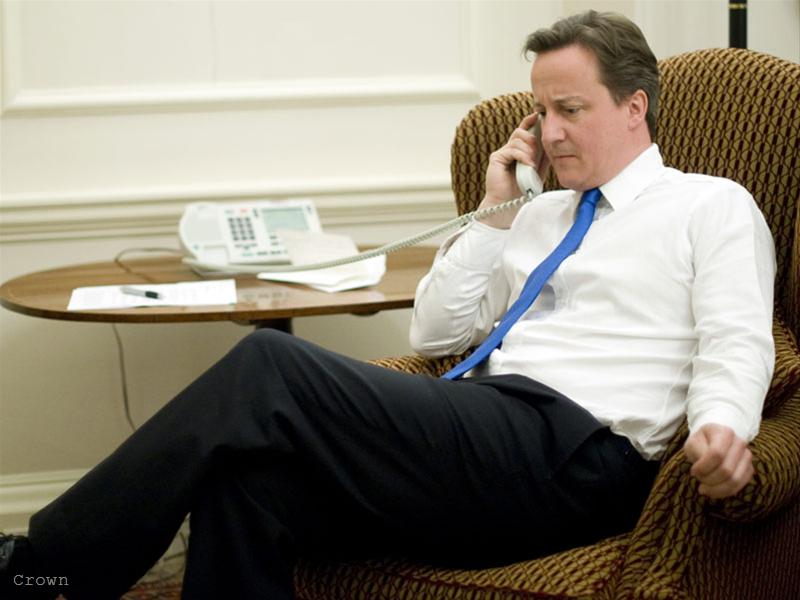 | © Crown
Tradition + Continuity = Stability