The president of Poland Lech Kaczynski died on his way to Katyn
Ralitsa Kovacheva, April 11, 2010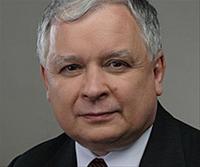 70 years after the execution in the Katyn forest, Katyn is again a symbol of sorrow and pain for Poland. On his way to the Katyn memorial, the plane carrying the Polish president Lech Kaczynski crashed in the Russian Smolensk area. On board, except the president and his wife, were also the minister of defense Jerzy Szmajdzinski, Slawomir Skrzypek - chairman of the National Bank, Members of Parliament from all poitical parties, diplomats, scientists, military officers and priests. All of them died.
Lech Alexander Kaczynski was born on June 18, 1949 in Warsaw. He graduated law school. In the end of the 70-ies he took part in an anti government movement and was a counselor to the strike committee in the Gdansk shipyard during the Solidarnost (solidarity) protest in 1980. In 2001, together with his twin brother Jaroslaw he has established the rightist party Law and Justice. In 2002 he became a mayor of the capital Warsaw and in 2005 - he was elected a president of Poland. A month ago Law and Justice nominated Lech Kaczynski for a second presidential term for the upcoming presidential elections this year.
The Polish president and the other officials were on their way to take part in a commemorating ceremony for the 70th anniversary of the execution of 22,000 Polish officers and civilians in 1940 in the Katyn forest. The brutal act, performed by the Soviet secret police at the time, for years has been a reason for the very strained Polish-Russian relations. The presence of the Russian prime minister Vladimir Putin at the celebrations in Katyn on April 7th this year was interpreted as a good sign, although Putin did not fulfill Polish expectations to apologize for the executions.
Now Katyn is again between Russia and Poland and is a symbol of another tragedy. For a second time the elite of Poland dies in Katyn, noted the former Polish president Lech Valesa in shock. Whether this new wound is capable to heal the old one or on the contrary, we will learn soon.
Today the world is grieving with Poland.
0