Poland with an entirely centre right power
Adelina Marini, 6 July 2010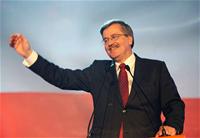 It is very unpleasant when one realises where he lives and starts viewing everything around him through the prism of this place. This happens to me constantly because of my work. Firstly I was very impressed, to put it mildly, by the elections in Britain and the way the power changed there. And now I was left in rapture by the presidential election in Poland. And you would probably laugh at me but the reason is quite simple. I was impressed by the ease with which the presidential candidates work with the Internet and try all possible ways to reach not just their core electorates but to reach out to all potential voters.
When you write in Google the name of the winner Bronislaw Komorowski on the very first page you can see his personal web page, which has also an English version. His opponent Jaroslaw Kaczynski also has a web page, which unfortunately is only in Polish. Both, however, have pages in Facebook. And when I type in Google the name of Bulgarian president Gheorghi Parvanov I get a number of articles about him and the official web site of the Presidency. And in Facebook there is a page, calling me to support him.
And as I mentioned in the beginning, maybe this reason for my rapture could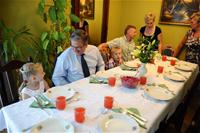 seem odd and stupid but for me it is important, as a person working mainly online and using the world wide web as a tool for communication and search of information, to be able to find those who have intentions to rule me, to spend my money and to promise me things. I want to be able to find them in Facebook in order to share my opinion with them, my concerns; I want to be able to see their messages during an election campaign so that I could make my own informative choice without filtering the different media; I want to be able to send an e-mail to his team, to see his face on his photos, to see his family.
And I think it is natural for me to be impressed by such things because I come from a country where "controlling" media had turned into the one and only goal for Bulgarian politicians and I cannot see their message elsewhere, aside from the traditional media, or they are written as if 30 years ago.
And one more very important thing which attracts the attention to the Polish presidential elections - the fact that mainly conservative candidates were nominated for the presidency. Bronislaw Komorowski is a member of the centre-right party Civic Platform and his opponent - Jaroslaw Kaczynski (twin brother of the late president Lech Kaczynski) is a leader of the conservative party Law and Justice. After the election, Poland woke up with an entirely centre-right power because the Prime Minister of one of the largest EU Member States Donald Tusk is the leader of Civic Platform.
Who in fact won?
Bronislaw Komorowski was a member of Poland's democratic opposition in the 70-ies of last century, and in 1980 he joined the famous Solidarnost (Solidarity) movement where he took part in subversive activities. He was arrested several times. As he himself says on his web page it is this movement that taught him what friendship really means and how much it does cost to be brave. He is married and is a father of five and, again after his own words, this is what taught him what responsibility means. He is a historian by education.
The role of the president in Poland is very much alike that of the Bulgarian head of state - mainly representative functions, right of veto, nomination of ambassadors abroad and most of all - search of a consensus in society, unification and protection of values. This is this base that Mr Komorowski's visions are founded upon for the five years of his term in office.
And as one of his main tasks as a head of state would be nomination of ambassadors, he explains his future work in this field with his wish Polish diplomacy to be effective and foreign policy to be led by competent people, recently graduated. His election as president of Poland is a good news for the EU as well because the new head of state intends to bet on "friendliness" with the EU rather than pretentiousness. "I'd like to see Poland play an important role in building free market and free flow of people combined with solidarity and responsibility for common* development without having to give up our interests", Komorowski writes.
This message is important especially after the Kaczynski era in Polish politics, when the late Lech was a president and his brother Jaroslaw a Prime Minister for less than a year (2006-2007). Then both were firmly against the Lisbon Treaty and managed to severe Warsaw's relations with their partners from the EU and Russia as well.
The new head of state turns specifically to the numerous Poles who had chosen to leave the country. His wish is the link between them and their homeland to be kept alive.
Unlike the Bulgarian president, the Polish has the right to nominate the Central Bank's governor and also judges. Obviously, Poland has no problem with this and this is why the main political message of the new president is related to patriotism. He says that patriotism nowadays means the capability to build a cooperation that could go beyond political differences, especially on local and regional level. This is the reason why Komorowski wants changes in the electoral system in order this process to be facilitated. His proposal is the introduction of the first-past-the-post system, because he says this would help building strong local communities with real leaders.
Beside this, Bronislaw Komorowski wants to make politics attractive for the young and educated Poles. This could happen only through abandoning short-term party deals and by putting long-term goals and their achievement in consent.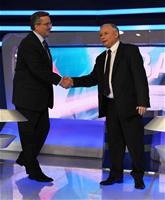 With 95% of the votes counted Bronislaw Komorowski leads to Jaroslaw Kaczynski by 52.6% against 47.4%. Mr Kaczynski admitted the defeat but called on his party to mobilise all forces in order to prepare for the parliamentary and local elections next year. According to Polish analysts, if now, when the centre-right has a full majority of power, they do not realise the necessary reforms, this would repel even more people from politics and the golden chance of reforms will be missed.
But as could be seen from the elections and the messages, the Poles are unlikely to allow this. Poland is one of the few EU Member States which was almost untouched by the global financial and economic crisis, thanks to the reasonable fiscal policy and the cautious actions of the independent central bank.
In fact, it is indicative for Poland's significance in global politics that the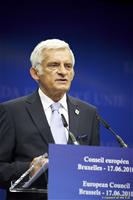 presidential elections were reported by all major international media. In the Financial Times the story was on first page on Monday. Probably this is due not only to the fact that Poland is one of the largest economies in the EU but also because the country was one of the motors of communism's fall and also because it defends its national interests by, in the same time, keeping in line with the common rules and values of the Union. In other words, Poland once again showed that it is a true European country. Poland is also the only EU Member State from the newcomers which has a Polish representative on top of a European institution - the president of the European Parliament Jerzy Buzek.
*the bold is by euinside
More articles from

euinside