One Small Step in Defence, One Giant Leap for EU
Adelina Marini, January 4, 2018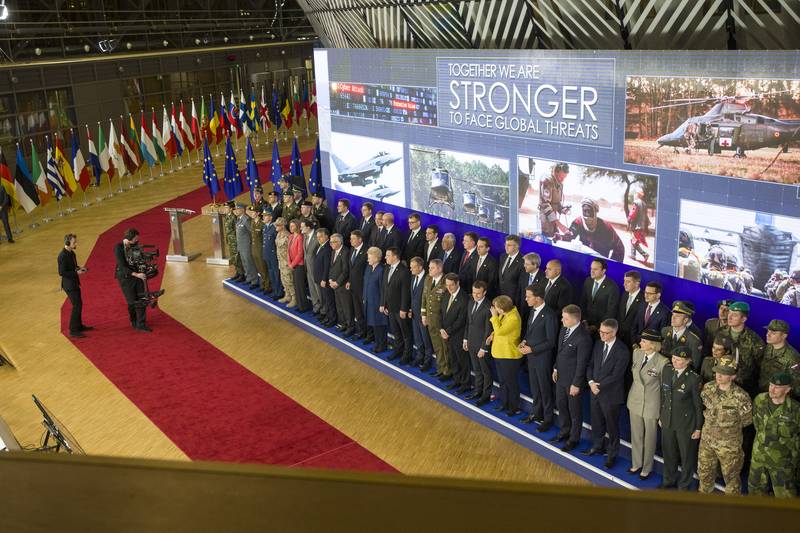 The past 2017 will remain in the history of the European Union as one of the more significant integration years. In 2017, a decision was finally taken to establish a European Public Prosecutor's Office, which is a significant step in the so far taboo sphere of European integration. The year will be remembered also with the opening of defence for deeper integration. On December 11, the Council of Ministers signed a decision to establish a permanent structured cooperation in defence, better known as PESCO. This is a small step in the sense of integration, but a huge leap in a sphere that has so far been completely closed to sharing.
Like the European Prosecutor's Office, PESCO too is not being set up by all member states. Twenty-five countries have signed this decision: Austria, Belgium, Bulgaria, the Czech Republic, Croatia, Cyprus, Estonia, Finland, France, Germany, Greece, Hungary, Italy, Ireland, Latvia, Lithuania, Luxembourg, Poland, Portugal, Romania, Slovenia , Slovakia, Spain and Sweden. Initially, 23 members expressed their desire for the establishment of PESCO, but later Ireland and Portugal joined them.
As euinside wrote, PESCO is a strange and very flexible format, the main part of which will be work on joint projects. Ministers signed a declaration on 11 December to work together on 17 projects, not all 25 participants being required to join. They may choose to work on a few or only one project, but cannot participate in none. The decision on the projects is expected to be taken this year, most probably during the Bulgarian presidency. Depending on which countries and in how many projects they will be involved, this will show in real time what multi-speed Europe means - at least in the area of defence.
This will also be a clear indicator of the depth of integration, as some projects are rather "light" but others require solid convergence. There are several projects that require integration. One of them is the creation of a network of logistics hubs in Europe, which aims to strengthen logistics planning and traffic across Europe. This project also provides for the establishment of common standards and procedures to improve the ability of the EU and NATO to carry out even the most demanding missions. This project is directly linked to another that will work to facilitate military mobility. Its aim is to reduce obstacles to cross-border movement of military equipment and troops. This includes work on reducing bureaucratic requirements, such as passport checks, and solving infrastructure problems to allow large military vehicles to cross roads and bridges.
The third project, which requires considerable convergence, is to create a European certification centre for the training of European armies. This project will work to standardise military training standards. The training centre will also be performing broad-based simulations covering the entire spectrum of command and control. The core task of the Centre will be to train soldiers and civilian staff to work together in a simulated environment on scenarios such as humanitarian aid and support for stabilisation and capacity building. The project also envisions working on sharing experience for planning and conducting joint missions and operations.
The project on cyber threats and the information sharing platform is also very interesting and provides for a strong unification of efforts. It plans to develop more active defensive measures by possibly moving from firewalls to more active measures. There are other projects in the area of ​​cyber-security. The "softer" projects are for creation of naval autonomous systems for mine counter-measures. Under this project, participants will work on the creation of (semi-)autonomous submarine,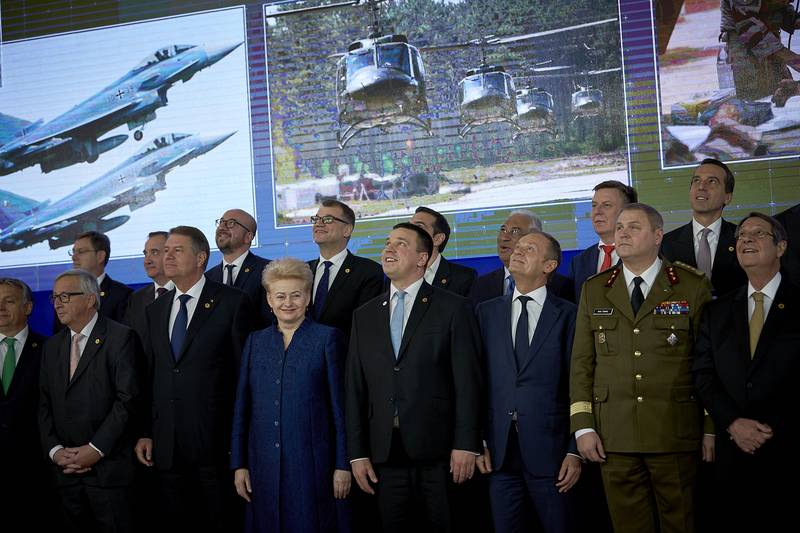 land and air technology to respond against sea mines. It is envisioned to develop underwater autonomous vehicles to locate and prevent the dangers of underwater mines.
Another project envisions the creation of an integrated system of marine sensors, software and platforms to process data and identify potential threats at sea. It is about creating a system that can operate in ports, coastal areas and coastal waters. A third project envisions improving surveillance of the EU's maritime borders. Leading countries in these projects are Italy and Greece, but Croatia is also interested in them. The list also includes a project to develop a prototype of a European armoured vehicle, an amphibious assault, and lightweight armoured vehicle. It must be capable of being quickly deployed, manoeuvrable, serving for intelligence purposes, providing support in combat, logistical support, and medical assistance.
The development of a mobile artillery platform is also planned. Among the projects is the creation of a military package to help with natural disasters. Its aim is to be available both in EU-led and non-EU-led operations.
As a result of such a great and extremely rapid achievement, the decision to create PESCO was celebrated at a special ceremony during the December EU summit in Brussels in mid-December, attended by the military leaders of the participating countries. The significance of the integration step was best described by European Council President Donald Tusk (Poland, EPP), who reminded us that the vision for a European defence community has been in place for more than half a century, but so far it has not been possible due to the lack of unity and courage, and because of the mismatch between dream and reality.
"For many years, the strongest argument against PESCO had been the fear that it would lead to the weakening of NATO. But it is quite the opposite. Strong European defence naturally strengthens NATO", Mr Tusk added. The High Representative of the European Union for Foreign Affairs and Security Policy Federica Mogherini (Italy, Socialists and Democrats), who will play a major role in the development of PESCO, said that through continued cooperation, the EU will become a credible security provider. She proposed to the leaders the creation of a European Peace Facility within the next multiannual EU budget to finance the EU's security and defence ambitions. In her words, this does not mean militarisation of the European budget, but is necessary for the EU to become more flexible and operational when needed.
After relatively short reflection, Ireland, too, decided to join PESCO, although it adheres to its military neutrality. Prime Minister Leo Varadkar, however, has the ambition to change the balance of power in the EU and has announced that his country will mainly participate in counter-cybercrime and cyber-terrorism projects as well as under UN or EU auspices. Ireland is also interested in maritime surveillance of borders and the protection of ports.
"It is a lot more than defence, it's about foreign policy and we believe that its important for Ireland to be involved in projects such as PESCO. First of all, because, by being involved ,we can shape it. If you're not involved you cannot shape how it is going to develop in the future. And also it is an important part of European solidarity. And I think we have seen a good example in the last couple of years and months of European countries showing solidarity with Ireland and we want to show solidarity with other European countries and taking part in PESCO is an example of that", said Mr Varadkar after the end of the European Council in December.
The security and defence topic was among the few issues on which conclusions were adopted by the leaders during their two-day summit. However, the text differs in some parts from the draft approved by the General Affairs Council several days earlier, with ambition in some cases significantly reduced. For example, draft conclusions, which euinside has its hands on, highlighted the importance of "quickly implementing the first batch of fifteen projects", while the text adopted only referred to the "first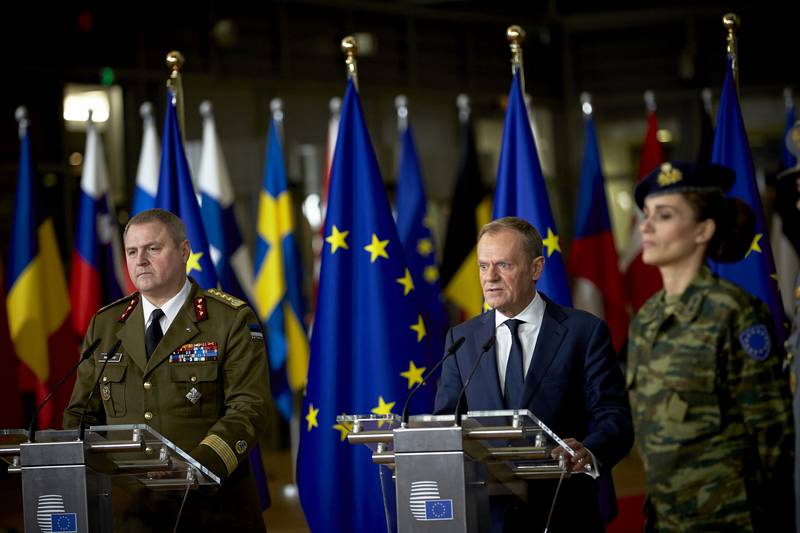 projects" without mentioning a specific figure. When it comes to capacity building, the ambition of the final text is bigger, indicating the spring of 2018 as a deadline, whereas the draft indicated June 2018.
The draft conclusions called for further work on the implementation of the full set of NATO cooperation proposals, including those further approved in December, "notably in the areas of counter-terrorism, military mobility and cyber defence." However, in the text approved by the leaders, the quoted part is completely removed. The defence topic will again be on the leaders' agenda in June, which means that during this time, the Council will have to actively work, and this in turn means that the presiding country - Bulgaria - should put all its efforts to keep the level of ambition high enough to avoid the multi-speeding in this sphere.