Milo resigns - it's time for new politicians
Evelyna Topalova, December 22, 2010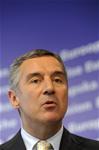 The longest serving political leader in the Balkans stepped down on December 21st. Montenegro's Prime Minister Milo Djukanovic announced that he resigned explaining his decision as a personal choice which was not prompted by any pressure. "This decision was neither sudden nor hasty and was made under nobody's pressure," Djukanovic said adding he was leaving the post with a clean conscience and pleased with what he and his team had done. He also announced that he would stay at the helm of his Democratic Party of Socialists. Thus Montenegrin prime minister put an end to rumours that have been circulating for months that he would quit the political scene to take some senior position within an international organisation as NATO for instance.
Milo Djukanovic has dominated politics in the former Yugoslav republic for 20 years leading it to the 2006 independence from Serbia and receiving an EU candidate status several days ago.
Djukanovic became the youngest prime minister in Europe when on his 29th birthday, on February 15th 1991, was appointed to lead the government. He was a prime minister five times and a president once. He steps down briefly in 2006 and remains involved in the parliament's work as a lawmaker only to return back to power in 2008.
The former ally of Slobodan Milosevic managed to build a successful political carrier crowned with the independence of the former ex-Yugoslav republic and gaining a clear perspective for EU and NATO accession. He tried to turn Montenegro into a destination attractive for foreign investors and even announced an economic programme for citizenship. The idea was to offer a citizenship to each businessman willing to invest more than 500 000 euros in the country. The programme however was criticised by the EU and was suspended.
Local media speculated that Djukanovic's decision to resign has to do with the acceleration of Montenegro's EU integration process. In its opinion on Podgorica's membership application the European Commission said explicitly that the authorities should step up fight against organised crime and corruption. No arrest of senior officials on graft charges have been conducted so far and the authorities should make concrete steps to prove they deserve the EU perspective.
Djukanovic is an ambiguous person. He has defended himself at several occasions from different accusations. One of them is related to cigarettes smuggling in the 90s. The Montenegrin prime minister, who enjoys immunity from prosecution, rejected these allegations as speculations.
In April a court in the Italian town of Bari launched preliminary proceedings against a group of Italian, Serbian and Montenegrin citizens on suspicion of cigarettes smuggling in 1994-2002. Among them were several close to Djukanovic associates.
Djukanovic' business interests are also a matter of interest. In 2006, after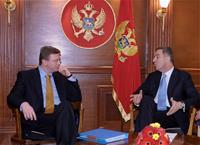 stepping down, he set up a real estate investment company but suspended all his business activities when returning to power. It's a well known fact that Djukanovic has a stake in the second largest bank in the country - Prva Banka along with his brother. By chance or not, the parliament appointed as the new Central Bank Governor Radoje Zugic who headed so far the national pension fund but previously was briefly a head of the managing board of Prva Banka. The previous Central Bank chief Ljubisa Krgovic was at odds with Djukanovic over banking regulation and the country's economic outlook. The parliament ended his mandate with a special law.
In May British daily Independent ranked Djukanovic 20th in its list of the twenty richest world leaders. His wealth allegedly amounts at 10 million pounds.
Despite all controversies surrounding Djukanovic's personality, his contribution to Montenegrin statehood and reaffirming of the country as a factor of stability in the region is incontestable. One of the leaders of Montenegrin opposition - Nebojsa Medojevic commented recently that Djukanovic is among key leaders in the Balkans from the 90s, considered as essential partners of the international community along with former Croatian Prime Minister Ivo Sanader and outgoing Kosovo Prime Minister Hashim Thaci but whose time to rule is over.
Commenting on Djukanovic's resignation he told Deutsche Welle that the time has come for a new generation of politicians. "New times and new challenges require new generation of politicians … Djukanovic's resignation actually closes years-long circle in which leading politicians from the Balkan countries were in the same time linked to structures of the organised crime and were carrying the burden of the transition period, privatisation deals and all other anomalies that happened in the past 20 years."