Kristalina Georgieva: Over my dead body!
Ralitsa Kovacheva, 23 February 2011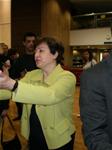 European Commissioner for International Cooperation, Humanitarian Aid and Crisis Response, Kristalina Georgieva, fiercely opposed the ideas of her portfolio to go under the competency of the European External Action Service (EEAS). According to Georgieva, this would politicise and harm the European humanitarian assistance, EUobserver reported.
"… There have been some voices saying 'lets pile up our instruments designed to reach out to others: development cooperation, humanitarian aid, trade, security funding, and then put it under the one big umbrella'," Ms Georgieva told an audience of alumni from the London School of Economic in Brussels. According to her, this would be a great mistake for Europe to do and could happen only over her dead body.
The statement comes in response to the idea of merging the budgets for humanitarian aid and crisis response in the next post-2013 multiannual financial framework. At present, humanitarian aid is managed by Ms Georgieva, while resources to deal with crises are shifting increasingly to the EEAS. Some aid agencies and MEPs, however, believe that the independence of the European humanitarian aid is one of its most valuable advantages, the Brussels-based online media reported.
"If we politicise humanitarian assistance, we make it much harder to be able to help people. But also it would be a signal to China, Brazil, India and the Gulf countries that humanitarian assistance is not about helping people, it is about pushing your political agenda", Ms Georgieva warned.
The European External Action Service was created as a result of the Lisbon Treaty, which placed a special emphasis on the common European foreign policy. The EEAS is headed by the EU High Representative for Common Foreign and Security Policy, Catherine Ashton. After serious disputes between the Council and the Parliament last year, the EEAS has become operational, moreover, obtaining the right to decide for European development policy. Now there are concerns that the humanitarian aid will also go under its control. MEPs are worried because, according to them, decisions will be more in the power of the Member States than of the European institutions.
Last year the EU increased its budget for humanitarian aid from 800 million to 1.2 billion euros because of the unprecedented number of disasters: some natural like the earthquakes in Chile and Haiti, the floods in China and Pakistan, and the fires in Russia, as well as some industrial accidents, such the spills in the Gulf of Mexico and Hungary. As a result the overall losses of life in 2010 were several times more than the yearly average of 85,000.
More articles from

euinside