Hungary Brings Up Communism as a Shield Against Criticism About the State of its Democracy
Adelina Marini, March 8, 2017
There was another hearing in the European Parliament last week on the state of human rights and rule of law in Hungary, but as a Hungarian colleague of mine wrote to me "did they say anything new to make it worth watching". He had not watched it. Actually there were new things, but he is correct in being sceptical that this hearing will likely not change anything. Or would it? Because in Jean-Claude Juncker's White Paper on the future of Europe one can see signs of rapidly depleting patience in some influential EU member states with the attempts at restoring totalitarian regimes and all displays of Euroscepticism.
My democracy is better than your democracy
The hearing was organised by the Civil Liberties, Justice, and Home Affairs Committee of the European Parliament on February 27th, with the participation of Hungarian Justice Minister László Trócsányi and representatives of several non-governmental organisations, one of which was clearly pro-governmental. The agenda of the hearing included the issues of Hungary's attitude towards refugees and migrants, the media environment, the undermining of the rule of law. As expected, the biggest accent in the two-hour long hearing was on refugees. The first to speak was László Trócsányi, who tabled the issue of Communism, reminding that the hearing was held in the EP building named after József Antall who played a major role in Hungary against Communist dictatorship. József Antall was the first democratically elected prime minister of Hungary after the fall of Communism.
"So, it's worth remembering that on the 25th of February we commemorated the victims of communism and we are in the enviable situation today to live in a democracy where debate and exchange of ideas is free, desirable and good thing", said the Hungarian minister of justice and continued on to delegitimising the NGOs. Civil organisations have a very limited level of legitimacy. "The government is always led by officials elected by universal suffrage", added the minister. Further on he spoke at length about the migrant and refugee crisis, stating that in fact many member states have a problem with fundamental rights.
"Hungary has taken its responsibility to protect the external borders of the Schengen area very seriously. In 2015 Hungary received a great deal of criticism but today we've seen that the common policy of the EU is now focusing on the protection of the EU's external borders. We are proud that we were able to bring about this change in mindset", he said.
Following him spoke Miklós Szánthó, Director of the Centre for Fundamental Rights, who took an entirely pro-governmental stance. The focus of his speech was that democracy in Hungary is perfectly healthy and functioning normally. He outlaid a few different versions of democracy, underlining that there is no universal definition of democracy or rule of law. "Nation states shall not be called to account uniformly on such polyphonic and vague standards", he said, seemingly supporting the illiberal road, picked by PM Viktor Orbán. Miklós Szánthó further said that some countries don't even have a Constitutional Court, like The Netherlands and Sweden for example, very much reminding of the argument that ensued recently between Polish Foreign Minister Witold Waszczykowski and the First Vice-President of the European Commission Frans Timmermans (The Netherlands, Socialists and Democrats).
Moreover, he said, in some cases, like in France for example, the chief prosecutor is a member of the government, not an independent institution like in Hungary. "And France is a clearly functioning democracy", added the analyst. His conclusion was more than pregnant with messages. "Therefore, I think if we are discussing seemingly democracy, in truth we're talking about different perceptions of sovereignty but not about democracy. It's not a legal or professional debate on fundamental rights or related procedures, but is a clash of world views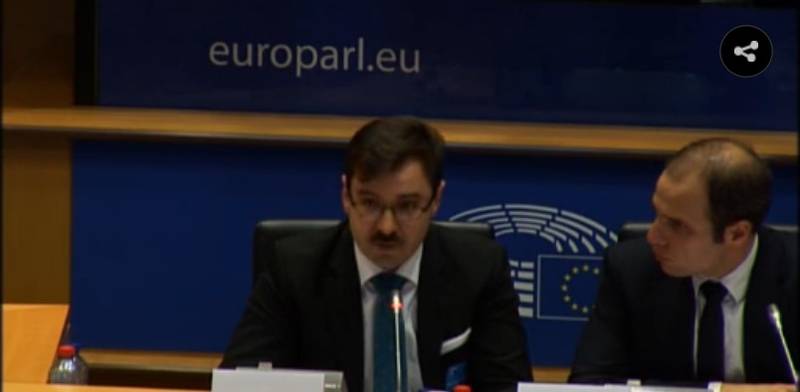 or ideologies of national sovereignties of member states how far or shall be the competences shared with the member states and the EU".
Miklós Szánthó was convinced that broad changes are starting regarding the nature and the paradigm of democracy, rule of law, fundamental rights, and sovereignty. "It is obvious that this is just the beginning of wider and broader changes around the nature and paradigm of democracy, the meaning of rule of law and fundamental rights or overall about sovereignty. And it's also clear that the political and legal battle between those who embrace supranational solutions for the sake of all mankind and those who embrace national identity, including the identification and definition of fundamental rights as a number one priority must not only take place in Hungary but Europe and the whole Western world as we know it. So, the best and most interesting days of our lives, I think, are still ahead of us", concluded Mr Szánthó.
Stefánia Kapronczay, Executive Director of the Hungarian Civil Liberties Union adamantly dismissed these claims. In her opinion, currently two tendencies can be outlined in Hungary, which are undermining freedom and pluralism. Word is of the restructuring of the media market and the manipulation of revenue distribution. She feels that there is a process of soft censorship going on in Hungary, where it is not individual pieces of news that are under attack but entire media enterprises, leading to interference with the supply of content rather than any specific content. Regarding the restructuring of the media market, Stefánia Kapronczay quoted the OSCE findings from 2014, following the parliamentary elections, which stated that very few media can be called independent.
Most of them are concentrated in the hands of businessmen with close ties to the ruling party. The second tendency is the one of uneven distribution of state-sponsored advertisement. A problem, which is seen in almost all EU membership candidate states. In addition, there are cases of limiting journalists' access to information. There are several occasions when certain journalists have been denied access to refugee camps during the refugee crisis of 2015. Several journalists and even entire media enterprises have been denied access to the parliament building on the personal order of the Speaker. The usually quoted reason is attempted recording in restricted areas.
Some bans have been lifted since, but there is legal pressure to silence criticism against the government. Stefánia Kapronczay reminded that in Hungary defamation remains a criminal offence. Charges are regularly brought against investigative journalists, defenders and watchdog organisations. She also reminded that the amendments of the freedom and information act in 2015 have also rendered access more difficult to public data. Regarding NGOs, the problem is very serious, she explained. A new impetus was given to the process of stigmatising independent civil organisations. An amendment to the law on civil organisations is scheduled on the agenda of the spring session of Parliament.
From data leaked so far it becomes evident that a tightening of the regime is imminent for organisations financed from abroad, as well as the politically active ones. Most of these organisations are again linked mainly to the migrant crisis. "The rhetoric or tactics shall be familiar from Israel or Russia", added Stefánia Kapronczay. She quoted data, according to which 87% of journalists in Hungary believe that the political class controls the media and not the other way around. Threatening and stigmatising NGOs is putting into question the very nature of democracy, she reminded.
Miklós Szánthó intervened towards the end of the hearing with yet another troubling statement, saying that during the first decade of the new century liberal media dominated in Hungary. "Today the situation is more balanced and now if owners have made certain decisions that is because of market forces. There is civil society which is healthy in Hungary", he repeated. The minister of justice concurred with this appraisal and stated that last year he proposed a bill, making NGO registration much easier. Now they do not have to wait before beginning their activities. "Nobody congratulated me at the time. Nobody said its excellent now that NGOs can begin their work immediately. Now I'm not asking for congratulations, but I would like that to be a general recognition that registration has been made easier", he said. He announced that there are 6000 NGOs currently operating in Hungary. "They're flourishing", he stated.
He reminded once more that NGOs do not possess the same legitimacy as directly elected governments and asked whether not accepting an NGO's opinion necessarily makes the state a dictatorship. German MEP Birgit Sippel (Socialists and Democrats) reacted sharply to these claims by saying that no one is questioning the legitimacy of governments. "But if you are elected and whatever the majorities are you have to respect different political statements, groups and also different positions from NGOs and from citizens. And in a democracy you have to make sure that all these different positions and arguments can be heard. So, freedom of media and freedom of expression of positions is very important. And is also necessary in a democracy that media have the possibility and the duty to be very critical", she added.
According to Todor Gardos of Amnesty International, there are other problems, like for example the evasive use of cardinal laws that require super majority without consultation or genuine debate. Also problematic are media laws, a regressive definition of family and weakened legal protection of sexual minorities. He pointed out that there are currently ongoing processes of dismantling of checks & balances regarding the Constitutional court and the judiciary. NGOs are often the subject of intimidation and harassment, often ordered by the prime minister himself. "Over the past years the government and governing party members have themselves uttered intolerant and discriminatory statements against women, Muslims, Roma and LGBTI people".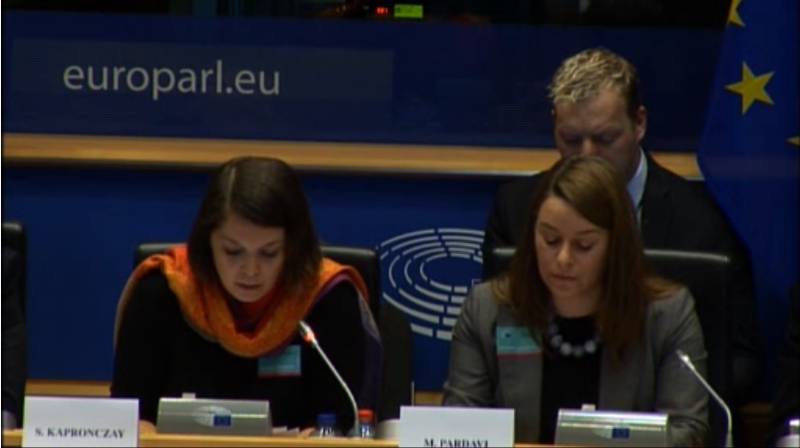 "We call on you to keep asking questions about Hungary and to keep pressure on the Commission and member states to deliver on their obligations. What is happening in Hungary today is a deliberate targeting of various groups in society, often those who are already severely marginalised and deprived", added the human rights activist. No lesser problem is the one with the refugees. Mistreatment of refugees is a common sight; laws make it virtually impossible to file for asylum, aiming at making the lives of those who managed to squeeze through exceptionally difficult. There was an open letter published in the day of the hearing, addressed to Migration Commissioner Dimitris Avramopoulos (Greece, EPP), which calls for looking into the preparation of a new draft bill, which would make applying for asylum in Hungary extremely difficult. The bill was approved today (March 7).
To all the criticism the Hungarian minister and the pro-government analyst replied using the argument that there are similar problems elsewhere and that Hungary is in fact doing its job. Accusations followed that the NGOs are not as critical regarding refugee problems elsewhere. At the end of the hearing László Trócsányi even announced that Central Europe is being discriminated against. He gave an example with the problems of Hungarian enterprises, squeezed by competition. Actually, competition is violating fundamental rights as well, were his words. Of such discrimination often talks the Polish foreign minister, according to whom Western companies have benefited from the enlargement of the EU at the expense of national enterprises. On March 22 in the EP Civil Liberties Committee there will be a hearing of Frans Timmermans about the procedure for the protection of the rule of law against Poland.
Translated by Stanimir Stoev