Herman Van Rompuy - President of the EU and the Eurozone
Adelina Marini, 2 March 2012

When Herman Van Rompuy was elected to take the just created with the Lisbon Treaty position of a President of the European Council, I was disappointed. At that time the EU needed a strong leader, in harmony of the economic might of the Union and its growing role on global stage. Alas, the pyramid of the EU has turned upside down and now the EU has to defend its economic might, while in the same time not losing its smouldering influence globally. However, for the past two years and a half the EU needed precisely a person like Herman Van Rompuy - peaceful, balanced, who can keep his self up in difficult situations. And there were a lot of such situations during his first term.
Initially there were fears that he would not be able to work well with the much more experienced chief of the European Commission, Jose Manuel Barroso, who in 2009 got a second mandate to form a Commission. These fears quickly faded away because the two demonstrated a good sense of teamwork. This, to a certain extent, was possible because Herman Van Rompuy refused to be simply a spokesman of the member states. He got involved, although a bit more restrained, in defending the "community model" of governance, he was undertaking common European initiatives and skillfully balanced among the 27.
Herman Van Rompuy often leaves wrong impression - every appearance of his and his stubborn reading from preliminary prepared speeches, rarely breaking off with the agreed scenario, leave the feeling that he is a puppet. On rare occasions, when he is challenged, Herman Van Rompuy shows his huge intellect and determination, which he hides under the mask of self-constraint and hard succumbing to emotions leader. Most frequently this mask falls during his appearances in the European Parliament. A good

example was his defence of the fiscal compact in the European Parliament last month.
But until he revealed all his qualities, the initial uncertainty he radiated, led to unpleasant results. For example, after the entrance into force of the Lisbon Treaty on 1 December 2009, a long planned EU-US summit, which had to take place in Madrid in the spring of 2010, was cancelled. The White House administration cancelled the summit, arguing that they were still unable to find out whom Barack Obama should talk to to discuss the already gaining speed debt crisis in Europe, as well as major international problems.
With his first actions, however, Van Rompuy showed ambition - it was his idea special summits to be organised on concrete topics - about foreign policy, about the common energy policy. It is him who proposed regular eurozone summits. In October last year the EU leaders agreed that the eurozone summits must be chaired by someone, because they agreed that such summits should take place at least twice a year. Last night they unanimously accepted the proposal of Jean-Claude Juncker,

Eurogroup president, Van Rompuy to take this position. Now the European president will have the task not only to organise the summits of the 27 but also those of the 17, which is a good strategic decision because it would prevent the risk of a division of the EU member states into euro and non-euro members.
As he said in his acceptance speech, "As guardian of the unity of the 27, I have insisted all along on involving all Member States – all 27, even when it was about the 17 of the Eurozone – and all institutions. My aim is to reach decisions which each and everyone of us can support and defend at home. To do that requires time, and – even more crucially – trust".
In fact the election of Mr Van Rompuy passed almost unnoticed, in spite of the symptoms of a return to "normality" of the EU summits. Neither there was competition, nor a heated debate of other nominations, or taking stock of what had been done so far. Obviously the leaders are not up for such tasks because everyone of them has serious problems at home. If the pressure over the eurozone because of the debt crisis is starting to gradually weaken, it is growing domestically because of the growing unemployment and not good perspectives for economic growth. In some important member states there are presidential elections this year (France).
Although the qualities of Herman Van Rompuy are indisputable, for sure there are better candidates. And worse too. In the end of the day, however, because of the current context, the leaders decided to bet on familiar and certain. This attitude was best described by Helle Thorning-Schmidt, the Danish PM, who said that he was not a

president to hit the leaders on their heads. On the contrary, with a firm grasp he led the ship through stormy waters and only when it was very necessary he resorted to force. Herman Van Rompuy does not promise changes for his second and last term. He promises more of the same methods and behaviour, with a focus again on economy, because "Our economy is our life-line".
"Without a strong economic base our social models and welfare states are at risk and we cannot play a role on the world stage", the re-elected European Council president said in his speech. Only a day earlier, on the eve of the spring summit it was him that was first to throw the stone that Europe's social model is not dead - a strong message and an even stronger challenge. This is also a challenge to the European Central Bank president, Mario Draghi, who recently said in an interview for The Wall Street Journal that the European social model had already gone because of youth unemployment. Herman Van Rompuy has another two years and a half to prove he is right. We are all interested in his success.
Spring European Council 2012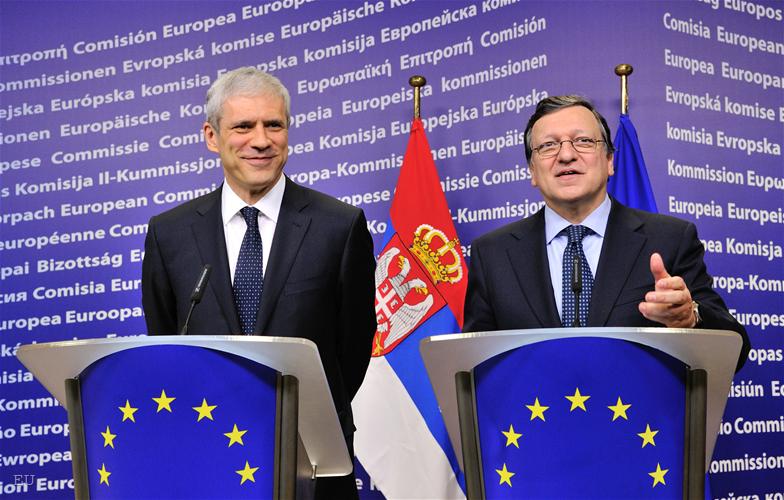 | © EU
The New Passenger on the Train to Brussels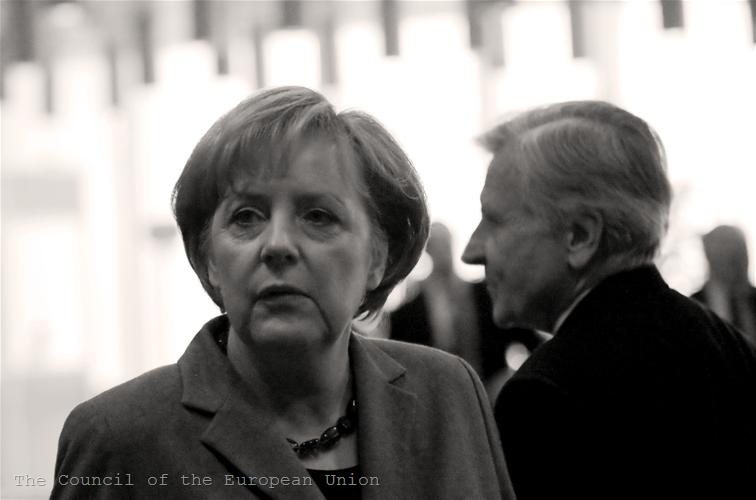 | © The Council of the European Union
Germany`s Awkward Leadership