Greece - proud but grateful
Desislava Dimitrova, March 19, 2010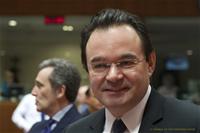 "I welcome the decision taken by the Eurogroup as a very important decision to move forwards. I want to reiterate: Greece has not requested financial help form its Eurozone partners". This is how the Greek minister of finance Giorgos Papakonstantinou explained the situation surrounding the problems in his country in the past several days and weeks. Papakonstantinou decided to call journalists at a special briefing in English and, another one, in Greek, choosing the moment during the ECOFIN meeting in Brussels.
At the briefing he boasted that the enormous budgetary deficit of his country was to some extend taken under control, according to the data about the first two months of the year, which show that the deficit dropped 4 times, compared to the same period of 2009. In the end of February it amounted to 1 bn euro. "All in all, we are on the right track and it's very good that this is fully recognized in the last few days", Papakonstantinou added.
He explained that currently conditions of a possible financial assistance were being discussed for his country, but the final decision would be taken by the "heads of state and government. "It is very important that we are now moving forward with the set-up of a mechanism, which to be used if necessary", Papakonstantinou said, adding: "I want to reiterate [...], we have always asked for is a political support I order to continue to have access to markets at reasonable borrowing rates, so that the efforts of the Greek citizens in terms of different measures are not spent in high interest rates to our borrowers".
Although not directly, the Greek minister of finance pointed out that the redistribution of money among member states was a possible solution for stabilizing the eurozone. "It would be helpful those countries that are running surpluses to be the engine of the entire Eurozone", he said, responding to a question whether he supported the idea of a European Monetary Fund, similar to the IMF.
In an analysis the Reuters agency defined the efforts Greece needed to put to tackle with the crisis as Sisyphean, unless the country got assistance from the EU. Greece could succeed alone but, without the support of its European partners, it would be difficult to avoid the spill of the crisis over to the euro area, the analysis said.
In the meantime, the international agency Standard and Poor's left Greece's rating unchanged but with a negative perspective which means that the rating could suffer a lot in the next few months if the country does not deal with its financial problems.