Stefan Fule urges Serbia to engage seriously in reforms
Evelyna Topalova, April 1, 2011
Serbia has a European future and it is up to the country how fast it will achieve its EU membership goal. By sending these encouraging words EU Enlargement Commissioner Stefan Fule addressed Serbian officials during his visit to Belgrade on March 29th.
The other two important messages were Serbia to speed up the reforms related to EU integration and to achieve concrete results in the cooperation with the International Criminal tribunal for former Yugoslavia, meaning to arrest war crime fugitives who are still at large.
Fule recommended the local authorities to focus on meeting criteria for membership declining to comment whether the country will receive an EU candidate status by the end of the year.
In a speech to Serbian Parliament, the Commissioner pointed out several key priorities that Belgrade needs to meet before getting the desired status. They are - reforms in the judiciary in line with European standards, resolute fight against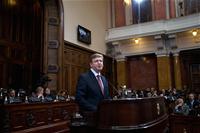 organised crime and corruption, changes to the electoral law, protection of human rights and fundamental freedoms.
Fule reiterated that there was no enlargement fatigue. "For me, however, it is a myth, like the Yeti - it is often discussed, but never seen," the EU official said quoted by the Politika daily. Fule warned that the EU integration process was not easy and required consensus over key priorities.
Serbian Deputy Prime Minister Bozidar Djelic in his turn reiterated that the authorities would do their best, so that Serbia received an EU candidate status in December and a date for launching of accession talks.
This aim however seems very ambitious having in mind that Montenegro, which is one step ahead in the EU integration process, did receive only status but failed to get a date for launching the talks. The head of the EC delegation in Belgrade Vincent Degert has said recently in an interview with the Blic daily that it is highly possible that Serbia fails to receive an EU candidate status this year.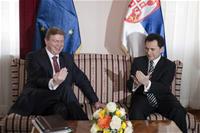 The decision will be based on the opinion of the European Commission which is currently assessing Belgrade's responses to its questionnaire. The Commission's assessment is due in October.
A positive opinion by Brussels and granting of the status will boost the positions of the ruling coalition ahead of the parliamentary elections that are regularly due next year.
Prime Minister Mirko Cvetkovic has proceeded a government reshuffle in order to cut expenses and strengthen efficiency but rumours about early elections are becoming more and more frequent on the background of social discontent. The main opposition group - Serbian Progressive Party said it could wait for the EC's opinion before resuming its efforts to trigger a snap vote.
The perspective of early elections will shift the attention away from the reform process but Serbia cannot afford to lose momentum in its EU integration process.