Europe and America - divided together
Ralitsa Kovacheva, 29 March 2010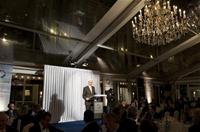 When Herman Van Rompuy was elected to become the first European president, the first comments were, that an erudite haiku-poet had no chance to take the place in front of the spotlights of figures like Angela Merkel, who is self-contained, the vivid Nicolas Sarkozy or the Commission-man Jose Manuel Barroso. But despite some interinstitutional awkwardnesses, consequence of the Lisbon Treaty, Herman Van Rompuy definitely looks like a man who has something to say and whose words are starting to reach.
After sending off his guests from the Spring European Council with a compromise about Greece, van Rompuy took part in a Brussels Forum, organised by the German Marshal Fund and dedicated to Transatlantic relations. The Forum took place in a difficult for the Euro-American relations time - the disagreements on financial regulation, climate change negotiations, President Obama's refusal to attend EU-USA summit in Madrid in May interpreted as a sign that he has more important things to do.
Giving as an example that common values and common history are not enough to build common future, in his dinner remarks van Rompuy defined the foundation of the transatlantic cooperation and its priorities. The European Union and the United States should together find responses to old and new forms of global insecurity and invite the rest of the world to join them, Van Rompuy said and specified:
"Terrorism. Market disruptions. Energy shortages. Climate change. Cyber attacks. No single country can impose its will or its rules on a world adrift. To share the burden and to lead the way, why not start with two? Europe and America are destined to be those two."
Van Rompuy explicitly notes in his speech, that he doesn't have nuclear instability particularly in mind, although even in terms of military security Europe is an indispensable partner of the US. Supporting his thesis, the European president reminded of the EU soldiers in Afghanistan, obviously responding to Barack Obama's inaugural address when he called on Europe to take its responsibility with America in Afghanistan. In a speech in the European Parliament a year ago, Obama said:
"The relevance of our relationship in the future will be premised not on our shared history, values or interests, but on Europe's will and ability to adjust to this new global reality and to share its burdens with us and others".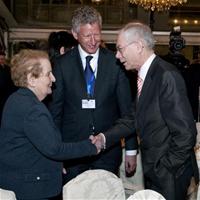 Only a few days after the announcement of a breakthrough in Russian-American negotiations on the strategic weapons reduction and the forthcoming signing of the new START treaty on April 8 in Prague, van Rompuy commented:
"We are very much in favour of President Obama's initiative to prevent nuclear terrorism and control nuclear proliferation. As President of the European Council, I will promote that position at the Nuclear Summit in Washington next month."
As it could be seen, van Rompuy gave the issue the attention it deserved, an issue, considered as being one of Obama's significant international victories. This is not the first time in his speech that President van Rompuy changed sharply the tone and attacked the financial system reforms. Europe's fears (as the President of European Commission Barroso also said after the European Council) that with the crisis fading way, the commitment for stronger financial market regulation is also fading away. Van Rompuy compared the significance of the current economic crisis for the redefinition of the security concept to the 9/11 terrorist attacks:
"Market volatility itself can be a security risk. Especially when it is not just banks and businesses but States that are getting into financial trouble. I understand the American interest in how the EU deals with Greece. You do not want a "second Lehman Brothers" and rightly so...So let's work together on financial and banking regulation."
Regarding another important but sensitive issue in Euro-American relations - climate change, balancing on the edge of bon tonne, appropriate for an official dinner, Van Rompuy gave the following example:
"Six weeks ago, the European Parliament rejected an EU-US agreement on the sharing of data (SWIFT), on the ground that civil liberties were not sufficiently protected. It came as a surprise to some in Washington. However, this vote also made me think of the European experience with the Kyoto Protocol, which the U.S. Congress never ratified…"
After this not very subtle implication,Van Rompuy concluded that "the most striking thing that Europe and America have in common is our pluralist democracy". And reminded to the Western partners that in America there were often bipartisan disagreements, while the European Union had 27 different Member States.
In fact, at the German Marshal Fund's Brussels Forum Europe was represented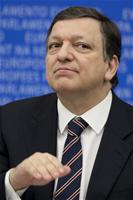 by its heavy, post Lisbon artillery: beside the President of the Council Herman Van Rompuy, the President of European Commission Jose Manuel Barroso and EU High Representative for Foreign Affairs baroness Catherine Ashton also attended.
Mr. Barroso pointed out the need for a change in relations between Europe and America, which "find themselves at a crossroads". He said there was a need "for a more dynamic partnership, one that would be more outward-looking and engage more third parties, including China, India and Brazil".
Baroness Ashton explained, on her part, that there was no need EU-USA summits to be regular, they could be held only when there was a specific problem to be solved. US-EU summits have been taking place once or twice a year since 1991, but analysts said, they were more often a photo opportunity, rather than real opportunities to solve problems. "We will have a summit when we both feel the need for one. Meanwhile, the relationship goes on," Ms Ashton said.
Whether Herman Van Rompuy is just a good speaker or the EU will really use a new approach in transatlantic partnership, we will find out by the G20 summit in Toronto. Then we will be able to see what the European and the American positions are on strengthening financial regulation and other issues. It will also become clear whether both sides will remain divided in their approach towards their common goals.
Transatlantic relations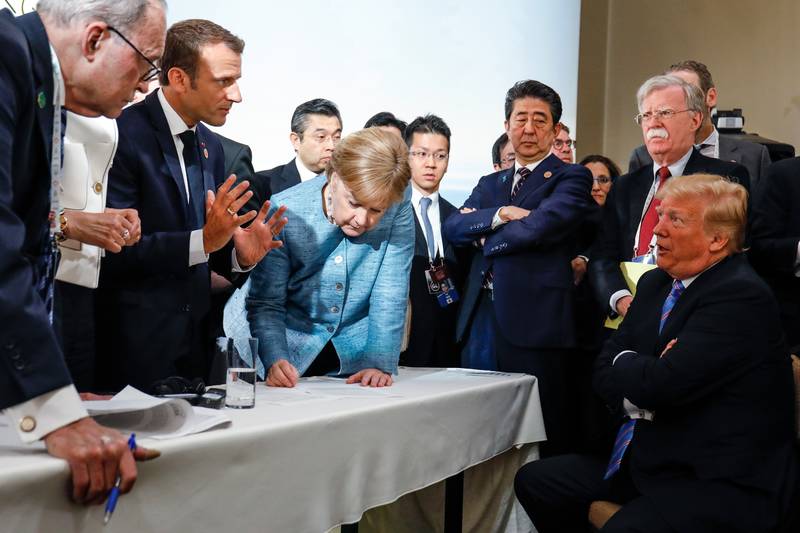 Macron, Merkel, Abe, Trump | © Council of the EU
Multilateralism Is Dead. Long Live Multilateralism!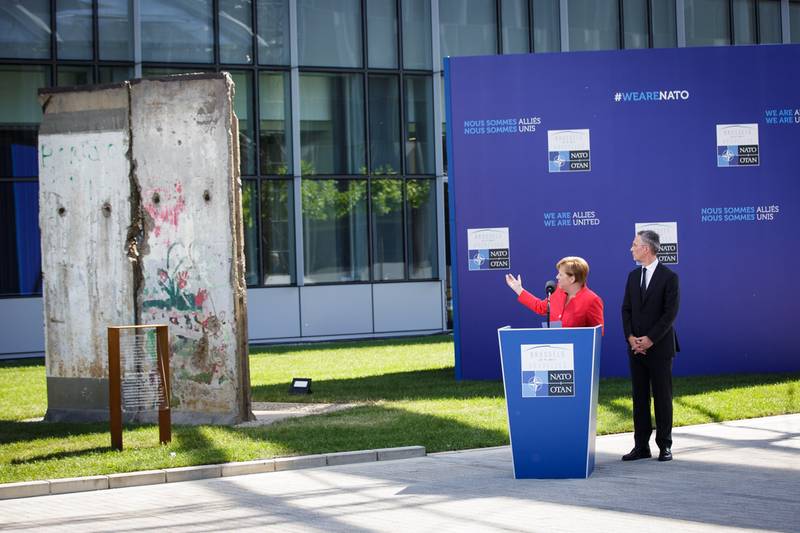 Angela Merkel | © Bundesregierung
Obama - the Shadow President of the Free World?