The Temporary Is Always the Most Permanent
Adelina Marini, 21 February 2013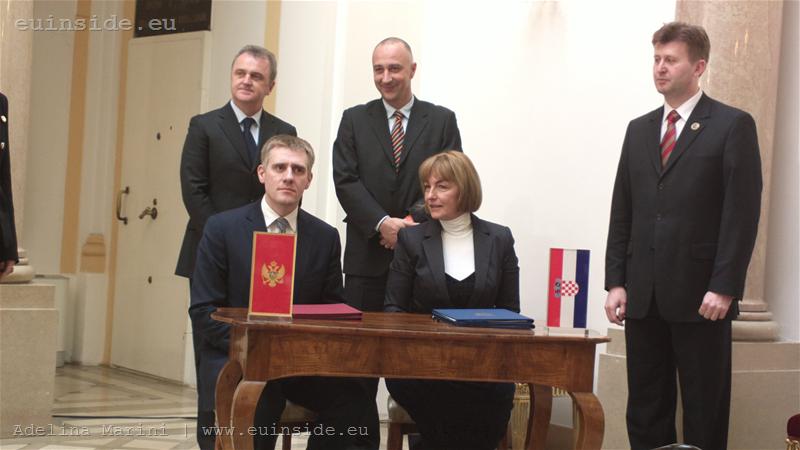 The situation in which Croatia finds itself currently because of unresolved bilateral issues with Slovenia (mainly the dispute about the old deposits in the former Ljubljanska banka) puts into question the timely accession of the country to the EU, scheduled for July 1st 2013. Unlike Bulgaria and Romania, whose accession depended on their own efforts only to reform their judiciaries, Croatia has fulfilled almost all conditions, it is well prepared, but its accession treaty is awaiting a solution to a bilateral problem so that it can be ratified by Slovenia. The European Commission has many times clashed with similar cases during the last big enlargement wave in 2004 when it took 10 new members, but with the slow progress of the Western Balkans toward European membership, the bilateral post-Yugoslav problems emerge as a serious challenge.
The Commission prefers the countries to solve such issues among themselves because it believes that this is a sign of maturity and is another test for their preparedness for European membership. Besides, the EU executive does not have the capacity (both legal and expert) to interfere in such problems. Frequently, however, the countries that are in take advantage of their membership and the block behind their back to exert pressure on those who are outside. Such is the case with Macedonia which cannot even start accession negotiations because it has serious disputes with Greece and Bulgaria. This pressure may serve some short-term political goals in the affected countries, but it definitely does not serve the European integration. And although the solution of bilateral issues is a pre-condition for membership, it is a fact that the EU has closed its eyes or has underestimated its scale. The most vivid example in that regard is the accession of Cyprus divided. A problem that now weighs in the relations between the EU and Turkey and is blocking the progress of the accession negotiations.
Will Croatia be a Slovenia for Montenegro?
In the summer of 2012, on the runway for European membership stood the tiny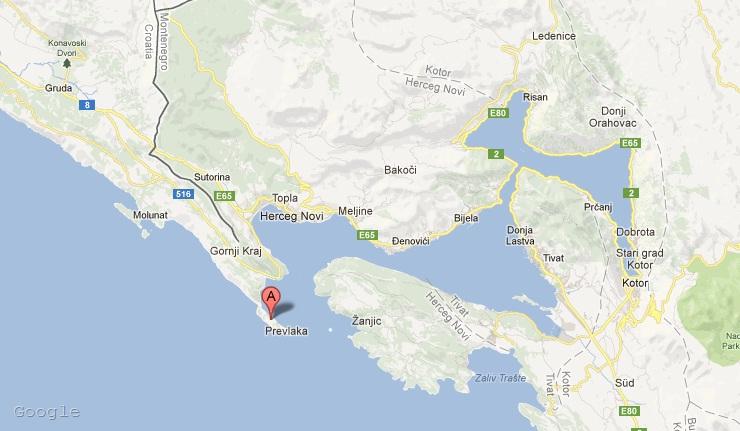 Balkan state of Montenegro for which there are hopes will be the next (29th) EU member from the region. Of course, Podgorica has a very long way to go and the authorities in the country even refuse to forecast when could the country become a member. They even say that for them the process is more important than the accession itself. An important part of the process, however, is the resolution of bilateral issues and between Croatia and Montenegro there is a border dispute. It is about the small peninsula Prevlaka which is situated in the southernmost part of Croatia and which is regulated by a technical agreement. On a number of occasions Croatian and Montenegrin officials stated that this is not an open issue between the two countries.
This was reiterated by the ministers of foreign affairs Vesna Pusic and Igor Luksic in Zagreb on February 19th. But they said also another very important thing - that for the time being the temporary regime has been functioning very well, it has not created problems so far and does not bind the finding of a final solution with any deadlines. First Deputy Prime Minister and Minister of Foreign and European Affairs of Croatia Vesna Pusic explained, responding to a question of a Montenegrin journalist, that she and Mr Luksic have agreed in the future to head the mixed committee which will be dealing with the finding of a durable solution. Moreover, she said, the two countries have to try and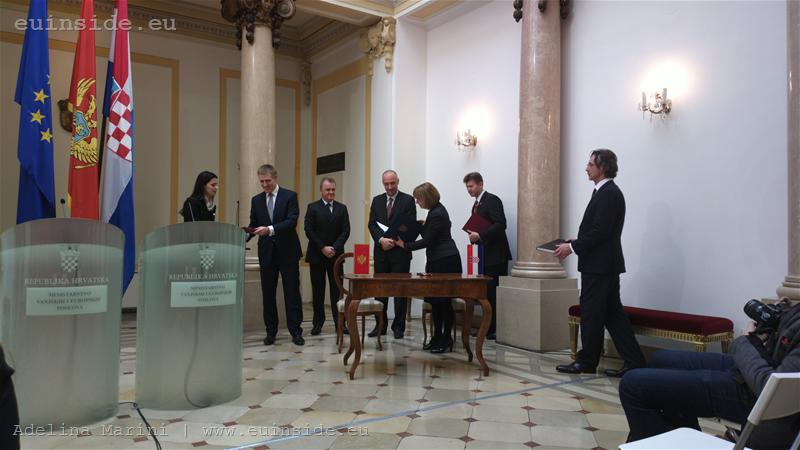 solve bilaterally this issue. But if that proves impossible, there is always the option to go for an international arbitration. "At this stage, we believe it is possible and necessary to try and solve this by ourselves", Ms Pusic said.
Deputy Prime Minister and Minister of Foreign Affairs of Montenegro Igor Luksic added that the finding of a bilateral durable solution will be an exceptional message. But we are not in a hurry, was the message of the two. In the same spirit sounded the talks between Croatia and Slovenia. The two sides were very convinced in the summer of last year that by its end they will be able to find a solution to the problem with the old savings in Ljubljanska banka. Then they appointed financial experts with a mandate to find and expert solution. Ms Pusic said this would demonstrate to the EU Croatia's (and Slovenia's) maturity to solve their problems by themselves. In the process of negotiations, however, political appeals emerged in Slovenia for international arbitration. But for such an option there is no time.
At the moment, both Zagreb and Ljubljana are desperately trying to find a mutually acceptable solution that would not prevent Croatia's accession on July 1st because this will be to the detriment not only of Zagreb, but of Ljubljana as well, as it will show that a tiny country of 2 million can endanger the enlargement of a union of 500 million because of narrow political interests.
Will this happen with Montenegro as well, no matter that there are at least 10 years until a possible preparedness for membership (depending on the pace of reforms). Responding to the question by euinside whether there is any problem that could put at risk Montenegro's accession to the EU, both Pusic and Luksic were unanimous. The Montenegrin minister said that even the Prevlaka issue is not perceived as a problem, but as a point on the agenda which needs to be solved in due course. "And we hope that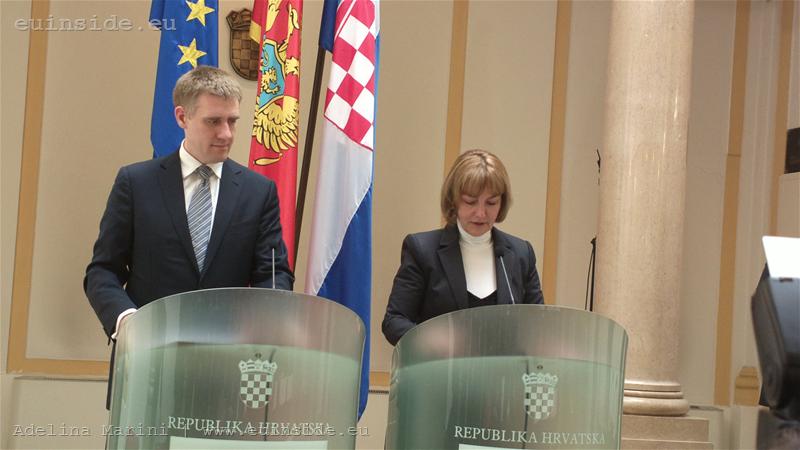 we will show capability to resolve it on bilateral level". He added that the two countries are in fact a very good example about how a troubled past can be turned into a fruitful cooperation.
Ms Pusic, too, does not see obstacles and does not believe that in the future it is possible Croatia to have an interest to block or impede Montenegro's accession. She said that the integration of Croatia's neighbours is a direct interest for the country. Progress toward European integration is the only guarantee for long-term stability as stability is a key factor in the entire region, she underscored. This is undoubtedly so. The problem is, though, that not solving an issue which is under a temporary regime, although it may have never created problems it also does not create any guarantees that some time in the future it will not start working as a time bomb. Ten years is a long period of time during which a lot of things can change. In the Balkans we have proved that changes could be stormy.
If Slovenia removes the last obstacle Croatia will join the EU on July 1st 2013. Then it will have no reasons at all to hurry solving a problem which will remain mainly Montenegrin.
Montenegro Starts EU Accession Negotiations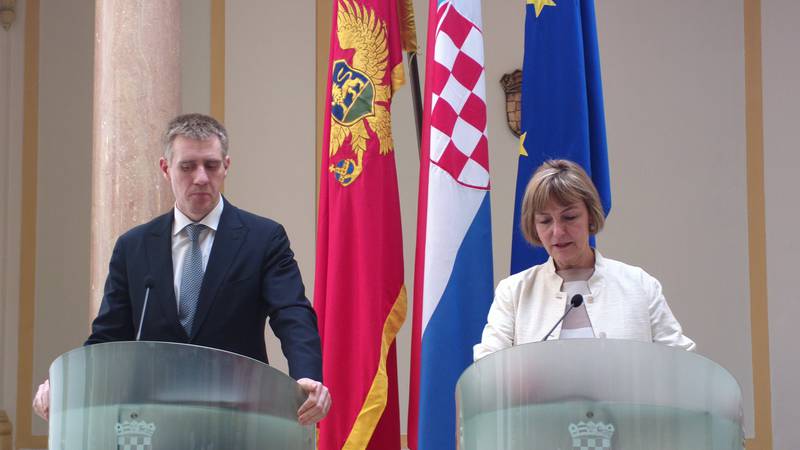 Igor Luksic, Vesna Pusic | © Council of the EU
Igor Luksic: Security of Journalists in Montenegro Is a Priority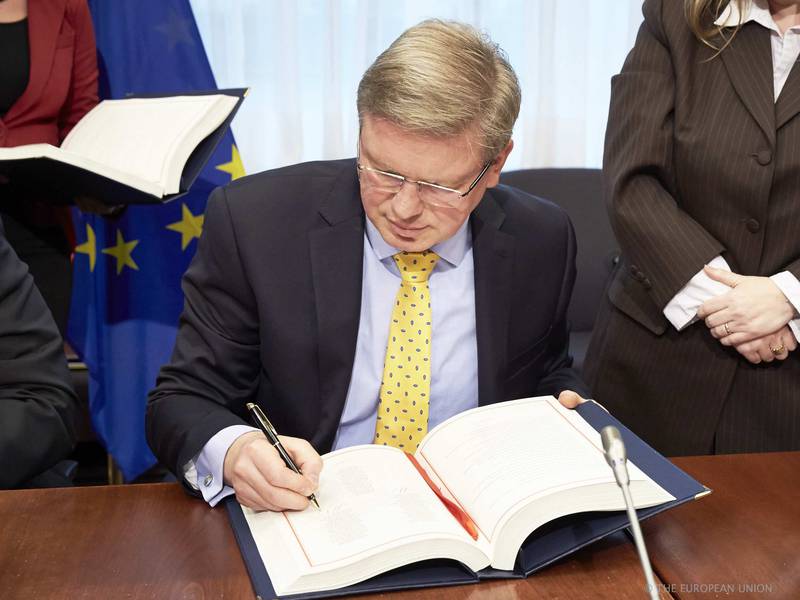 Stefan Fule | © Council of the EU
Montenegro - the Great Reform Games Begin
euinside in Croatia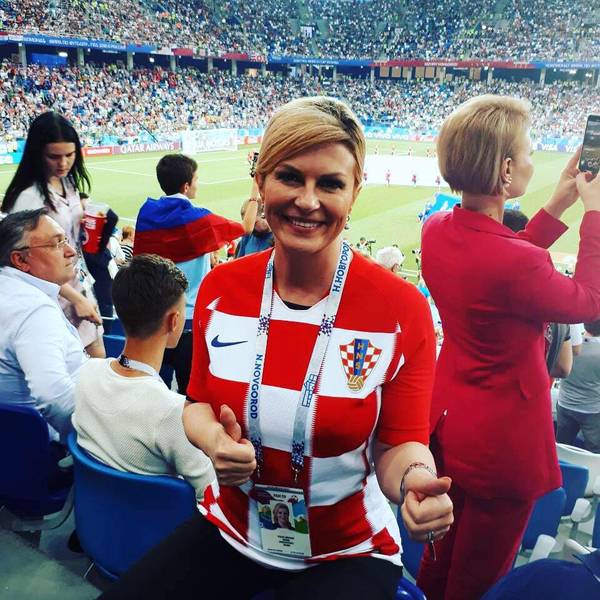 Kolinda Grabar-Kitarovic | © KGK
Croatia's Nationalistic Paradox*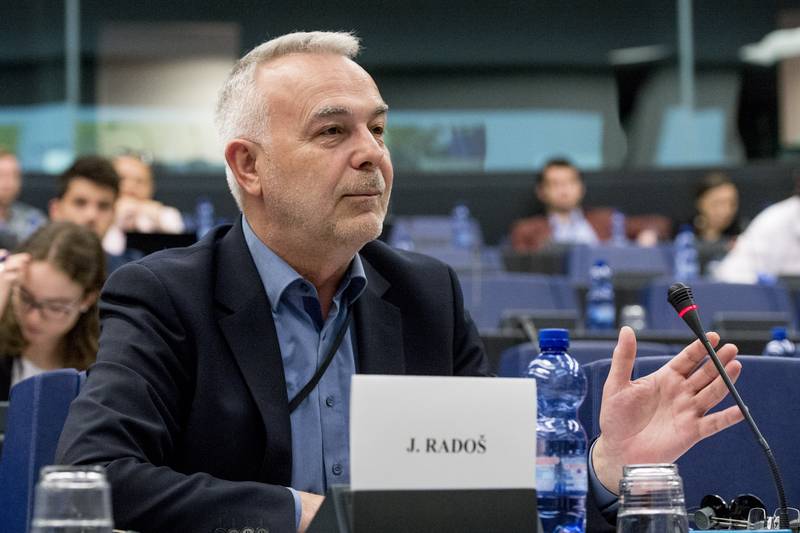 Jozo Rados | © European Parliament
Jozo Rados: The Next European Parliament Could Be Worse