Wind of Change Is Blowing in EU. Illiberalism and Eastern Europe Are First Casualties
Adelina Marini, July 6, 2017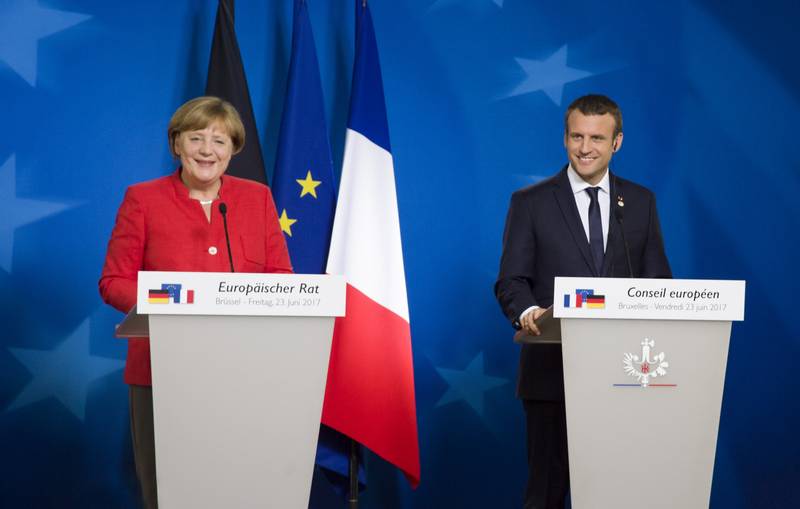 The biggest piece of news from the June EU summit is the return of the Franco-German engine at the helm of the Union, but this time with much more vigour and ambition. The June 22-23 European Council was unique and will be remembered by several things. The first is that the agenda was overwhelmed by tasks, but the leaders did not spend sleepless nights in quarrels and divisions. The second is that decisions have been made which the Union will make serious strides forward with. The third and most important thing is that all this happened under the leadership of the new Franco-German duo Merkron (Angela Merkel and Emmanuel Macron) or, as others called it, the Emmangela duo. The French president was the star, as on June 22 and 23 was his premiere at a EU summit, but it was only relatively so.
The first impression that the new duet leaves is that it is a rare combination of the experienced 62-year-old German Chancellor, who has been forming European politics since 2005, and the 39-year-old French president who is an absolute beginner in national and European politics. They seem mutually complementary and balanced - where Angela Merkel is weak he is strong and vice versa. The German Chancellor needs fresh energy and political neutrality, but above all she needs a soul mate on many topics on the European agenda, which have been amassing negativity for years, like, for example, the Greek crisis and the euro area crisis in general, refugee and migration issues, what to do with the rise of illiberal regimes, many of which are part of the political family of the European People's Party, of which her Christian Democrats are members as well.
In this regard, Emmanuel Macron is ideal - he is not burdened by contradictory decisions at European level nor at national level; he is undoubtedly a part of the new generation of European politicians who look into the future and have no unpaid debts with the past; and perhaps his biggest plus (so far) - his one-year old party En Marche! is not a member of any European political family and is currently not intending to be. A plus, because in recent years European political parties have become omnivorous political organisms whose sole purpose is to preserve their power in Brussels and Strasbourg, often compromising with that which is most sacred for the EU - its value system and its original purpose.
If the duo starts to work as well as the ambitions for it suggest, Emmanuel Macron will be able to deal with the difficult tasks that would cost Angela Merkel too much internally and in a European plan, and would hardly be successful because of that, but she will support him quietly and from the shadows, giving him her experience and knowledge. The debut of the Merkron duo creates great hopes, but there is still suspicion in the air whether France will back the big words of its young president with substance and whether he will be able to withstand the test first on domestic scene, where reforms have been declared to the scale of what Angela Merkel's predecessor in Germany Gerhard Schroeder accomplished 15 years ago. Success at home will make Macron an undisputed authority on the European stage and place him level with the German Chancellor.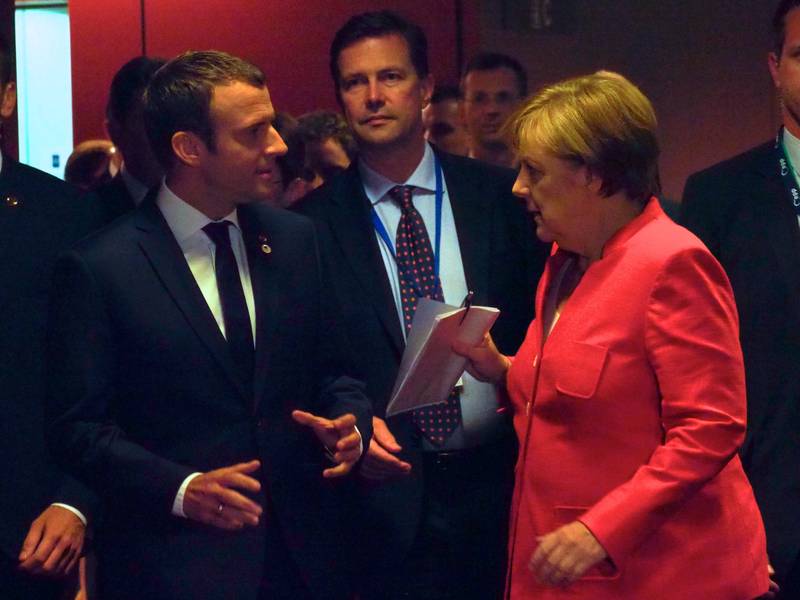 For the first time in five years, the leaders of France and Germany gave a joint press conference following the end of the 23 June summit, which was the most anticipated event in the two days of the European Council in Brussels. The large and spacious German briefing room was overwhelmed by journalists from all over the world, who came to see the announcement of the beginning of a renaissance of the EU, as the French president named it. The wait for the two leaders lasted almost an hour, but was rewarded with many statements that automatically wrote the first pages of newspapers and tweets.
Complete Franco-German coordination
France and Germany have been preparing for the meeting together on each separate topic. Angela Merkel and Emmanuel Macron said this would be their way of working from now on "because, I believe that when France and Germany speak with one voice, Europe can move forward", said the French head of state. According to the German Chancellor, this delivered. "We had a meeting which has really demonstrated a spirit of renewed confidence and perhaps Germany and France have been able to lend a contribution to this, due to the careful common preparation of this Council meeting." For her, this meeting was particularly important because, as the Brexit is no longer a priority (left to Chief Negotiator Michel Barnier), the EU can devote itself to its own future.
Angela Merkel admitted that not always Berlin and Paris will have one opinion on every issue, but the two countries want to work together. That does not mean, however, that others are excluded from this process, Ms Merkel said. Emmanuel Macron added that synergy between France and Germany is a prerequisite for moving forward. "We're not facing the same situations economically, in terms of demography, politically as well, so on some topics there can be some major differences but it's important first of all that we understand each other's situations and constraints, work on bridging gaps, if any, and then work together on building some joint solutions, because there's no relevant European solution unless it is first and foremost relevant to France and Germany", explained Mr Macron
Europe is not a supermarket
The strength and unity of the Franco-German engine might prove to be bad news for the shrewd leaders in some parts of Eastern Europe. On the eve of the European Council, the French president gave his first major European interview to seven European newspapers, with which he threw a glove at everything he thinks is wrong in Europe and the world and coincidence or not, it is mainly related to Eastern Europe. He first attacked the march towards illiberalism in general, but especially in some eastern parts of the Union, stressing that Europe is not a supermarket. "Europe is a common destiny. It is weakened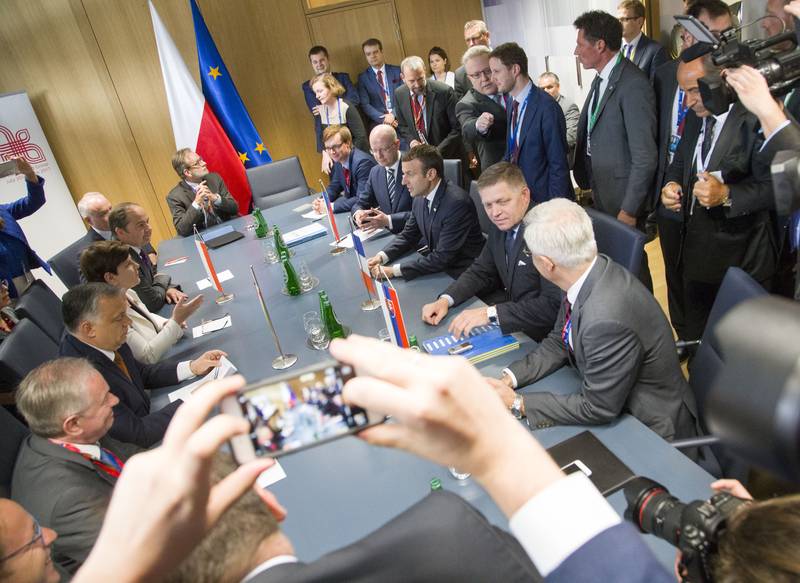 when it accepts its principles being rejected. The countries in Europe that don't respect the rules should have to face the political consequences. And that's not just an east-west debate", he said.
The French president believes that the biggest challenge now and the starting point for his foreign policy is tackling the "crisis that is hitting Western democracies". "When you look at the planet today, what do you see? A rise in illiberal democracies, and extremes in Europe, a reappearance of authoritarian regimes that question the vitality of democracy, and the US in part withdrawing from the world." Emmanuel Macron believes that Europe has no choice but to become a leader in the fight against illiberalism, "because democracy was born in Europe". "So the question now is: will Europe succeed in defending the deep values it brought to the world for decades, or will it be wiped out by the rise in illiberal democracies and authoritarian regimes?" says Macron in his interview, fully in the spirit of the euinside text about his election as president.
The second very big problem for the French president is cheap labour from Eastern Europe. In his interview with the European press, Macron's thesis was strongly reminiscent of some of the arguments of those who fought relentlessly for a Brexit and won it by attacking Eastern Europeans and depicted them as a scourge. "Let's not get this wrong. The great defenders of this ultra economically-liberal and unbalanced Europe – the UK – came crashing down on this. What did Brexit play on? On workers from Eastern Europe who came to take British jobs. The defenders of the European Union lost because the British lower middle classes said: 'Stop!' ", Macron explained.
He insisted that this was not an east-west conflict but warned certain European leaders not to turn their backs on Europe and to give up their cynical approach to the EU. During his first official visit to Brussels, immediately after his election as president, Emmanuel Macron announced his desire to make deeper changes to the Posted Workers Directive, which has stood open for repair for one year, but Macron wants the debate to start over. He believes that lower wages and the influx of low-paid posted workers erode support for Europe and are "turning the European project on its head".
German Chancellor Angela Merkel agrees with him to a great degree. "I must say that I agree to the extent that we are a community of shared values as our charter outlines, our treaties outline and there is the possibility also to ask for implementation. And the Commission is busy on certain cases doing just that. If the Commission feels that respect for the rule of law has to be demanded we will support it and I think it is good that Emmanuel Macron underlined this again because it very much shows that we are in concert with the French government", she said. "Today is not the day for threatening but I think one has to be in a permanent dialogue and also one has to be very clear in stating when one is not satisfied with certain developments", were her words.
She did not comment specifically on the ideas for changes to the posted workers directive, but it can be concluded from her policy so far that she supports Macron. The French president said he was actively speaking with his colleagues on a bilateral basis. He also met Bulgarian Prime Minister Boyko Borissov, who told him that even in Bulgaria the same dumping is observed by people coming from countries where prices are even lower. In front of euinside, Mr Borissov was reluctant to face the question, but it was clear from his words that he still supports the imposing of certain restrictions because Bulgaria has a shortage of labour. "I am worried that unemployment in Bulgaria has already fallen to 6.9% -6.8% and all branch organisations pose a single issue - the lack of labour force in Bulgaria", he said.
Hungarian Prime Minister Viktor Orbán, to whom most of Emanuel Macron's messages seem to have been addressed, reacted as expected. "Macron's introduction isn't too encouraging; he thought the best way to show friendship was to immediately stampede into central European countries. This isn't how we do things around here, but he'll soon get to know his way around". According to him, the differences over the posted workers directive are not insurmountable. Over the coming weeks, experts from both countries will work on the subject until agreement is reached. "Hungary will do everything in order to protect the interests of Hungarian workers", he said in Brussels.
Translated by Stanimir Stoev