How a dragon should be spoken to
Adelina Marini, 21 January 2011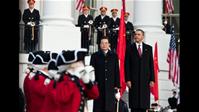 How do you think a dragon should be spoken to? While I'm waiting for you to give your ideas, I will share with you how the US tried to speak to the Chinese dragon. Initially they tried to say that there was no such animal but then they had to accept the fact that did dragons exist - after all they were talking to one - this is why they started explaining to him that he was a very nice and good little dragon as long as it behaved and as long as it did not want much. But when the dragon continued to grow, as dragons usually do, the US were forced (Barack Obama had the honour) to accept the reality and to start talking to the dragon properly - as a small to a big or as a weak to a stronger, or whatever pops up in your mind.
This is exactly what I was thinking while I was watching the joint press conference of presidents Hu Jintao and Barack Obama in the White House on Tuesday. The event was delayed with almost 40 minutes from the schedule and the journalists that had gathered in the hall had the right of totally 4 questions - two for the Chinese and two for the American colleagues. However, there was a technical problem with the simultaneous translation which made the atmosphere quite tense, but the American head of state tried his best to break the ice by joking with some realities to which Hu Jintao did not even smile.
In essence
Barack Obama started his introduction, before the Q&A session, by making several admissions, while in the same time inserting in an unusual for the US diplomatic way the problematic issues too. For example he started with Washington's main problems in its relations with Beijing. "The positive, constructive, cooperative U.S.-China relationship is good for the United States. We just had a very good meeting with the business leaders from both our countries. They pointed out that China is one of the top markets for American exports. We're now exporting more than $100 billion a year in goods and services to China, which supports more than half a million American jobs". Jobs and exports for China are the thin cord to which Barack Obama has been trying to play a third year of his term now.
And it was during these two years when he had to work in an environment of unconvincing economic recovery, slowly declining unemployment, hard political situation and complex international context. This is exactly why Barack Obama had to give up the policy of the forefinger and, instead of teaching China lessons as if it was the less developed but necessary partner, Mr Obama committed with reconciliation to support the One-China policy toward Tibet and Taiwan. Because during Hu's visit tens of deals have been concluded that will increase American exports by more than $45bn and Chinese investments in the US will grow by several billion dollars. "From machinery to software, from aviation to agriculture, these deals will support some 235,000 American jobs. And that includes many manufacturing jobs. So this is great news for America's workers".
Obama pointed out that he managed to stress to his Chinese guest that there had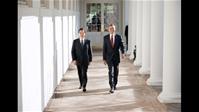 to be a level playing field for American companies competing in China and that trade had to be fair. "So I welcomed his commitment that American companies will not be discriminated against when they compete for Chinese government procurement contracts. And I appreciate his willingness to take new steps to combat the theft of intellectual property". This is one of the biggest problems of foreign companies in China currently. Even bigger than renminbi's exchange rate - an issue which was also discussed in Washington between the two delegations.
American head of state's entire statement revealed something which was inadmissible so far in American politics and, by the way, still is in certain circles (of which a word later in the text). The tone, the words, the messages - all this was so carefully weighed exactly the way the US can speak only to equals - something they have not experienced since the Cold War.
On his part, the Chinese president, Hu Jintao, turned to the attendees in the hall with the words: "Friends from the press, ladies and gentlemen, good afternoon". Obviously Hu meant the American journalists when saying friends of the press, but about this too later in the text. In his introduction remarks he said that his talks with president Obama were candid, open, pragmatic and constructive. Hu was no less eloquent when conveying his messages, by saying: "China-U.S. cooperation has great significance for our two countries and the world. The two sides should firmly adhere to the right direction of our relationship; respect each other's sovereignty, territorial integrity and development interests; promote the long-term sound and steady growth of China-U.S. relations".
Further on Mr Hu explained that he and Obama had discussed "some disagreements" in the economic and trade area and that they would be solving them gradually according to the principle of mutual respect and consultation on an equal footing.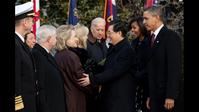 Unfortunately just when the moment came for the Q&A, a technical problem emerged in the simultaneous translation which imposed a consecutive interpretation. The right to ask the first question was given to a colleague from the Associated Press, who asked both leaders about the human rights situation in China. It was this question that President Hu could not answer right way and Barack Obama made the next big admission: "China has a different political system than we do. China is at a different stage of development than we are. We come from very different cultures with very different histories. But, as I've said before and I repeated to President Hu, we have some core views as Americans about the universality of certain rights - freedom of speech, freedom of religion, freedom of assembly - that we think are very important and that transcend cultures".
A little later, when it was time for the second question for the American press, a colleague from Bloomberg insisted president Hu to respond to the Associated Press's question. Hu Jintao excused himself by insisting to explain that for technical reasons he could not understand that there was a question for him and answered as follows:
"China is always committed to the protection and promotion of human rights. And in the course of human rights, China has also made enormous progress, recognized widely in the world. China recognizes and also respects the universality of human rights. And at the same time, we do believe that we also need to take into account the different and national circumstances when it comes to the universal value of human rights. China is a developing country with a huge population, and also a developing country in a crucial stage of reform. In this context, China still faces many challenges in economic and social development. And a lot still needs to be done in China, in terms of human rights".
The question of the Chinese Central Television was extremely interesting and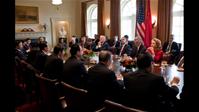 provocative, especially in its part addressed to Barack Obama. The American president was asked whether deep in his heart he really thought he could live comfortably with a constantly growing China and what he thought China's development really meant to the United States. The American president's answer caused laughter in the room: "We want to sell you all kinds of stuff. We want to sell you planes. We want to sell you cars. We want to sell you software. And as President Hu and his government refocuses the economy on expanding domestic demand, that offers opportunities for U.S. businesses, which ultimately translates into U.S. jobs".
However, this was not funny for President Hu. Barack Obama continued by saying that China's rise was potentially good for the world but to the extent that China was functioning as a responsible actor on the world stage and as far as it was committed to ensuring that weapons of mass destruction did not fall into the hands of terrorists or rogue states. The journalist from Bloomberg also raised the issue about the refusal of Senate's majority leader Harry Reid and House Speaker John Boehner to attend the state dinner that evening because a lot of Congressmen and Senators saw China as an economic threat. The question was addressed to both leaders.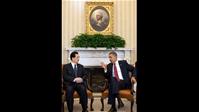 Hu diplomatically gave the honour of answering this particular question to his American colleagues. Instead of responding, though, Barack Obama answered the second question of Bloomberg about the exchange rates and their impact on American exports and unemployment rates. A lot of people in the country would probably not like the answer. "Now, that gives us some responsibilities. We've got to save more in this country. We've got to cut back on these huge levels of debt both in the private sector but also in the private sector. It also means that there are structural reforms that we have to undergo to make ourselves more competitive in the world economy. So, making sure that we have the best education system in the world, that we're producing more engineers than lawyers, making sure that we have a handle on our fiscal problems, making sure that we've got a world-class infrastructure - those are all important parts of us being competitive and being able to export".
Of course, he added, this did not mean that there should not be equal conditions for trade. The press conference ended with the second question of the Chinese reporters which was about mutual trust, the answers to which gave ground of thinking that trust was possible, but after the implementation of several important conditions, the work on which had obviously started.
In spite of being the eighth, this summit was remarkable. It confirmed a reality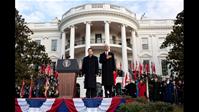 which everybody has to take into consideration, which is that China is a factor and not as so far - just a market. A lesson which could probably not have been learned that quickly if it was not for the global financial and economic crisis. Besides, I find it quite not serious to conclude that with this summit the US have admitted their weakness. On the contrary - the US still are a global power and the developed world still possesses a very tactical advantage - values which stimulate the free thought and therefore - innovation, so necessary in the fight for economic superiority.
And after all, it is easier to speak to a dragon if you are a two-headed dragon.
More articles from

euinside