A woman will lead the Bulgarian liberals
Adelina Marini, 30 November 2009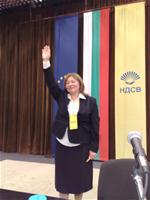 Hristina Hristova was elected a chairman of the Bulgarian liberal party NDSV at its fifth congress on Saturday with the votes of 404 delegates from 708 valid votes. There was no second round as expected before with her stronger opponent the former minister of state administration Nikolay Vassilev, supported by 231 of the delegates of the congress. The other 2 candidates - Bilyana Raeva and Iliya Lingorski gathered less than 50 votes each. Right after her election, the retired leader of the party and former Bulgarian tsar Simeon Saxecobourggotta who resigned after the general elections in July, quite the presidium and sat among the delegates.
Asked by euinside whether she had expected to win and how did she managed to convince the delegates to support her Hristina Hristova admitted that she had expected the result because she visited 25 regional structures of the yellow party. She managed to convince them that the hard times were ahead but could be tackled together: "To make a transition from a party in government who governed for 8 years the country, every day important decisions were taken for the government from one group of people on a national level, a transition to an opposition party outside Parliament that has to benefit from the fact that history is giving it a break to turn towards its members, its structures, to guarantee better hearing, that things will start from down upward and not as it has been so far - everything was centralized".
The first main gaol of the Movement under the leadership of the former social minister Ms. Hristova would be the preparation for the local elections in 2011. She will use the experience of the German liberals for whom local elections are the most important. Asked by euinside whether she shared the goal, expressed by Vladimir Karolev earlier that the NDSV should fight for 10-15% of the voters, she commented that the European liberals in certain periods of time have indeed this number of supporters. Sometimes they govern alone. At the moment in Europe there are 5 liberal government, headed by liberal prime ministers, among which Latvia and Finland.
The main rival of the NDSV should be GERB but the Movement will direct its efforts toward the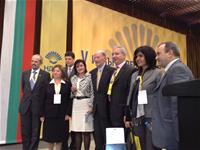 middle class and it is expected soon the long-term goals of the party to be announced. According to the new leader, the process of formation of a middle class in Bulgaria, started in 2001, has been stopped. She said the party will also work on policies for the small and medium businesses, for the family, the financial and economic field as well as green policy which, she said, is basic for the liberals in Europe.
More articles from

euinside