Small reshuffle in the Commission because of the European elections
Adelina Marini, June 29, 2009
As of today there are 2 new faces in the European Commission - of Algirdas Semeta who replaced the budgetary issues commissioner Dalia Grybauskaite and Pawel Samecki who is replacing the regional development commissioner Danuta Hubner. The Lithuanian Dalia Grybauskaite has been elected as president of her country Lithuania and that is why she resigned. Her substitute was until today minister of finance.
Pawel Samecki will replace Danuta Hubner who was elected to the European Parliament and also resigned last week. Until today Mr. Samecki was a member of the management board of the National Bank of Poland.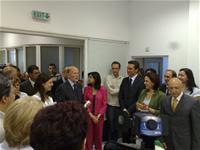 Meglena Kuneva who has also been elected a MEP still has not resigned from the Commission as responsible for consumer affairs because the Bulgarian law, after being recast because of her and Mr. Ivaylo Kalfin (still foreign minister and deputy prime minister), can still work until sworn as MEP on the 14th of July. Her case is quite complex because there are signals that Mr. Barroso might invite her for his second Commission, if he is approved by the EP. But it is possible that there is a hole of time which could lead to her losing her chances for MEP. For now it is agreed that the composition of the new Commission will be negotiated after the Irish referendum on the Lisbon treaty.
But the document require the number of commissioners to be reduced to 2/3. This means that there are hard diplomatic efforts coming ahead. What is clear so far is that Meglena Kuneva doesn't have many supporters in Bulgaria as they were not many the first time when she became a commissioner after Barroso insisted.
0