Protest in Sofia against collection of data by Internet providers and mobile phone operators
Ladislav Tsvetkov, 17 September 2009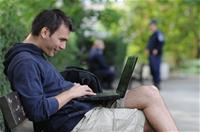 For a second time discontented Bulgarians are gathering on the 12th of September to take part in the international protest "Freedom not fear". The protest is against the pressure of the EU member states to expand and legalize the tracking of EU citizens. According to the organisers of the protest, the collection of data from the Internet and the telephone communication as well as the usage of recording devices, creates real preconditions for abuse with personal data.
In Bulgaria, the initiative is organised by "E-border", the Green party and the student organisation "Appeal".
The activists in Bulgaria remind that since 16th of April the data from each sent e-mail are collected and stored by the Internet providers and can be provided to the police on demand. The locations of Internet usage, Skype, Icq, jabber, VoIP and other ways of Internet communication, are also being stored. Besides, the information when and with whom the user communicates and when he or she is online, together with the IP, are also being stored.
More articles from

euinside