Nikolay Mladenov for euinside: You can't transfer Member States' responsibilities to Brussels
Adelina Marini, Ralitsa Kovacheva, 14 September 2010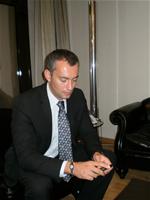 We could steal only 20 minutes from the tough schedule of the Bulgarian Minister for Foreign Affairs to make our interview. He comes out of a meeting that went longer than expected and is now in a hurry for the next one. This is why he used his conversation with euinside to drink a cup of coffee and light a cigarette. It was evident that he was pleased to talk about things, different from his daily duties and the daily Bulgarian issues. We took advantage of this in order to understand what the Bulgarian foreign minister thinks about the hottest European issues and what the Bulgarian priorities in the European agenda are.
euinside: Let us start with the State of the Union address of European Commission President Jose Manuel Barroso. What did you hear in it, what did he say because there were not many political interpretations?
Nikolay Mladenov: This is a new procedure which he [President Barroso] is trying to impose with the State of the Union address, giving a more serious assessment of the situation of the EU. I think that the EU is now in the end of the Lisbon Treaty's childhood, which came quite quickly. This was in a way caused by the situation in which we woke up a year, a year and a half ago - then it seemed that the Lisbon Treaty would be more difficult to be applied and that it would take longer to have it adjusted to all the problems. But what happened to Greece and the need of Europe's quick reaction to the Greek problems, the need of a more active position on regulating the global financial markets because of the economic crisis, showed that we really have no time to deal with our internal problems. We have to quickly focus, instead, on the real political issues ahead of us.
I think that Lisbon Treaty's childhood is being overcome fast. But from now on we will be facing other problems, or more precisely - challenges. Because there are new clauses, introduced with the Treaty, new topics which have never been developed so far in the process of European integration. Such a topic, for example, would be how to coordinate our actions with regard to civil protection. This issue will come up in the agenda in the months ahead. A second issue would be how the clauses, related to the so called permanent structured cooperation among the Member States, will be applied, giving the EU a real possibility to enter into an entirely new area such as the integration of the defence market, the market of defence products.
euinside: Does Bulgaria have an interest in this direction, is this, in fact, being commented?
Nikolay Mladenov: I myself have commented on this issue while I was in the European parliament (as a Bulgarian MEP), because I have a special interest in it. I think that our country has a strong interest towards this because the defence budgets of all EU Member States are contracting right now and we have to look for an opportunity to have more capabilities, shared with other countries, that would give countries a chance to continue to realise their functions in their own defence. So, the permanent structured cooperation is another issue which is to be developed further in the near future and it's going to be a major challenge.
A third issue, now that we have almost structured the European External Affairs Service (EEAS) with Catherine Ashton as a High Representative, would be how the Service would represent the interests of all countries, without replacing them. And here the link between Member States and the EEAS would be very important because there is a high risk to make such a Service and then allow it to fall into the Brussels' maze and be isolated from the interests and visions of Member States. The balance would be very difficult. So, this is also a major challenge - Europe has never so far even tried to work so commonly and in such a coordinated way in terms of its external affairs. The discussion about coordination of economic policies in the EU is an extremely huge challenge too.
euinside: Is there a resistance on the issue from Member States? Mr Barroso mentioned several times in his address that they should think more "european"?
Nikolay Mladenov: There is. There are various positions; there are countries which do not think that the budgets should be concurred before being adopted by Member States; who also think that just monetary integration is sifficient, for example in the euro area. But, it seems, that now more countries do understand that if you integrate the currencies of Member States you cannot not integrate their economic policies. Because your fiscal policy is linked to your economic policy, which is linked to you monetary policy, etc. You cannot draw the line and say "from here on - no". This is why the entire discussion for a more integrated approach towards economic planning within the entire EU will be more and more active from now on.
euinside: You've mentioned the childhood period of the Lisbon Treaty but while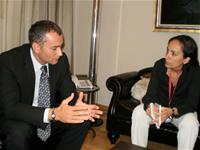 the Treaty was being worked upon and while it lived through its childhood, quite a lot of new challenges emerged before the Union. This is what we heard in Barroso's address and also in the reactions of the MEPs - more community approach, instead of the intergovernmental one, including there was criticism against a Paris-Berlin convention. Do you feel there is a serious challenge that, in fact, the community approach is at a loss and bilateral agreements become more often within the Union?
Nikolay Mladenov: No, I have another fear. I fear that if we look for an answer to the question either in the intergovernmental or the community approach, we will make a mistake. Any attempt to go in one of the two directions would mean a disturbance of the balance, because still there are responsibilities that Member States are reluctant to transfer, to put it roughly, to Brussels. There are responsibilities that have long ago been transferred to Brussels like our common trade policy, which cannot be overtaken by Member States again. But this balance must be kept and, as it is happening right now with the free movement, first, then with the single market, then with the single currency, the Schengen area - all this logically leads to the debate - is there going to be a coordination of national economic policies or not.
But whether this would mean standardising taxes in the EU - we are too far from such a discussion. We are too far from this perspective right now, because in fact you have extremely big differences in the standard of living among some Member States, in their stage of economic integration. The debate about more community approach or more intergovernmental has always been active in the European Parliament. This debate is very conceptual but we cannot transfer to the Commission, to Brussels, responsibilities of the Member States. Much of the criticism in Parliament, for example, against Barroso in the last years was that the Commission is invisible, that it lacks a leading role, lacks that visibility, which Jacques Delors, for example, created.
But if you look at the real economic problems, which we are now facing, they cannot be solved solely by the Commission - they can only be solved by Member States. The financial package for Greece has been charted by the euro area members. The Commission can help, it could have a leading role in some sectors but it cannot overtake everything. So, there will always be tension and, in some way, it is unique for Europe and, maybe, it is quite healthy.
euinside: Are there initiatives which Bulgaria has raised at a European level or in which it participated? The last one I can think of is the letter of the 9 mostly Eastern European countries for a deduction of their pension reforms costs from the budget deficit.
Nikolay Mladenov: There are various initiatives, for example related to the visa liberalisation for the Western Balkans. I don't have a list of which initiatives we take part in but, if we have to look politically and more globally on the situation, I cannot say that there is some kind of a big European policy that could be directly linked to the name of Bulgaria. As is right now the Stockholm agenda which practically rewrites the entire discussion about the internal affairs and security and is linked to Sweden. There is no such a type of big European initiative that could be related to Bulgaria.
euinside: I asked you this more in the context that the participation in such initiative would show clearly which policy area we are mostly interested in.
Nikolay Mladenov: At that level you are talking about, there is such a participation. If I have to outline a policy area that we are more interested in, this is the Stockholm agenda, security - because of our own problems in this area. This is a policy area in which we are directly interested and follow closely. The second thing is the discussion about the enlargement towards the Western Balkans, because it is important for us not only in the foreign policy dimension, but because it has a vital significance for the region we live in, for its stability and security, its economic perspective. I would say that if we could outline a third issue, this would be, to a large extent, the coordination of economic policies in the EU and reaching that level of integration we are now talking about, because this is also in Bulgaria's interest.
euinside: Maybe you are the first Bulgarian foreign minister who has a strong interest in the Middle East. A good or a bad news is Barack Obama's decision to end combat operations in Iraq and do you think this would open possibilities for more insecurity there?
Nikolay Mladenov: I think that a transitional period of uncertainty in Iraq is inevitable with or without the American presence there. Because we are talking about a country which I subsequently came to know well and which lived for 30 years in such a hard dictatorship regime that no one who lived through communism in Bulgaria could ever imagine. This is a country with highly educated people, intelligent, but their entire experience and memories of how a democratic system functions, have been deleted, as well as the capability to bear responsibility for specific decisions. So, the creation of this new environment in Iraq will take a lot of time.
The good new is, I think, that in spite of all the difficulties, in spite of the presence of all kinds of terrorist networks in Iraq and their attempts to foil the wish to build a democratic system, based upon political parties, after all, Iraq conducted parliamentary elections three times now. And the fact that now it doesn't have a government is due to the results of the elections and the political parties will have to find a compromise. This is something which would have been unthinkable several years ago. The withdrawal of the American troops from Iraq increases the role of the Iraqi authorities for their own security, which in the last months or, maybe, two years have shown a very serious progress and capacity to take care of their own security.
So, there will be a transitional period, there will be some uncertainty, but a stable Iraq, based upon democratic foundations, with a party-based political system. That is of interest for everyone. My interest in the Middle East is purely personal but I am convinced that our country, which is so near this region, cannot be indifferent towards what is going on there. Be it because when there is a conflict it has an impact over us in Europe, over us in the Balkans or be it opportunities for many economic projects, which we could realise there and which could be of benefit for Bulgaria.
euinside: Today (September 9) we have the news for a breakthrough in the negotiations between Catherine Ashton and Serbia's President Boris Tadic. Could you please explain precisely what kind of a compromise has been reached?
Nikolay Mladenov: What has been achieved so far is the result of a lot of efforts being invested, with the participation in the last two weeks of our representatives too. The attempt was to reach an agreement among the Member States that have recognised Kosovo and those who haven't, as well as Serbia, in order that we have a common text of a resolution in the UN General Assembly. At this stage the attempts are successful but until the resolution* is voted, this is just a preliminary version. I am trying to say this with caution because I don't want to celebrate too early that we have succeeded to achieve a common position, all of us in the EU and Serbia.
euinside: Is there a possibility giving Serbia the right not to recognise Kosovo?
Nikolay Mladenov: The possibility is Serbia and Kosovo to establish a dialogue which is not related to the issue of recognition. We are all pretty well aware that this is a very sensitive issue for Serbia at the moment, no one is keen on pushing them do something which is clear that currently is politically impossible. We need a dialogue that would focus on concrete cases that exist. There are tens of cases, if not hundreds, related to, for example, where the electricity cables would pass through, what will happen to mobile operators, people's pensions, social contributions, roads, properties, etc. Those are things that can be directly solved both in the interest of the Kosovars and the Serbs, without having any relation to recognition.
This is the aim in front of us all. And the second objective is Serbia and its political leadership to realise that the future of their country is in the EU and not outside. When one reads the newspapers or talks to the people in the streets would hear "We have other alternatives". All such alternatives, I think, are unrealistic because it is in our interest - of Bulgaria, the Serbs themselves and the entire region - EU integration.
euinside: Could we say that this is the first success of Catherine Ashton in her capacity of EU Foreign Affairs High Representative?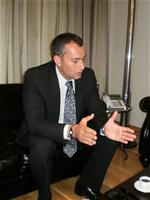 Nikolay Mladenov: Yes, I think that we could say that, in spite of the media criticism against her, she invested very serious efforts in order this compromise to be achieved. And she did it in a coordinated way with the Member States, so in a moment we were all working in one and the same direction. And we could also say that this is some sort of a model of work, that is now being developed.
*On September 9 the UN General Assembly approved with a consensus a resolution, demonstrating UN's support for EU's leading role in the forthcoming dialogue between Belgrade and Pristina.
More articles from

euinside