Schengen But Not This Time
Ralitsa Kovacheva, 14 October 2011

The European Parliament has reaffirmed its support for the Schengen accession of Bulgaria and Romania. MEPs have adopted a resolution, stating that Bulgaria and Romania "have fulfilled all the criteria" for joining, and additional criteria cannot be imposed on these two countries. As you know, at the meeting of the Interior Ministers Council on September 22 the Netherlands and Finland have blocked the decision on Bulgaria's and Romania's accession because of problems with organised crime and corruption. MEPs urged the EU Member States to honour their commitments and "not to give priority to national populism". They urged the European Council on 23 October 2011 "to take the necessary measures to enable both countries to join."
An interesting detail is that lawmakers rejected an amendment that would have asked the Commission to present proposals to strengthen the Schengen acquis by incorporating in it additional criteria concerning organised crime and corruption. In a statement, Liberal MEP Sarah Ludford (UK) also stated that "it is certainly true that we need wider evaluation for Schengen participation, to include matters like fighting corruption and organised crime. But this should extend to existing Schengen states too so that they as well, as new members are properly evaluated and, if necessary, sanctioned."
At this stage, however, the proposed changes in the Schengen legislation do not provide for the inclusion of these criteria. However, it is unlikely that the European Council will take a positive decision for Bulgaria and Romania. First, because European leaders now have many more pressing problems to solve, in terms of the debt crisis. As you know, the European Council was postponed with a week and compressed into a single day. Moreover there will also be a eurozone summit. Against the background of issues such as recapitalisation of banks and Greece, I think that Bulgaria and Romania can receive no more than one sentence in the conclusions, in expression of good will and political support.
The second reason is that the Netherlands and Finland have already announced that they would eventually reconsider their decision when there is new information - another report of the Commission under the Cooperation and Verification Mechanism (CVM). The interim progress report is expected to be released in February 2012. Until then, any change in both countries' positions would mean a political compromise, unacceptable as to the citizens of those countries, so for Bulgarian and Romanian citizens – do we really want to join Schengen thanks to EU's mercy, rather than because of our merits? Do you want to be adopted in Schengen the same way as we joined the EU five years ago - because it's better to be badly off inside, than be badly off outside?
In anticipation of the elections, it is understandably vital to the government to stoke up the expectation of magic decisions by the European Council, which, by chance, is exactly on 23 October when presidential and local elections are to be held in Bulgaria. In this context it is easy to understand the Bulgarian position, expressed by the Ministry of Foreign Affairs, that "we expect the European Council, at its meeting later this month, to decide on the acceptance of both countries into the Schengen visa zone without further delay, on the basis of the acquis and the rules and procedures of Schengen."
But it sounds somehow worrying that Bulgaria calls, in light of the decision of the European Parliament, "all EU countries to reflect on their positions." Not to reconsider, but to reflect. I am wondering, if we assume that these positions have not been reflected upon so far and are to be reflected, is the result going to be precisely the same as expected by the authorities in Sofia?
As a Bulgarian and a European citizen I insist on my right to travel freely within the Schengen area and, unlike many Bulgarians, I do not think the issue is minor and insignificant. But I also insist this right to be deserved, not bargained.
Schengen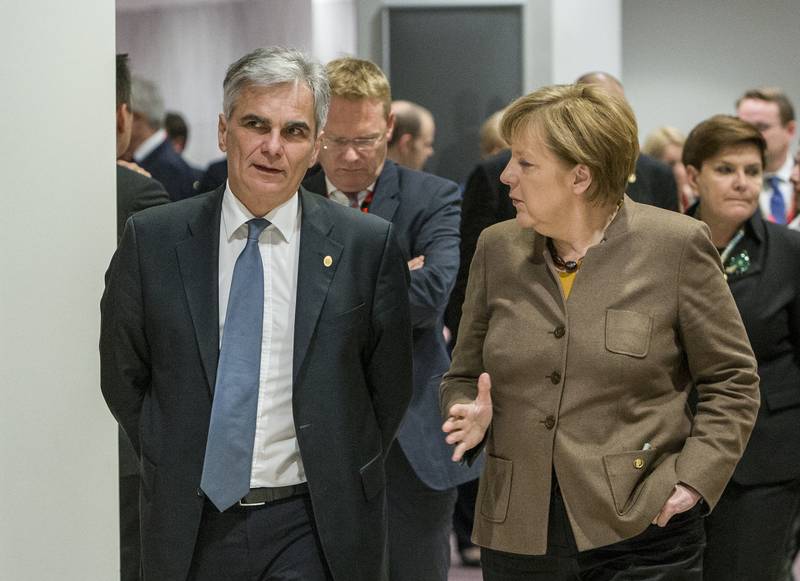 Werner Faymann, Angela Merkel | © Council of the EU
Eurozone and Schengen -- Two Parallel Realities, Crossing in Greece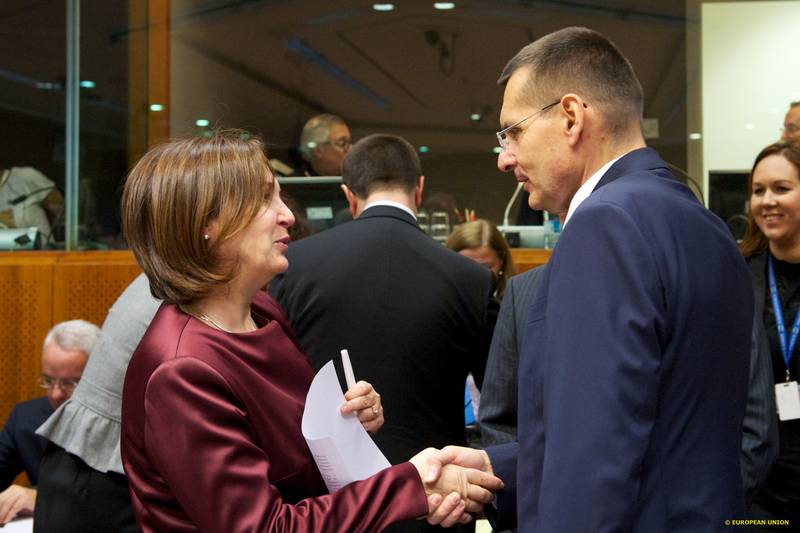 Rumyana Bachvarova, Petre Toba | © Council of the EU
Schengen Is Closing