Serbia and Bulgaria: between Winnetou and Hans Castorp
Adelina Marini, 27 January 2015
I have always believed that there are striking resemblances between Bulgaria and Serbia. And there is plenty of evidence. We share a similar mentality (a strong Balkan concentrate smelling of brandy and hot peppers), we are Orthodox Christians, disobedient to any rules and laws, people of the soul. Well, it's true that the Serbs love Russia more than the Bulgarians do, but there were periods when it was the other way round. Our organised crime works very well with the Serbian and vice versa. All in all, if we did not hate each other so much because of various historic decisions more than 100 years old, we would have probably loved each other very much. When the Serbs elected Aleksandar Vucic as their prime minister I immediately found many things he has in common with ours - Boyko Borissov. Both are people of the force, although their force has different origins.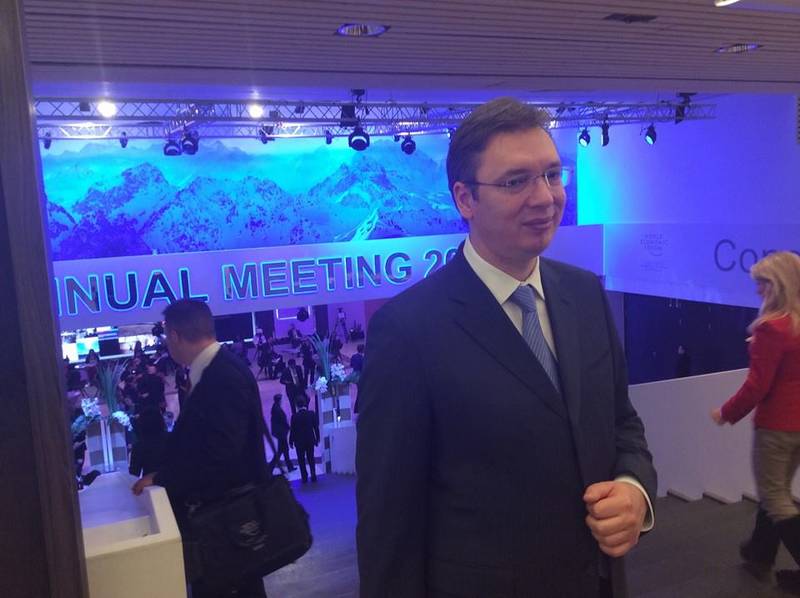 Alexander Vucic is a former radical (if such a thing is possible) from the war times in the beginning of the 1990s, whereas Boyko Borissov is a former bodyguard of the late Bulgarian dictator Tato (as the Bulgarians used to nickname Todor Zhivkov). You see, even the names of the dictators are close - they had Tito in Yugoslavia and we had Tato. Well, this is among the few resemblances between the then Bulgaria and the then Yugoslavia. And Aleksandar Vucic, just like Boyko Borissov, loves to be on TV very much. There is no week without the Serbs geting the chance to watch his monologues about how he will restore Serbia and how Serbia will become a powerful economy and a country everyone will respect. He holds the rein firmly just like Borissov did in his first term. Both are supporters of one-man rule and of uncritical rule.
But there is one big difference. And it is that Aleksandar Vucic knows very well the difference between Tom Jones and Dow Jones and he will never confuse John Kerry with Jim Carrey. That is why, it was very important for the Serbian prime minister to go to Davos where the political elite meets the business elite of the world. You know that I have grumbled many times that Bulgaria never has a representative there and I believe this is an indicator of a deep Balkan-type provincialism, but I have to admit that the countries in the region are not many that share Aleksandar Vucic's views that this is a very important forum which must be attended because it provides opportunity that same business elite to see what Serbia is offering. Apart from being different in their views where they have to go and why, Vucic and Borissov differ also in terms of literature tastes. Boyko Borissov once admitted that his favourite book was Winnetou. His overall behaviour on the political stage suggests that this is probably also the only book he had ever read.
It is not clear which is Alexander Vucic's favourite book but I was impressed by his "diary" from Davos shared [in Serbian] by the Facebook page of the Serbian Progressive Party (of which he is the leader) and that is why I'm offering you herewith a complete translation of that text because, in my opinion, it is of great value. Not only because it reveals that Alexander Vucic reads Thomas Mann but also because of the very unusual story he tells about his experiences in Davos, revealing his views about his own role in the current historic moment for Serbia. The story is a mixture of a rare for a politician (especially in the Balkans) revelation, who is discovering the world and is sharing his personal experiences. It is worth reading it because it shows how accurate Mr Vucic's idea is about the world and Serbia's place in it (and his own for that matter). I don't know if he is the author of the text but as a person who is following regularly the posts of the Vucic's party on Facebook I can say that this is a unique text that has nothing to do with anything before that. As far as I know his media behaviour I suspect that he is, indeed, the author of this text.
Vucic's diary from Davos
"When you arrive in Davos you cannot not remember The Magic Mountain by Thomas Mann and his Hans Castorp who, unlike us, came here in the summer. He arrived, unlike us, by a gondola-lift that went up 1560 meters above the sea level. He, just like our small delegation from small Serbia, was welcomed early in the morning by a grey lake and a long but still somewhat small, remote village in the Alps ... When Mann arrived one summer more than 100 years ago here, in Davos, and felt the need to write about the sanatorium (the then Europe) where death-bed people are discussing deadly sick ideas, he did not differ a lot from some of his characters. A convinced German nationalist who, because of the ideas about the greatness of the nation and its needs, was in conflict with his own brother Heinrich who, too, was a great writer.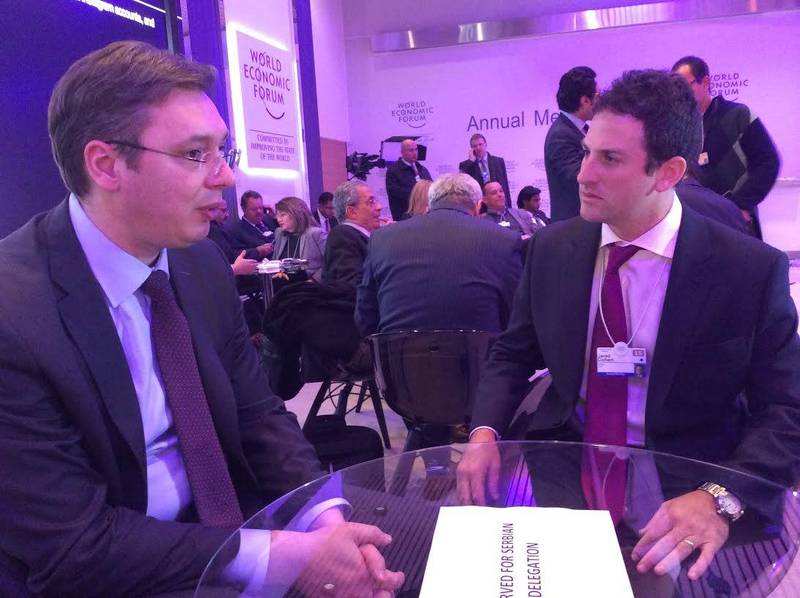 While we were going up the Magic Mountain, I was reasoning on how Mann changed after Davos. I changed before Davos. And Davos itself [changed] long before myself ... Today, everything is different here. And everyone is different. Serbia is changing. That's why we are here. On the Magic Mountain.
The richest crowd started gathering here in 1971 and since then every winter here comes the very elite of the political and economic powers. Billion-dollar contracts are concluded, the directions of how the global economy will move are defined, thousands of meetings take place, fora, sessions ... To be in Davos means purely to become part of this huge roller-coaster. To join the centrifuge of the global economy and to gain, of course, this so important headquarters which can be reached by going upward and downward but, if accepted (and they accept you by inviting you in Davos) you no longer leave. Serbia, its reforms, received an invitation. We are starting to change. But slowly. It is not very easy for us to reach (achieve) this great world. We are saving. From everything, including for the trip. Including for Davos because it is hell of expensive. This means that there is no organised promotion of Serbia and Davos is bursting at the seams of various promotions. No big hotels are booked because Davos itself is a big hotel which is already booked. In the end of the day, it means that we are accommodated several tens of kilometres from this centre of the economic world, in the village of Klosters. We fail to even remember it.
It doesn't matter. We're dropping our stuff and hurry on to Davos. There awaits us the latest edition of the Swiss newspaper Blick. We got the front page and two of the most important internal pages. Who says there's no promotion? We don't need more than this. At least not today in Davos. Wealth and power are very simple. There is no pretense in the people who control the global peace and global economy. They are in a hurry, unconventional, humble and focused on everything. Here deals are struck, time is of essence and here they listen. Everyone is interested in what you have to say. That is why they are here. For information which their huge companies send to various teams, they release it in a process, filter it, analyse it and in the end they decide - should we invest or not. That is why, I have never in my life been more cautious what I'm saying.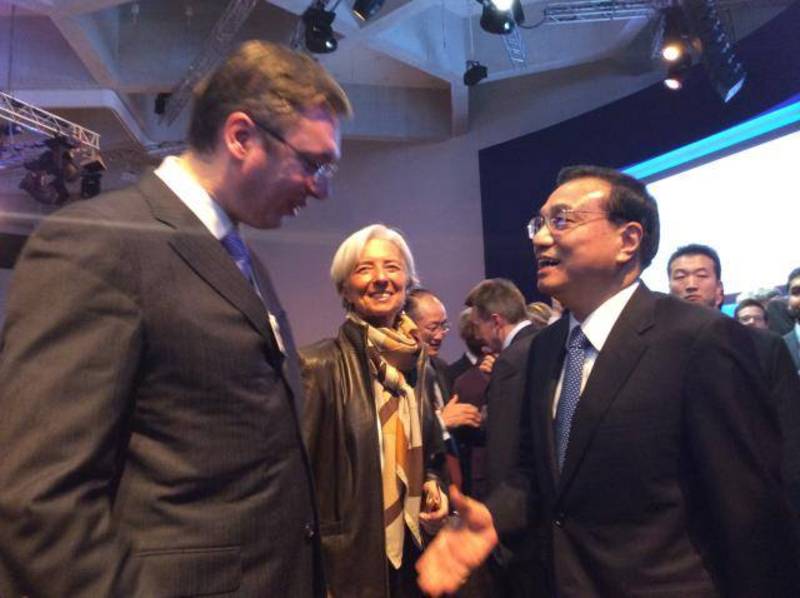 I meet old friends. Li Keqiang, the Chinese prime minister, is a star in Davos. He and the guests from Azerbaijan are whom everyone is after. The money is in the east, the markets, consumption and again the money. Everything is very fast in Davos. Are we going to do a railway road? Yes. Will we have it by October 2017? Yes, I'll come for the opening. And I am more than happy. Thank you! I hurry on forward. The Reuters and Bloomberg forum. Briefly with the IMF chief Christine Lagarde. Then with Herman Gref from Sberbank. Johann Schneider[-Ammann], deputy prime minister of Switzerland and minister of economy. The Turkish Prime Minister Davutoglu. The friend Mohamed Alabbar, director of Eagle Hills which is building Belgrade Waterfront. Google's Jared Cohen ... Every time I pay attention on what I'm saying. They are here to hear what Serbia has to say. What it is offering. What it can and what it wants. I have never met people who listen with such attention. Every, the smallest detail matters. They have opened their receivers and I'm carefully sending them signals. I'm inviting all of them to Serbia.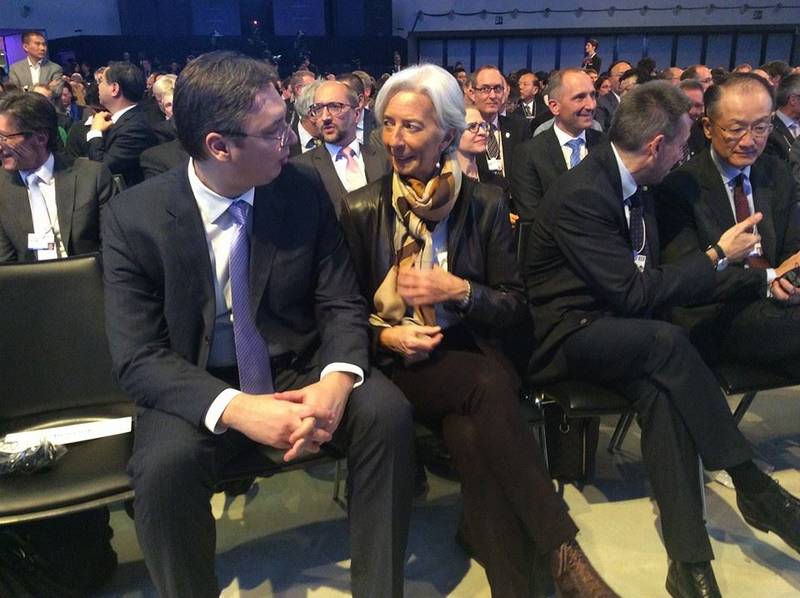 Running from forum to forum, from meeting to meeting, across the Magic Mountain magically passes the majestic Frans Timmermans, the vice president of the European Commission. One of the most powerful people in the EU. Smiling and very calm he comes absolutely alone for the meeting. He has no secretary, personal assistant, advisers in a hurry with folders and laptops which actually serve no other purpose but to show someone's power. Timmermans's power is even greater because he doesn't need to show anything. So [great his power is] that he stopped the time in Davos briefly. My time and his time. We speak in great detail, not looking at our watches. I note this as one of the most pleasant moments. And then again I rush forward ... I haven't realised when was time to go home. We did a huge job. There are smiles upon our faces. In the very end, while we are starting the long descent, I tell myself: Good bye, Hans Castorp. You descended to the lowland where cannons were shooting and took a gun in your hands. We're going to Serbia. Our shooting is over. Now we need work! For life."
*Translated from Serbian by Adelina Marini
Western Balkans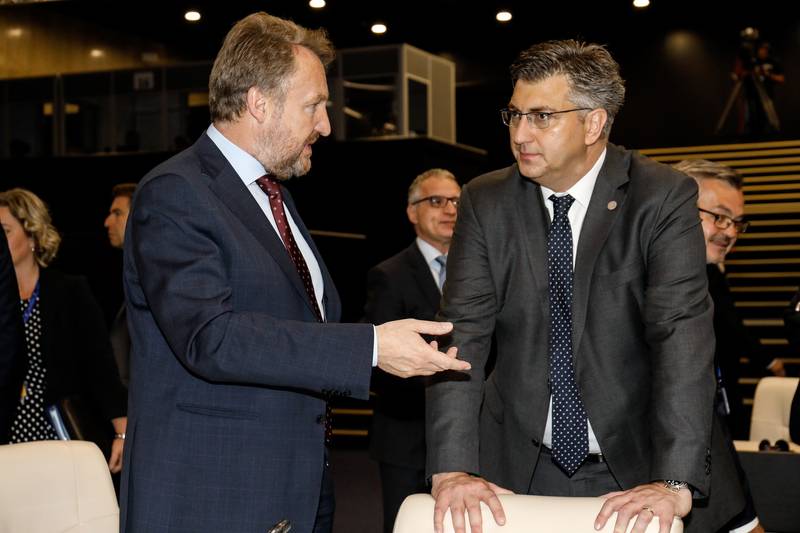 Bakir Izetbegovic, Andrej Plenkovic | © Council of the EU
In Sofia, EU Closed the Door to Enlargement but Left Money and Instructions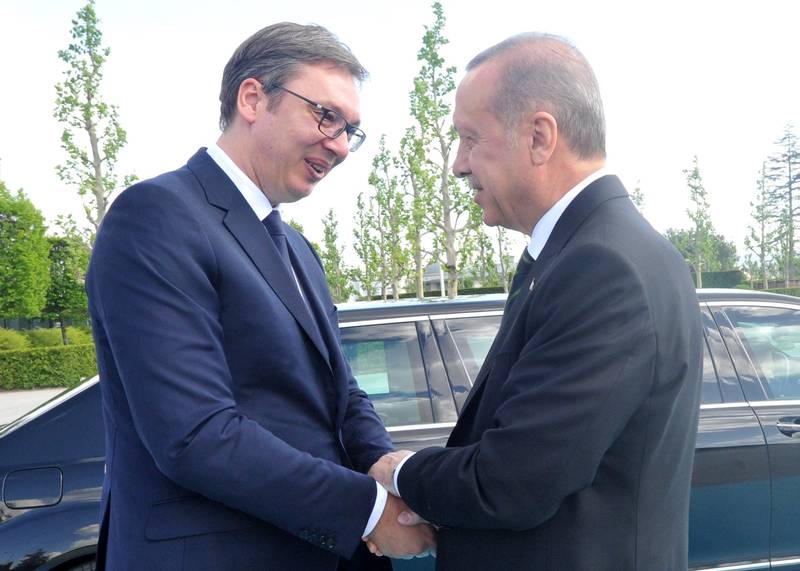 Aleksandar Vucic, Recep Tayyip Erdogan | © Serbian Presidency
Serbia between the Past and the Present in Its Draft National Security Strategy