Was Croatia's European Face only a Mask?
Adelina Marini, January 5, 2014
In 2013, Croatia has become the 28th member state of the European Union. Another country from the torn by centuries' long conflicts Balkans. Another one that had to open a new page in its history. Instead of a review of that highly dynamic and interesting year, we offer you herewith a translation of excerpts from the speech [in Croatian language] of Croatia's President Ivo Josipovic* on the occasion of the Christmas and New Year holidays. A speech that makes the most complete review of the year and which can serve as food for thought in Bulgaria, too: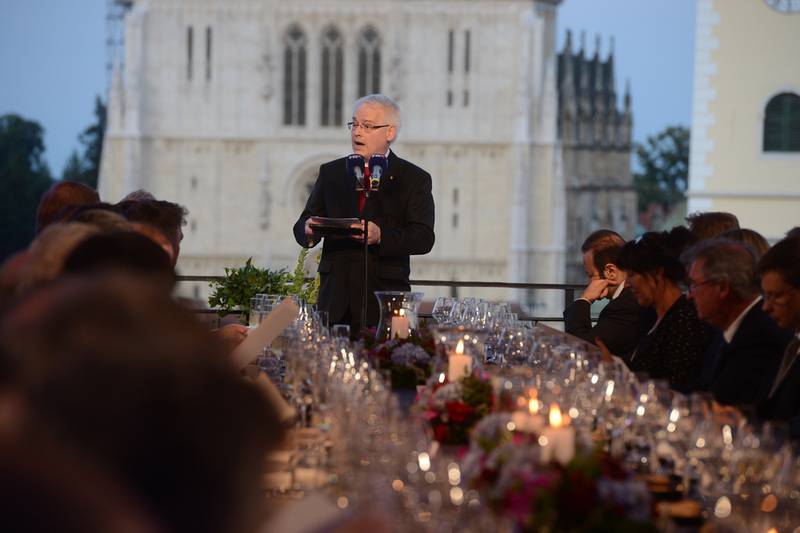 2013 was the year of achieving the big goal, the year of hope, but also the year of disappointment. During the past year we realised one of the biggest generational goals. Croatia has become the 28th EU member state. We still remember the pride and satisfaction we felt on July 1st. We enjoyed when others from the big union of the European peoples and states comprehended that we are a democratic, progressing and a European nation in all aspects. It was good to hear praises and congratulations not only by representatives of the EU nations, but also by neighbours of ours who are still not in the Union, but are on their way to become.
Then we told ourselves why do we want to become part of the European family. We belong to Europe because of our identity and because of our aspirations, our values, like peace, democracy and human rights, life of quality and good perspective. But we also told ourselves what we expect from membership. We want more freedom, security, solidarity and economic growth. We want to take advantage of the possibilities we have at our disposal, to develop quicker. That July 1st, at least for a moment, in the peak of the night, when we crossed the EU's threshold, looked as if all our ideals about Europe were closer, one hand away, that we only had to reach out and they would turn into a part of our life. We thought the unity, knowledge and persistence we invested in the negotiations to convince Europe that we are part of it are here to stay forever. We also believed that Croatia's beautiful face is our genuine and only face. We hoped that the democracy and human rights we achieved, the implemented reforms and readiness to join the market competition in the first European league guarantee our success and grant us the right to hope that it can only be better than what was before.
But today, almost six months since our European celebration, we see that it is not precisely so. Often hope gives way to doubt, but also to disappointment. Instead of that beautiful European face from the beginning of July, today in the mirror we see a face that is wrinkled by problems. Instead of the unity we had at the EU's entry, we have a society that is bitten by conflicts of various ideologies and intolerance to those who think, live, pray, write and speak differently. Instead of the desired economic soaring, the economy continues to sink in recession, companies and jobs disappear. People live harder and harder. Instead of a society where we reach out to each other out of solidarity, many are abandoned, poor and hopeless.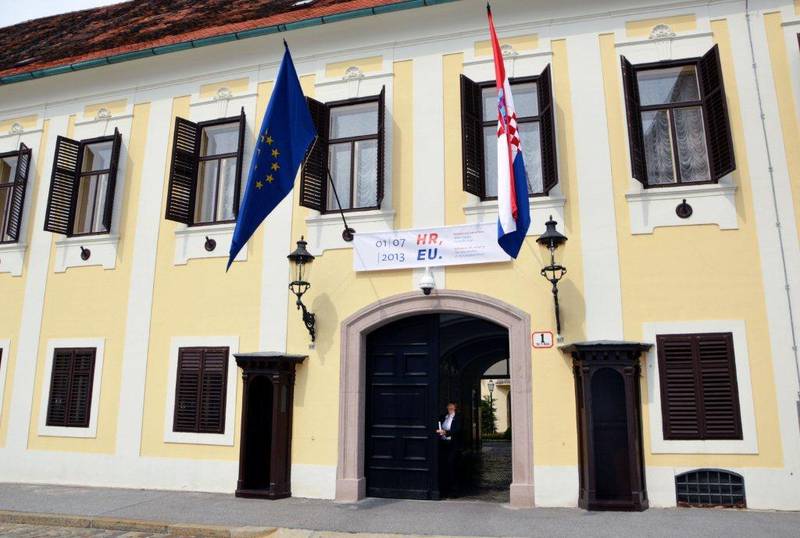 And I cannot but ask myself whether that beautiful European face of ours was not only a mask and our membership only a part in a mask ball in the EU? Have we really adopted the European democratic values or have we deceived ourselves that we respect the rights of humans and minorities? And don't we use the democratic institutions to achieve undemocratic goals? Did we pretend that we respect every person and give them an equal chance in our homeland? Have we thought whether we are capable of participating in the market competition according to the European rules and did we pretend that we believe in our capabilities and ambition to bring life to the economy, to create jobs, to make our families and society richer and happier? Finally, did we really believe in a Croatia as a knowledge-based society, in justice and solidarity, did we really believe in a European Croatia?
Many are disappointed that, here, we see that, other, face. We see a picture of a society that is stagnating economically and, maybe, is going backwards, a country where the necessary reforms have not been implemented, in which the public sector is excessively huge and inefficient, which spends more than it earns. The private sector, too, did not achieve the desired results, not only the guilty inefficient and irrational state. The unemployment is growing, investments and new firms are a few, we are more and more indebted. The social state is stumbling under the pressure of misfortunes and poverty. Many are disappointed with reason because the spirit of the political, national, religious and other exceptionalities and radicalism are here again, poisoning our souls, especially the souls of the young, with hatred and exceptionality.
As if we have lost our optimism and the energy we need to exit the crisis, the small progress and, finally, the victory of the human European values. A country like ours should know where extremism and intolerance lead to. We had a tragic 20th century and we do not want this to happen again in the same or a similar way. The politics of hatred, flirting with fascism and totalitarianism is a temptation not only for us, but for many countries and even for established democracies in the EU.
But when we are frightened that hopelessness has won, that we are irreversibly on the path of regress, let us remember the path Croatia walked in only some twenty years. Twenty years are a huge part of the life of a man, but for the lives of states, for history, it is just a moment. And in this moment we established a new state thanks to the soldiers, our heroes, who fought for its freedom, we have built democratic institutions. Croatia became a member of the most important international organisations and is recognised as a state that contributes to world peace and the cultural heritage of humanity. Fellow citizens of ours in the past year have achieved supreme results in science, culture and sports. Contrary to the global crisis, we have tens of companies that tell us that the Croatian economy can be successful even on demanding markets. Let me congratulate all who covered themselves and the homeland with success.
Excellent results that many people of ours achieved in contrast to the crisis, that give our society that most important spice of all without which there is no success - OPTIMISM and a proof that through innovation, hard work and knowledge a lot can be achieved and even the most. That is why, let us lift our heads, let us accept the problems and our weaknesses as a temporary deviation from the positive development of our history! Let us tell ourselves: we can! We can defeat the crisis. Our institutions of power and democratic institutions will and must defeat the travails and poverty. Politics must rise above opportunism and fear of reforms, it has to understand that there is no time for new compromises. The rational solutions in the financial and economic policy, attracting investments, the organisation of the state authority, but also the reforms of the local and regional governance cannot wait.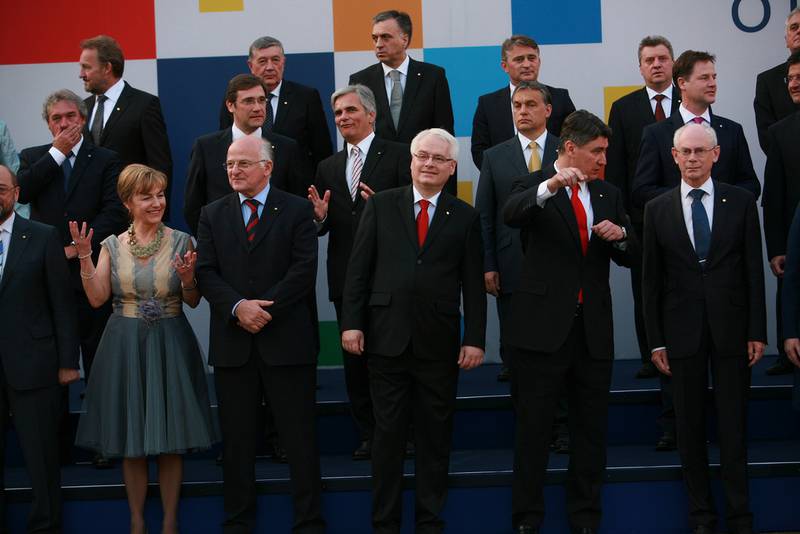 The justice we opened the doors to with many prosecutions of those who are suspected of power abuse has still not won. There is no justice without social justice, without solidarity and equal chances for all in studying, employment, income, progress and, most of all, without equal chances for the young. The youth unemployment and lack of perspective that threatens them is one of the most important generators of the economic, political and social crisis. Europe's success and our nation's, too, depends to a large extent on whether we will succeed to secure support for the young. There is no justice without clear criteria when, how and how much should be helped to those of us who, due to illness, age, invalidity, poverty and unemployment, are incapable of providing for themselves.
Ladies and gentlemen, dear friends, I believe in Croatia, our citizens, our institutions, I believe in our capability to find an answer to the crisis and return our society on the positive path. I know that Croatia is a society that will know how to defend democracy, freedom and the rights of all people, especially those who are a minority in society. We all bear responsibility for success, but most of all those who the people gave their confidence to at the elections to govern our state at all levels. Christmas and New Year are holidays that remind us of humanity, of the need to be human to each other, not wolves, they are an opportunity to purge our souls with nobility and love for the others.
The holidays are here to remind us of our duties and responsibilities we have in our social roles as well, as members of our families, friends, workers and servants, entrepreneurs, activities in all areas of human activity, as politicians and bearers of governing and power functions. But, most of all, we have to remember our duties we have as people - first and foremost our duty to respect the others, but ourselves, too. Not to content with small expectations, goals or achievements. To remember that one is in this world to do great things, among which peace, love and friendship are the biggest. Not to walk small under the stars is a duty for all of us.
*Ivo Josipovic is a president of the Republic of Croatia since 2010 when he was elected from the list of the Social-Democratic Party, led by current Prime Minister Zoran Milanovic. He was born in 1957 and is a lawyer by education. He is a specialist in penal law, international penal law, war crimes, international courts, human rights, fight against corruption and organised crime. He was a chairman of the parliamentary committee on the conflict of interest. He is known for his hobby as a music composer. He is the politician who enjoys the highest public support, according to opinion polls. He has an active account on Facebook.